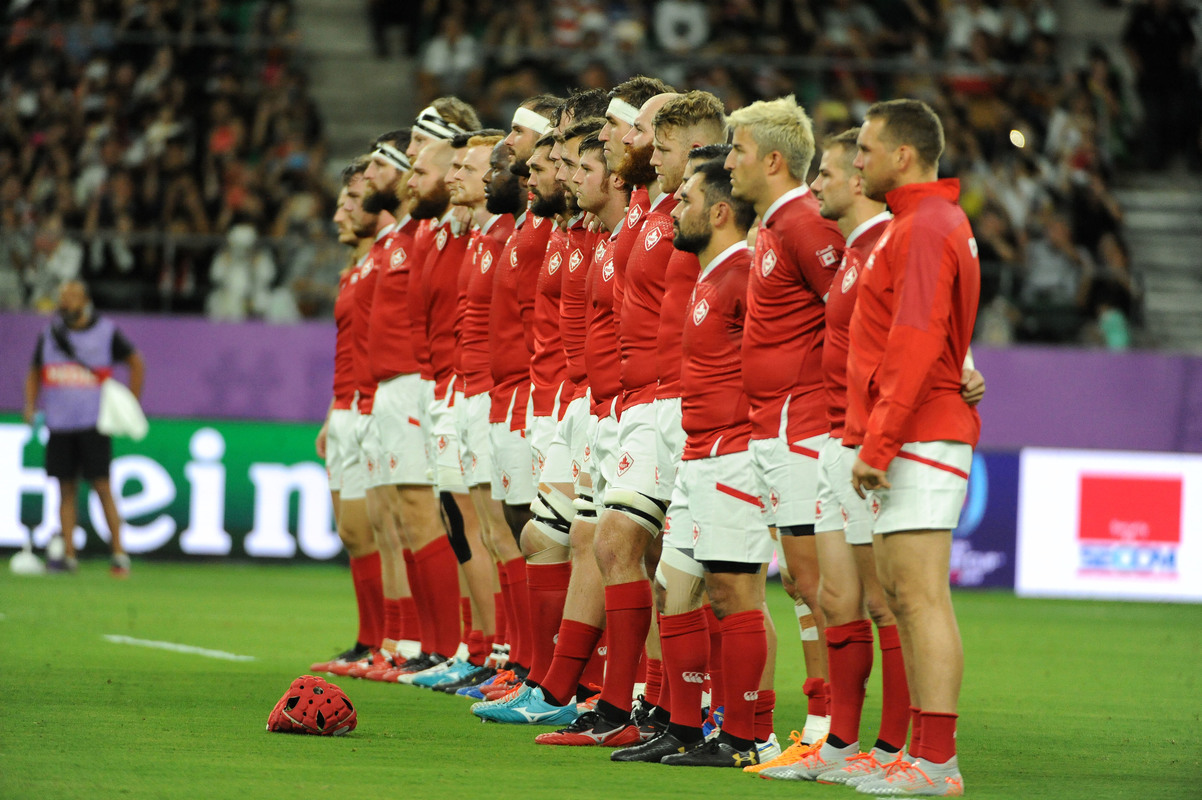 Rugby Canada closes the door on Rugby World Cup 2019 and looks to the road ahead; Canadian rugby community salutes retiring players including legend and Canada's all-time highest try scorer, DTH van der Merwe
LANGFORD, BC (October 18, 2019) – As the Rugby World Cup 2019 heads into its knockout stages, Canada's Rugby World Cup (RWC) journey drew to an early close, and for some Canadian players, it marked the final time they would represent their nation on the global stage. 
Canada's all-time highest try-scorer DTH van der Merwe and Hooker Benoit Piffero, both announced their retirement from international rugby over the last few days, while Justin Blanchet also announced his retirement after being removed from Canada's World Cup roster due to injury.  
33 year-old van der Merwe announced his retirement after 13 years in the red jersey. The South African-born winger boasts an impressive career, with 61 caps for Canada, four Rugby World Cup appearances, and 38 tries. van der Merwe has played a critical role on the Canadian squad, including scoring five tries in last November's repechage to help Canada secure the final spot at the 2019 Rugby World Cup. A leader both on and off the field, van der Merwe will go down in Canadian Rugby history as one of the all-time best, and serves as an example of what is possible for elite Canadian rugby players who aspire to a professional career.  While stepping away from international duties, he will continue to play for his club team, Glasgow Warriors.
"DTH has been a tremendous servant to Rugby Canada - four world cups is an amazing achievement," said Head Coach and Director of Men's Rugby Performance, Kingsley Jones. "He has been a prolific try scorer at whatever level he has played, and he will be greatly missed. However, the future is bright and there is opportunity for other players as we head towards the next RWC. There is an exciting pool of wingers coming through including Andrew Coe and others in the Under 20s and 7s program."
32 year-old Benoit Piffero from Montreal, Quebec, will also step away from the international game after six years of representing Canada on the world stage. Piffero has been a solid presence for Canada in the front row and competed at two Rugby World Cup's.  While he finishes his career with 26 caps for Canada, Piffero will continue to play for his club side Blagnac SCR in France.
Blanchet, a 26 year-old flanker from Montreal, Quebec, suffered a concussion against USA in Canada's final RWC warm up match in Vancouver shortly before the teams' departure to Japan, and was replaced on Canada's roster by Josh Larsen. Blanchet had a total of six caps for Canada, and the 2019 Rugby World Cup would have been his first appearance at the global tournament. Born in the UK, Blanchet played for the Bedford Blues in the RFU Championship before being selected for the Canadian national team in the America's Rugby Championship at the start of 2019. Blanchet made the decision to retire after consultation with family, friends, and medical professionals.
"As we set our sights on the future of Rugby in Canada, it is very important to acknowledge the players who have contributed at every level," said Allen Vansen, CEO, Rugby Canada.  "On behalf of Rugby Canada and Canadians from coast to coast to coast, our sincere thanks to DTH, Benoit, and Justin for their commitment, and their important contribution not only to Canada's 2019 Rugby World Cup campaign, but for their constant passion for the game that has no doubt inspired many along the way. We wish each of them the very best, and appreciate all that they have done for the sport of rugby in Canada."
The focus now turns to talent identification and development for the new RWC quadrennial, with Head Coach Kingsley Jones beginning his expanded role as Director, Men's Rugby Performance.  Alignment across rugby programming will be a key priority, and Jones is optimistic about the pieces being put in place to build a stronger infrastructure for young aspiring players in Canada. The recently re-established Performance Academy – Pacific Pride – is targeting players across Canada between the ages of 18-24 years who have been identified as having the potential to be elite players who can eventually move into professional rugby; and the growing partnership with Major League Rugby (MLR) has resulted in more Canadian players exposed to a professional training and competition environment than ever.
"The MLR is a life-line, and while it has a way to go in terms of matching the quality of the top professional leagues, it gets better every week and is critical for Canada," said Jones. "We've got 45 guys now in professional daily training environments, and lots of good youngsters playing in the U20's this year.  That's huge for our rugby. The biggest thing is having depth that will drive competition for places and standards. Both the Pride program and MLR will serve as strong pathways into national teams and professional rugby. We can grow and be competitive in 2023 and 2027, but know it will take hard work over a number of years to make a real impact."
The pathway from the Pacific Pride to the national team has already been established, with Guiseppe du Toit being called up as an injury replacement during the World Cup. In addition, players like Will Kelly, Brock Webster, David Richards and more are getting looks from senior XV and 7s teams.