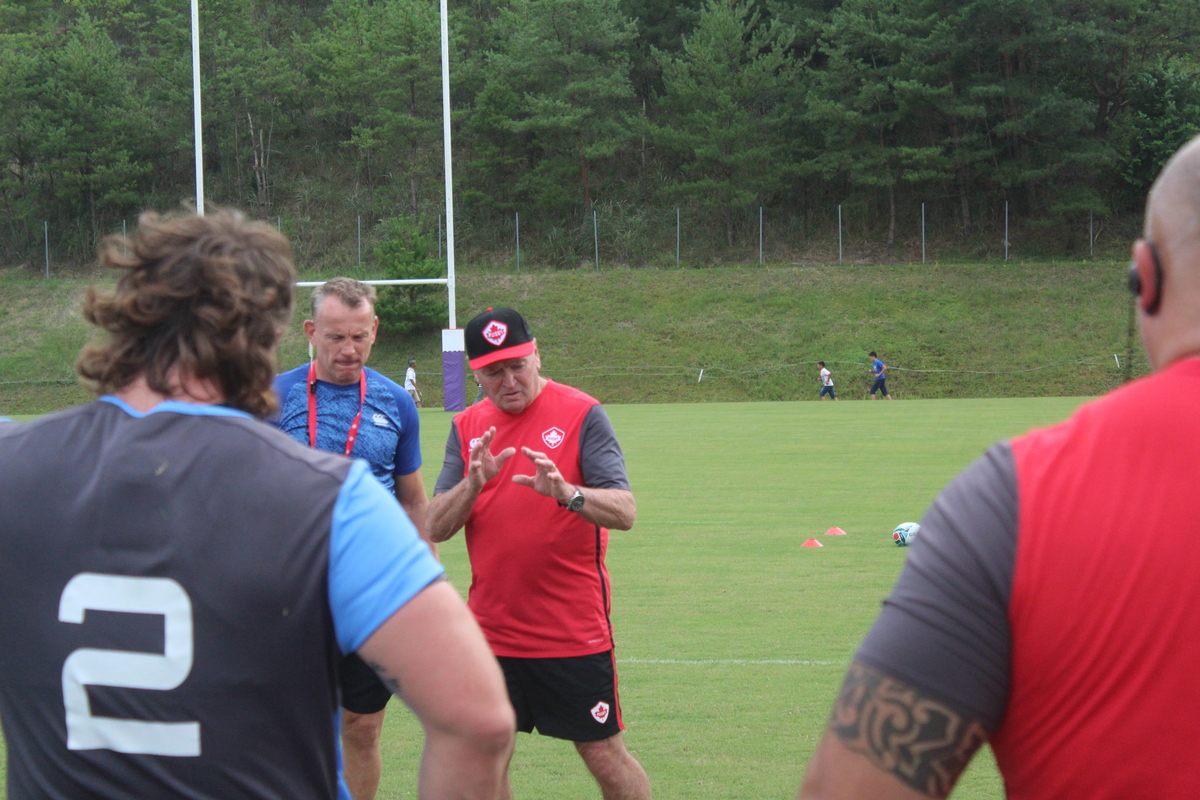 Team behind the team; Jones looks to expose Canada to coaching elite to build for future ahead
Contributed Article: Daniel Bettridge
Rugby 15s Senior Men
With two games down at the Rugby World Cup 2019, head coach Kingsley Jones is driven to get the absolute most out of the experience, keeping one eye trained on 2023. A crucial step in the nations continued development? Expose them to teachings from some of rugby's best. 
As they have done ever since the inaugural event in 1987, Canada show up to every World Cup match in full force, a tier two nation competing against the sports best. 
But this year's tournament isn't about winning it here and now, it's an important stepping stone in our continued efforts to build for future success on the world stage. As part of that plan, Rugby Canada has put together an impressive roster of support, a team of established experts who will assist Head Coach Kingsley Jones and the rest of Canada's dedicated backroom staff in Japan and beyond.
So to help you get to know a little bit more about some of the team behind the team, here's a guide to the coaches who will be in Canada's corner at this World Cup.

Sir Graham Henry - Assistant Coach
72-year-old legend and former New Zealand Head Coach, Sir Graham Henry knows exactly what it takes to go all the way at the World Cup. After all, Henry was in charge of the team that claimed the Webb Ellis Cup on home soil in 2011. The achievement was the culmination of an incredible 140 match stint in charge of the national side that also saw the Kiwis claim a series victory over the touring British and Irish Lions in 2005, as well as five Tri-Nations titles and three Grand Slams. 
"Graham has been a long standing friend," said Jones. "He was my coach in Wales a long time ago and we kept in touch. He's often been a mentor for myself and he loves Canada."
A vastly experienced figure within the game, Henry has also been a part of successful coaching setups with Wales, Argentina and the British and Irish Lions. That knowledge will prove invaluable to Canadian Head Coach Kingsley Jones, as well as the team who will gain first hand expertise from a true winner who has experienced just about everything top-flight international rugby has to offer. 
"He was with us in the build-up to the World Cup, especially supporting our preparations for the Italy game," added Jones. "He's been sending his reports and thoughts to the coaches-- really pushing the coaches and asking great questions. He was just a really good sounding board for us to make sure we're doing the right things and that our preparation is all it can be. I believe the players enjoyed it as well."
Huw Wiltshire - Performance Consultant
Tasked with driving fitness and conditioning standards, Huw Wiltshire is renowned across rugby as one of the leading lights in sports performance. The former Welsh rugby national performance manager and now a principal lecturer and Associate Dean of Enterprise at the Cardiff School of Sport, Wiltshire is known as an innovator who stays ahead of the latest research in the ever changing world of fitness and conditioning. 
A vastly experienced figure, Wiltshire will focus on building the elite culture within the Canadian men, ensuring that every player gets the best preparation possible to help their skill shine on the international stage. 
"The Canadian lot is a pretty special group of players," said Wiltshire "They're smart and they're problem solvers. We're focused on the task at hand, but we're also planning for the next four years and I think there's going to be some real legacy stuff here." 
Looking ahead at Canada's future, Wiltshire commented that the biggest difference for Canada compared to the top nations is "simply the level of competition." 
Wiltshire continued: "If we give Canadian lads the opportunity to perform at the highest level, they will automatically get better, that's the key to it. But we need more investment to create a more challenging learning environment." 

Gruff Rees - Assistant Coach (attack) 
In charge of the attacking side of Canada's World Cup squad is 43-year-old Gruff Rees. A fellow countryman of Head Coach Kingsley Jones, Rees has no shortage of experience at the top levels of the game serving previously as the backs coach for 13 years with the Ospreys.
The former Cardiff winger, who these days plies his trade closer to home as the Academy Manager of the Cardiff Blues, jumped at the chance to be involved with Canada's Men on a part-time basis telling interviewers that "being involved in a World Cup is something all coaches aspire to."
"Being experienced in the professional game and with that, seeing the whole landscape of European rugby and playing against the very best in European competition-- those are the standards I try and apply and measure here," said Rees. 
"That's not always possible with things like having limited access to players in terms of preparation time, logistics, and all that. It was a big eye opener coming here, but we're embracing that difference and challenging ourselves and the players to reach for that high standard and make something we're proud."

Richard Wigglesworth - Assistant Coach (defence)
At age 36, England and Saracens scrum-half Richard Wigglesworth knows exactly what it takes to perform at the sport's highest levels. In fact, were it not for a freak injury that kept him out of his home nation's squad, Wigglesworth could have found himself in a unique position as player and coach at the Rugby World Cup, but for two very different nations.
"There has been challenges," said Wigglesworth. "I think it really opened my eyes to how difficult tier two teams have it. Things like the travel, the preparation time, but also the lack of experience playing against these top teams. You go four years without playing these teams and then get thrown in, playing against tier one teams that are used to playing at that level."
The winner of five Premiership titles alongside two Heineken Champions Cup trophies, Wigglesworth brings a wealth of experience to Jones' team and provides a ready-made conduit between the players and the coaching staff.
"It's a great coaching staff they have here and the players, I can't speak highly enough about them," added Wigglesworth. "Their work ethic and desire to improve--they make my job a lot easier." 

Boris Stankovich - Assistant Coach (set piece)
Vastly experienced New Zealand prop Boris Stankovich will go toe-to-toe with his home nation as part of Canada's backroom team in Japan. A formidable figure, these days Stankovich plies his trade as a scrum specialist with the Leicester Tigers, a club where he made more than 119 appearances as a player. 
The 39-year-old will be no stranger to working with Kingsley Jones after playing under the Welshman at Newport Gwent Dragons, an experience that forged a mutual respect between the pair. His tenure at the highest levels of the game makes him a great addition to the team and his presence will be key in building the cohesion of a forwards unit that could be a real strength for Canada both in Japan and in years to come.