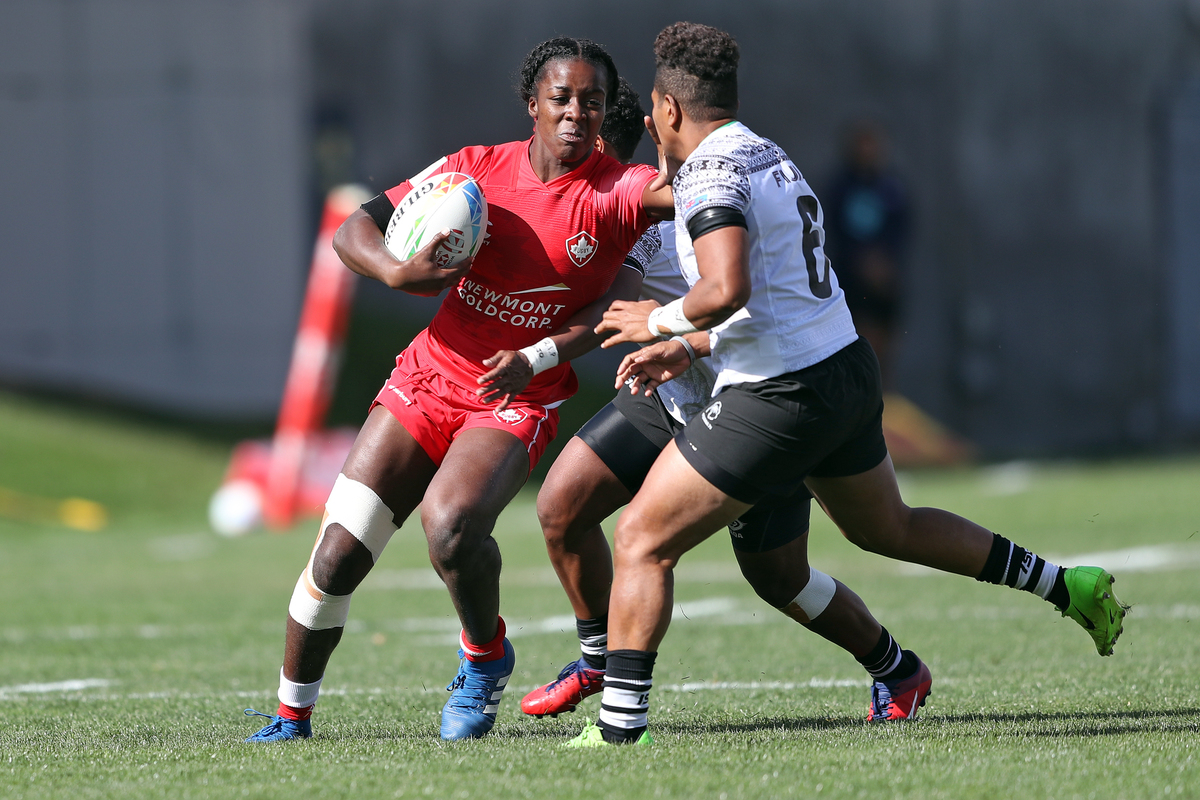 USA Women's Sevens Updates
Canada go undefeated on day one at USA Women's 7s with a thriller against Australia to cap off pool play
USA Women's Sevens Updates
Day One - Pool Play
 
Canada is off to an exciting start at USA Women's Sevens after day one. Facing Fiji in their first match, Charity Williams wasted no time showcasing her unstoppable speed, securing the first points for Canada. Fiji answered back, beating Williams to get the ball over the line and evening the scoreboard at 7-7. Next to put some numbers on the board for Canada was captain Ghislaine Landry, who remains the series leader in all-time points scored. Breanne Nicholas scored the last two tries for Canada after great teamwork with Kayla Moleschi and Pam Buisa, securing a 31-7 win for Canada.
 
Game two saw Spain putting the pressure on Canada right away getting to the score board with no time to waste. Bianca Farella shot back with two tries to give Canada a 5 point lead over Spain. Captain Ghislaine Landry worked through the Spanish defence to level Canada up once again. Not willing to go down without a fight, Spain tighten the gap with the try and conversion. After a hard fought match, Canada claim a 19-14 victory to stay undefeated.  
 
Canada opened scoring in game 3 with Bianca Farella zig zagging through Australia to take it home for the try. Australia answered back shortly after, scoring two tries over Canada.  Canada's Kaili Lukan evened out the playing field to start the second half after securing a pass from Captain Ghislaine Landry and bringing it over the line for the try. Australia then hit back with a try to take the lead over Canada but not long after, Pam Buisa fought her way through the Australian defence with brute strength to once again get the points. In a thriller to end it, Charity Williams battled through the yellow to stick the try in the final play of the match. The conversion was unsuccessful and Canada finished with a 26-26 tie over Australia to cap off pool play.  
 
"We're going to power through like we did today." said Charity Williams with regards the teams strategy going into the cup round. "We're going to go hard on defence and stick to our roles on attack and if we do everything right then it should be a perfect day."
 
Day Two - Cup Round

USA opened the scoring against Canada in the cup semi finals after pushing through Ghislaine Landry to take it over the line, but Kayla Moleschi quickly evened the playing field with both teams sitting at 7-7. Canada took advantage of USA in the sin bin and brought it home for two quick tries. Back with a full team, USA closed the gap with a few strong plays and push forward over Canada with a 22-19 lead. Karen Paquin then used her lightening speed to take it over the line after some textbook passing from the Canadian squad. USA then take advantage of the final play getting the try and conversion and securing a 29-26 win over Canada to move on in the cup round.

The 5thplace semi final saw a slew of tries and strong dominance from Canada with Emma Chown opening the scoring and getting her first try of the weekend. Kaili Lukan scored another for Canada with Bianca Farella and Karen Paquin quickly following suit. Ireland managed to secure 2 tries in the second half but it was not enough to break Charity Williams unstoppable speed. Canada took a big 40-14 win over the Irish side to move into the 5th place play off.

Landry scored first for Canada with the try and conversion securing a 7-0 lead early in the 5th place play off. Despite strong effort from Spain, Canada's defence was too good and the score remained in the first half. Spain got the first set of points in the second half after a series of penalties from Canada to draw at 7-7 each side. Spain busted through the Canadian line to score the game winning try and conversion against Canada, closing out the game with a 12-7 final score. Canada finished the weekend at USA Women's Sevens in 6th place. 
"Overall I thought the girls played pretty well" noted John Tait. "The team in the final we tied and should have won and the other team we lost to in the last play of the game. We're right there. It's fine margins on the series we just have to do a better job of executing on our ball." 

Canada's Roster: 
 
Delaney Aikens, UBC (Briercrest, SK)
Elissa Alarie, Westshore RFC (Trois Rivieres, QC)
Pamphinette Buisa, Ottawa Irish (Gatineau, QC)
Emma Chown, Aurora Barbarians (Barrie, ON)
Caroline Crossley, Castaway Wanderers (Victoria, BC)
Bianca Farella, Town of Mount Royal RCF (Montreal, QC)
Julia Greenshields, Sarnia Saints (Sarnia, ON)
Ghislaine Landry, Toronto Scottish (Toronto, ON) 'C'
Kaili Lukan, Unattached (Barrie, ON)
Kayla Moleschi, Williams Lake Rustlers (Williams Lake, BC)
Breanne Nicholas, London St. Georges RFC (Blenheim, ON)
Karen Paquin, Castaway Wanderers / CRQ (Quebec City, QC)
Charity Williams, Markham Irish (Toronto, ON)
 
Unavailable due to injury:
Britt Benn, Guelph Redcoats (Napanee, ON)
Keyara Wardley, Okotoks Lions (Vulcan, AB)
Sara Kaljuvee, Toronto Scottish (Ajax, ON)
Asia Hogan-Rochester, York Lions (Toronto, Ont.)
 
Canada's Schedule:
Canada 31-7 Fiji
Canada 19-14 Spain
Canada 26-26 Australia
Canada 26-19 USA: QFs
Canada 40-14 Ireland: 5th Place Semifinals
Canada 7-12 Spain: 5th Place Playoff