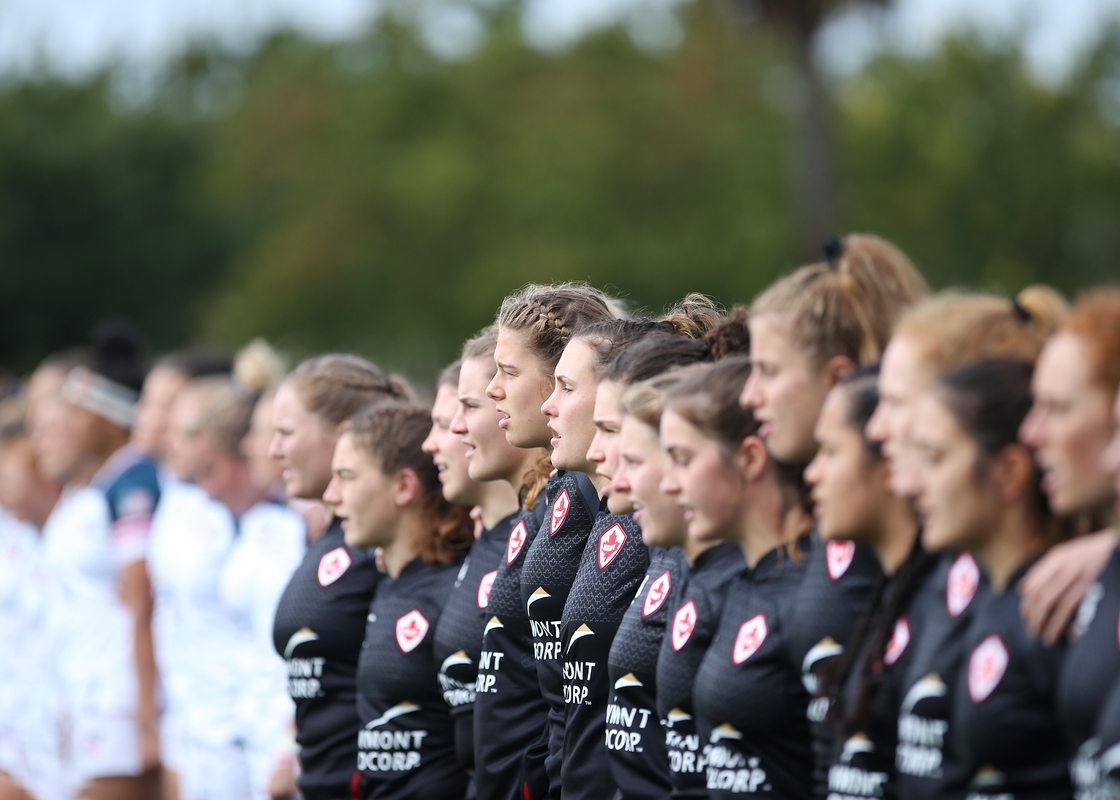 Canada look to end Can-Am series on a win
CHULA VISTA, USA (November 22, 2019) - Head coach Sandro Fiorino has named his squad that will face off against USA in the final match of the 2019 Can-Am series, this Sunday in California. 
After securing a convincing win in their first match against the Women's Eagles on Wednesday 19-0, Canada is looking to end off their 2019 season with a second victory this Sunday. 
As part of their effort to build depth ahead of the 2021 Rugby World Cup, Canada saw three new players win their first caps- Mikiela Nelson, Shoshanah Seumanutafa, and Rugby Canada Development Academy graduate Madison Grant. 
Sunday's match will see PEI's Alysha Corrigan starting at outside centre and Marie-Pier Fauteux replacing Shoshanah Seumanutafa on the bench. 
Kickoff is at 5pm ET/ 2pm PT and will be streamed LIVE on florugby.com with a FloRugby subscription. 
Canada's Roster:
1 Olivia DeMerchant, Fredericton Loyalists (Mapledale, NB) - Captain
2 Gillian Boag, Capilano/UBC (Calgary, AB)
3 DaLeaka Menin, Loughborough Lightning (Vulcan, AB)
4 Tyson Beukeboom, Cowichan Piggies (Uxbridge, ON)
5 McKinley Hunt, Aurora Barbarians (King City, ONT)
6 Sophie De Goede, Castaway Wanderers/Queens University (Victoria, BC)
7 Janna Slevinsky, Kingston Panthers (St. Albert, AB)
8 Fabiola Forteza, Club de Rugby de Quebec (Quebec Cuty, QC)
9 Brianna Miller, Saint-Anne-de-Bellevue (Point-Claire, QC)
10 Taylor Black, Oakville Crusaders (Oakville, ON)
11 Madison Grant, Cornwall Claymores (Cornwall, ON)
12 Tausani Levale, Abbotsford RFC/ Trinity Western University (Abbotsford, BC)
13 Alysha Corrigan, CRFC (Charlottetown, PEI)
14 Paige Farries, Westshore RFC (Red Deer, AB)
15 Alex Tessier, SABRFC (Sainte-clotilde-de-Horton, QC)
16 Mackenzie Carson, Saracens (Abbotsford, BC)
17 Brittany Kassil, Guelph Redcoats (Guelph, ON)
18 Mikiela Nelson, Capilano Rugby Club (North Vancouver, BC)
19 Courtney Holtkamp, Red Deer Titans (Rimbey, AB)
20 Emma Taylor, HRFC / Railway Union RFC (Scotsburn, NS)
21 Marie-Pier Fauteux, Abenakis de Sherbrooke (Sherbrooke, QC)
22 Lori Josephson, Guelph Redcoats, (Beaverton, ON)
23 Irene Patrinos, Toronto Saracens (Mississauga, ON)
Canada's Schedule:
Canada 19-0 USA
Canada vs USA
Nov 24, 2019- 5pm ET/ 2pm PT
Broadcast: FloRugby
-------
Donate to the Monty Heald Fund to help on this tour and all others as our Women's XV work toward the Women's Rugby World Cup in 2021. The fund offsets out-of-pocket costs for athletes and allows them to focus on training and development and will help us build the best squad possible!
To donate click HERE.


Photo Credit: Mark Janzen/ Aedelhard