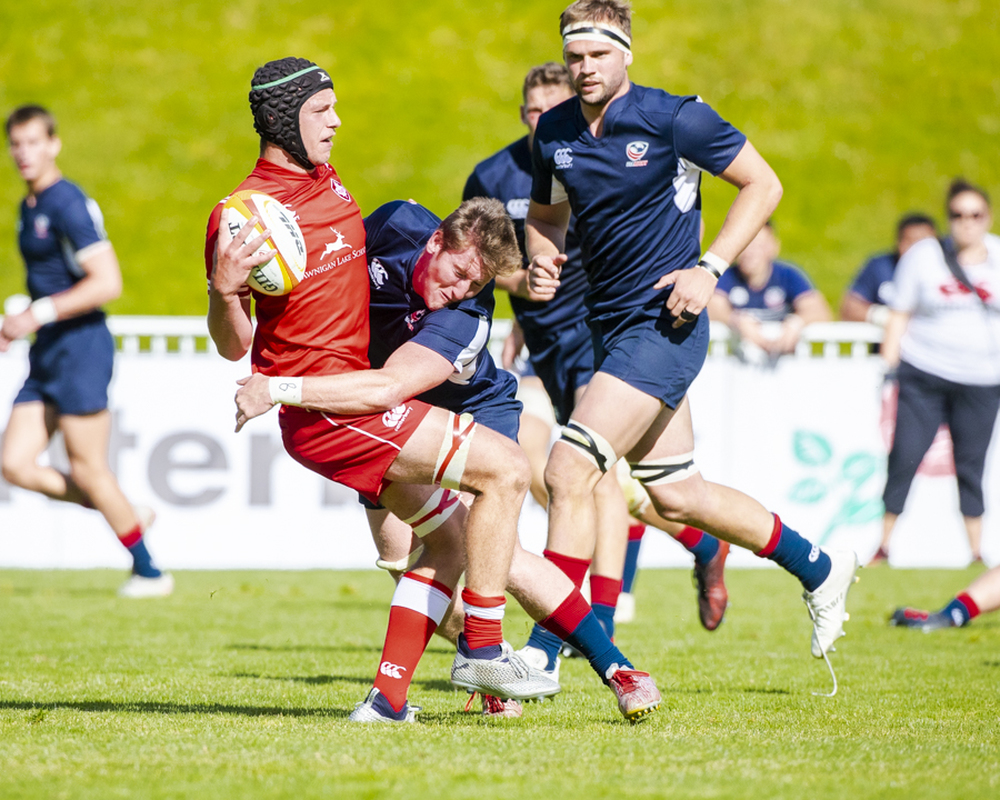 CANADA U20 FINALIZE PLANNING FOR 2020
Contributed Article: Dr. Pat Parfrey
Rugby 15s U20 Men
Canada's Under 20 men's program has finalized it's plans for 2020. Forty eight players have been invited to Shawnigan Lake School for a selection camp Jan 3-7, 2020. It will conclude with an intersquad game at noon on Jan 7 . Players living in BC will come together again on January 18 and 19 for a game vs the Pacific Pride on Jan 19.
The Portugal tour is now planned for February 13-21, with games against Portugal on February 17 and 20. A tour to Britain will also take place from April 28 to May 9, with two games against Bristol Bears Academy and Cardiff Met. The tour has been organized by Gethin Watts, now Bristol Bears Academy manager.
A preparation camp will be held at Shawnigan Lake School from May 24 – June 4 , prior to travelling to Montevideo to play in the America's U20 Rugby Championship. The World Trophy qualifier against USA will be the first game of the Tournament on June 10, a one off knock out contest. Subsequently Canada will play Chile on June 18 and Uruguay on June 22. Additional games v BC U23 and Toronto Arrows Academy are in the process of being organized.
If Canada qualify for the World Rugby Trophy it will take place in Villajoyosa, Valencia region, Spain from September 14-27.
"This season features a planned 8 games prior to the World Trophy Qualifier, something we have never been able to do," commented Head Coach Jeff Williams. "We believe we have identified the best players in Canada for our long-list, both through the U19 Canadian National Championships and a series of cross country camps lead by Adam Roberts and Mike Curran. Our objectives are to provide higher quality players to Canada for RWC 2023 and 2027, and to the Sevens program targeting the 2024 Olympics, in addition to creating a winning culture at U20 level".
Last year a fundraising effort by the U20 Support Group was successful and is now capable of providing annual funding for both the U18 and U20 men's program.
Platinum sponsors who agreed to provide support via the Canadian Rugby Foundation over 10 years:
Andrew Purdey
Pat Parfrey
Mike Holmes
Rick Bourne
Shawnigan Lake School
CRF Captain's Fund
Gold sponsors who agreed to provide support via the CRF over 10 years:
Tim Powers
ONNI Group
Grenville Thomas
Pemberton Holmes
Silver Sponsors who provide support via the CRF over 5 years:
Sally Dennis
Jay Johnson
Mark McCarthy
Brendan Parfrey
Ian McMillan
Bill Webb/Toronto Arrows
Mark Wyatt
Randy Heward
Benji O'Connor
Donations to the program have also been made by:
Pat Aldous,
Luke Kratz.
Pat Parfrey
U20 Manager and U20 Support Group