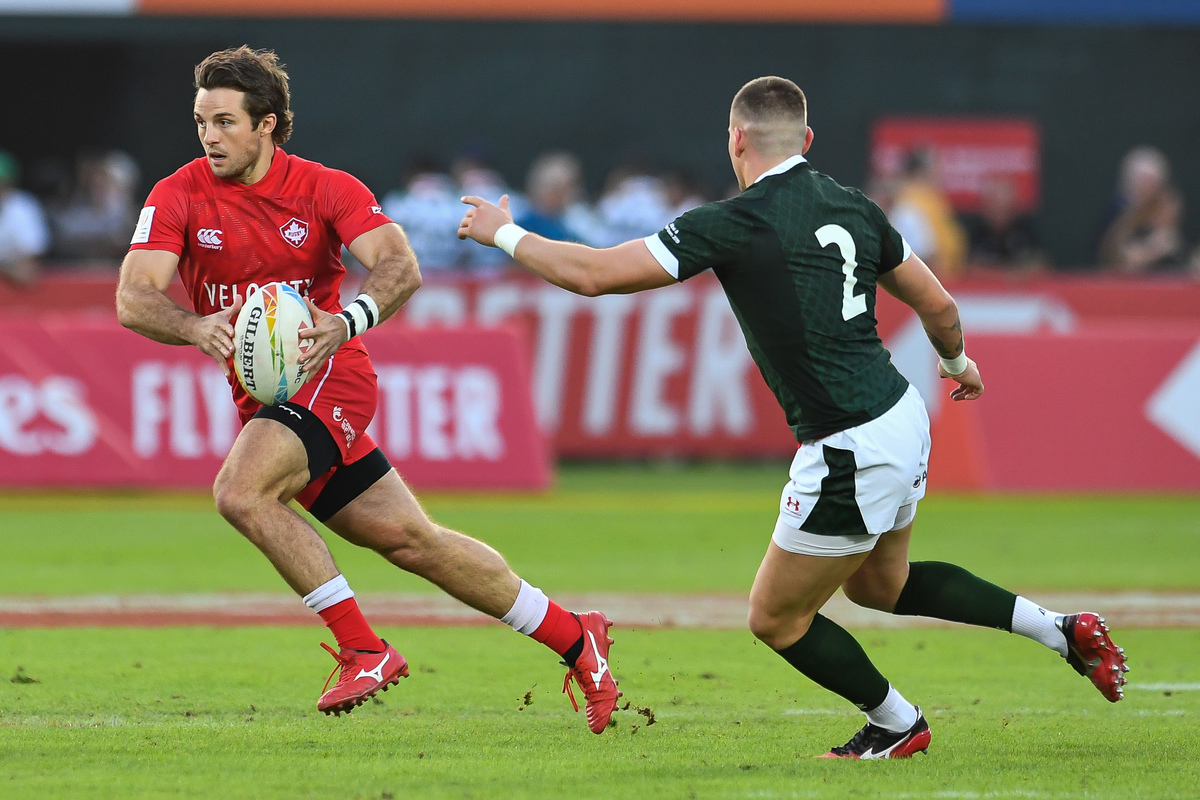 Canada looking to bounce back in Hamilton and Sydney
Head Coach Henry Paul has finalized his squad travelling to Hamilton (January 25-26) and Sydney (February 1-2) for stops three and four on the HSBC World Rugby Sevens Series.
Hamilton, New Zealand will serve as the site of the third tour stop of the HSBC World Rugby Sevens Series. Canada comes off a 10th and 11th place finish in Dubai and Cape Town, respectively, to begin the 2019-20 season. The team now looks to open the calendar year with a strong showing in the lead up to the 2020 Tokyo Olympic Games this summer.
"We didn't achieve our goal of reaching the quarter finals in Dubai and Cape Town, but as our first major head-out of the year, there was some progression between tournaments," said Head Coach Henry Paul. "As we got through the two weekends, we started to find our identity and that's what we're going to push through into tournaments three and four in Hamilton and Sydney."
 Despite a tough showing against Argentina and top-ranked New Zealand in Cape Town, the team rallied back to pull out a win over Wales in its final game of pool play. That performance was followed-up with a commanding victory over Australia to finish the weekend before the holiday break. 
Veterans Nathan Hirayama and Harry Jones will once again lead the squad as co-captains, while Toronto's Lucas Hammond who is returning from injury, finds himself on the roster for the first time since Dubai 2018. 
Theo Sauder will look to build off an impressive display in his Sevens Series debut, coming in as an injury replacement for Adam Zaruba for Dubai and Cape Town and notching 20 points. 
In Hamilton, Canada will compete in Pool C against Ireland, France and Spain.
"It's a tricky pool," added Paul. "There is no easy teams in the world series at the moment – a lot of upsets in Cape Town shows that," he added. "No excuses, we're going to try and put some things together and build on our performances."
Fans can watch the Hamilton and Sydney 7s LIVE on CBC Sports and the CBC Gem App with updates available on World Rugby 7s channels.
Canada's Roster:
1.       Phil Berna (Vancouver, BC) -- UVIC Vikes
2.       Connor Braid (Victoria, BC) -- James Bay AA
3.       Andrew Coe (Markham, ON) -- Markham Irish
4.       Mike Fuailefau (Victoria, BC) -- Castaway Wanderers
5.       Lucas Hammond (Toronto, ON) -- UVIC Vikes
6.       Nathan Hirayama (Richmond, BC) -- Unattached – Co-Captain
7.       Harry Jones (West Vancouver, BC) -- Capilano RFC – Co-Captain
8.       Isaac Kaay (Kamloops, BC) -- UVIC Vikes
9.       Pat Kay (Duncan, BC) -- Castaway Wanderers
10.   Josiah Morra (Toronto, ON) -- Toronto Saracens
11.   David Richard (Milton, ON) -- Mississauga Blues
12.   Theo Sauder (Vancouver, BC) -- Toronto Arrows
13.   Jake Thiel (Abbotsford, BC) -- Abbotsford RFC
Canada's Hamilton Schedule:
Day 1 – Fri Jan 24
Canada vs Ireland – 5:57pm ET / 2:57pm PT
Canada vs France – 11:46pm ET / 8:46pm PT
Day 2 - Sat Jan 25
Canada vs Spain – 5:07pm ET / 2:07pm PT
Broadcast: cbc.ca/sports & the CBC Gem App