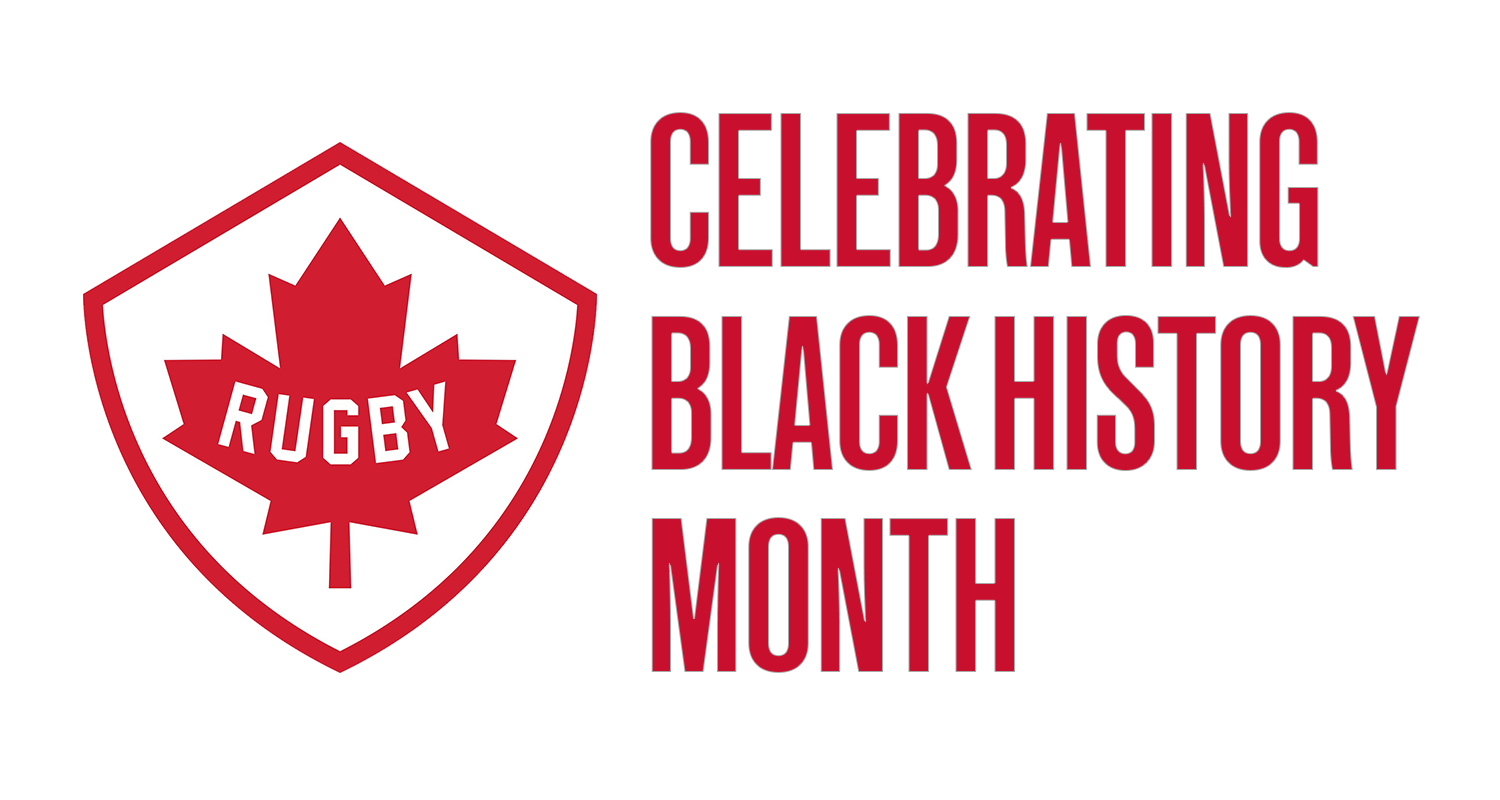 Black History Month: Athlete Spotlight
Rugby 7s Senior Men, Rugby 7s Senior Women, Rugby 15s Senior Men, Rugby 15s Senior Women
Rugby Canada is proud to celebrate Black History Month and the on-and off-field contributions of the great athletes of our past and present who have helped build a legacy of diversity in Canadian sport.
Sport is at its best when diversity is embraced and Rugby Canada is proud of every athlete who wear the red and white jersey. We'd like to take the time to highlight a few of our athletes during Black History Month to celebrate their achievements and hear their stories. 
We heard from some past and present Rugby Canada athletes about their time with the National teams and their experience as black athletes in Canada. 
Ngalula Fuamba (NSWT - current athlete)
What was your pathway to the National Team like?
I started playing rugby six years ago in CEGEP, right before going to university. I had played soccer and tackle football, but I knew that rugby was the only contact sport that I could play in university as a woman. After that, I fell in love with the camaraderie and the intensity that this sport brings out, I just could not stop. Playing for the national team was not something that I considered or planned, but I was surrounded by coaches who believed in me and saw something in the way I played. I got my first maple leaf selection in 2016 for the Utah tour and then I went on to play my first game for the senior team in 2017 during the November tour.
What is your favourite rugby moment?
My favourite rugby moment is the first time that I got selected for the national team in November of 2017. Wearing the Canadian jersey and singing the national anthem with legends that I had seen on television and friends that I grew up playing rugby with was an absolute dream come true and the beginning of an adventure for me.
What does Black History Month mean to you?
For me Black History Month is about realizing that the history of a people that were forcefully dispersed all around the world for the benefits of others had to be summed up in one month in order for it to be remembered. The fact that, in the 21st century, we still have "African-American firsts" or "black firsts" (first to win academy award for best production design, CEO of a MLB team, etc.) says a lot. For me, Black History Month is bittersweet because it makes me realise that I've been taught an incomplete and comfortable history about blackness in Canada. It is only as an adult that I know the existence of Africville and historical events such as the request of mass black immigration from the USA and Guadeloupe by the Canadian Pacific Railway.
Does being a person of colour affect you in any way as an athlete?  To what extent does race have an impact in a sport like a rugby?
Does being small, tall, heavy, lean, fast, a woman effect someone as an athlete? I would say yes. Being black mostly had an effect on how people perceived me and still perceive me. People often underestimate my physical and mental preparation and assume that the athletic qualities that I have are only caused by my genetic advantage of being black.
What advice would you give to the next generation of young black athletes?
I remember when I started playing rugby in the fall of 2014. I didn't know much about it. Coming from tackle football, I would impatiently run in front of my teammates to get the ball and I didn't understand the concept of rucks. At the exact same time, Canada was playing in the 2014 World Cup in France. But they weren't just playing, they were beating every single team to make it to an incredible final against England. I could not help but notice Latoya Blackwood destroy players who wanted to tackle her and Magali Harvey take her opponents on a track meet. At the Markham (Ontario) Canadian Rugby Championship, I had the opportunity to talk to Araba Chintoh who played for national team as a lock for many years and went on to complete a Masters in psychiatry, a PhD and a MBBS. She took the time to talk to me about the importance of sports and education and growing up with ambitious parents. Coming from an African household and being an engineering student, her story really resonated with me. These encounters changed my life. So, my advice to young black athletes, and any athletes, would be to talk to people who look like them and get to know their story. Representation matters and it gave me the tools to believe in myself and reach for higher goals and opportunities.
Josiah Morra (NSM7 - current athlete)
What was your pathway to the National Team like?
I started my seven's journey with the Toronto Rugby sevens team down in New York. Ever since I played in my first elite tournament I knew I wanted to achieve the highest level I could in the sport. This feeling was heightened when I was lucky enough to watch the Canadian men's team take home gold at the 2015 Pan-Am Games, in my hometown of Toronto. Since then, I've played on a couple of sevens teams such as Ontario Sevens, TIRF, Upright Rugby, and Canadian Misfits. I remember watching the first Canada sevens tournament in Vancouver with the Ontario provincial sevens team during the Canadian nationals tournament. We ended up playing our finals at BC Place Stadium that year. Getting the chance to play in such an amazing stadium motivated me to chase my dreams of playing for the national team. A year later, after a lot of hard work, I was noticed at a tournament in Ontario and got selected to move to BC to train with the national team at the Rugby Canada Centre Of Excellence.
What is your favourite rugby moment?
My favourite rugby moment would be making my debut for the Canadian Men's Sevens team. It made all the hard work I had put in and all the sacrifices I made worth it. It meant so much to me when I got messages from my friends and family who had supported me through the ups and downs I had to face through the years. After working so hard to achieve my goal of representing Canada, This memory is a something I will always cherish.
What does Black History Month mean to you?
Black History Month to me is remembering the African-American individuals that went through their successes, struggles and resilience. Learning the history of what they had to go through and seeing that they still overcame those challenges moves me and makes me more proud of who I am! With what I know about the strong men and women that fought for equal rights, and never backed down no matter the opposition they faced, it encourages me to also push through anything. This is a month to celebrate freedom, equality, culture and love. We can't forget about the people that have fought for us to get our rights and freedom.
Does being a person of colour affect you in any way as an athlete? To what extent does race have an impact in a sport like a rugby?
In today's day and age, I feel no effect by being a person of colour in rugby. The people that attend the games are very welcoming and treat every player with love and respect. What I love about rugby is how diverse it is as a whole. There are teams all over the world in each team, there are also different races. Rugby and sports in general, allow us all to get together and share our love with everyone by pursuing our passion. Every tour I've been on so far, I haven't faced any form of racism which I'm fortunate of!
What advice would you give to the next generation of young black athletes?
Don't listen to the outside world when they say you can't achieve your goals based on the colour of your skin. And just what I usually say to anyone, surround yourself with people that'll lead you to the right path in life and draw you to wherever you want to go. At the end of the day, people shouldn't be looking at your race, they should pay more attention to your skill. Just because you're black, it shouldn't limit you to play sports, it should encourage you to go out there and show the next generation that they can do it too! I Don't worry too much about people's words because at the end of the day, if you work hard and build up your strength, you will be up on the top of the podium in whatever you pursue in life.
Is there anything else you'd like to add?
I'm thankful to be a part of an organization that treats every player the same and not based on their past/colour. I'm thankful to for my teammates/ coaches/ staff that are always there for me when I need help and always making me feel like I'm at home! They're the reasons why I love doing what I do for a living and for that I'm grateful to be a part of this team and represent Canada!
Araba "Roo" Chintoh (NSWT - alumna)
What was your pathway to the National Team like?
I picked up a rugby ball for the first time when I started my undergraduate degree at the University of Toronto in 1997. A frosh leader invited me out to training where I was a disaster. All legs and terrible hands! I distinctly recall Kevin Jones (former NSWT coach) yelling "it's not rocket science Roo, just catch the ball!" I promptly injured myself and spent the remainder of the season on the touchline. I'd bring my knitting needles and a book and sit every night from 5-7pm just soaking up the rugby environment. I loved that after a match, we would sit down for a meal with the opposition and sing songs. My idea of paradise!
The following summer, that same frosh leader invited me to play with her club. I had no idea that I was joining the legacy of the Toronto Scottish RFC. Their women's team was already dominant and peppered with internationals: Maureen MacMahon, Heather Hunt, Moira Shiels, Tamara Curtis, Annette Fleming, Marlene Donaldson, Dawn MacDonald (and later Heather Moyse, Ghislaine Landry, Arielle Dubissette-Boris, Sara Kaljuvee). There, no one accepted mediocrity. I was still just as clueless, but the players were insistent and directive: "Stand here." "Hit that." "Run hard." "Out of the way!" I learned quickly, trained hard, focused on skills and soaked up the culture. That team went on to dominate the Ontario Women's League winning championship after championship, leading to our recent induction into the Rugby Ontario Hall of Fame, Class of 2019.
In the summer that followed, our coach, Al Hawes was participating as an assistant at a national team camp. One of the locks was unable to attend so he called me to see if I could fill in. At that camp, head coach, Ric "Sluggo" Suggitt, saw my potential and that was the beginning of my journey with Canada's NSWT.  My first cap was against the USA in Saranac Lake in 2000. In my last match, I scored my first (and only) international try in an historic win against France in 2009.
What is your favourite rugby moment?
There are so many great rugby memories largely involving Sluggo-inspired skit nights at training camps! But I think my favourite rugby moment was at the 2002 World Cup when my parents and my sisters made the surprise trip to Barcelona. I am unhealthily close to my family and talk to my mother daily. She, however, cannot keep a secret. So she had stopped answering the phone once we got into training camp and I hadn't spoken to her in almost two weeks and I was beside myself. At our first match we were all lined up to sing the national anthem and then, above all the noise in the crowd, I hear my mother's piercing voice yelling my name and waving madly, grinning like the Cheshire cat! I was in tears, as were my teammates who had been consoling me for the previous two weeks! Priceless.
What does Black History Month mean to you?
It is hard to describe what Black History Month means to me. It's a month for people to celebrate the contributions of black people, acknowledge the history of oppression, recognize the impact of systemic racism and lament the injustice perpetrated against black people. But since I am a black person, this is what I do every day. Every month. Not just during February.
The current social climate is allowing the experience of racialized people to enter the mainstream. Anti-Black racism and anti-oppression has been embraced by many of our institutions and is being taught in our schools. So, perhaps, Black History Month is an opportunity to highlight these narratives and concepts and challenge the privileged to do and be better.
Does being a person of colour affect you in any way as an athlete? To what extent does race have an impact in a sport like a rugby?
The world is not all sunshine and roses and the ugly thorns of prejudice exist everywhere, even in rugby. I have been affected by people's assumptions and micro-aggressions – people are shocked to learn that I am a physician, that I have a PhD, that I did not grow up in poverty, that I have a decent command of the English language. However, the common refrain of all women who play rugby is that we love the inclusivity and acceptance in the rugby community. There is a place for people of all shapes, sizes, sexual orientations, gender expressions and "colours." I feel accepted here in a way I do not in many other environments. As a black woman, my involvement in rugby has been overwhelmingly positive and I choose to focus on that and leverage my experience to my benefit.
What advice would you give to the next generation of young black athletes?
I definitely am not wise enough to be doling out advice to anyone, but I will say this: the skills learned in rugby are applicable far beyond the pitch. Teamwork, leadership, respect, perseverance, resilience – use these in your everyday life. Use them to advance your family, education, and career. Use them to empower others. Use them to leave a place in better shape than the way you found it.
Courtney Smith (NSMT - alumnus)
What was your pathway to the National Team like?
My high school coach Paul Ambrose introduced me to rugby. I joined Balmy Beach and went through the Ontario system, playing U19 before making the senior men's team. I had the opportunity to move to BC and joined the Meraloma Rugby Club. I went through the Vancouver and BC Rugby programs to make the Canadian U21 team and then the men's senior team.
What is your favourite rugby moment?
There were many great moments for me in rugby! The 3 best moment for me were:
Canada U21 tour to California (that cemented my love for rugby) the lifelong friends that I made on that tour.
Moving to London and getting my first professional contract, playing for the Saracens and getting the Try of the Week, and having the opportunity to play with a lot of great player like Phillipe Sella, Francois Pienaar and Michael Lynagh.
Going to the 1999 Rugby World Cup.
What does Black History Month mean to you?
It means to me that the struggles that my mom went through to get me to this country to make a better life for me and my brother.
Does being a person of colour affect you in any way as an athlete?  To what extent does race have an impact in a sport like a rugby?
Not in my eyes! As long as you have a goal in life it doesn't matter what color you are as long as you serve for that goal. Being so diverse shows everybody that rugby is for all race, creed or gender.
What advice would you give to the next generation of young black athletes?
That life is hard for everyone and if you keep to your goals and dreams you can accomplish anything!