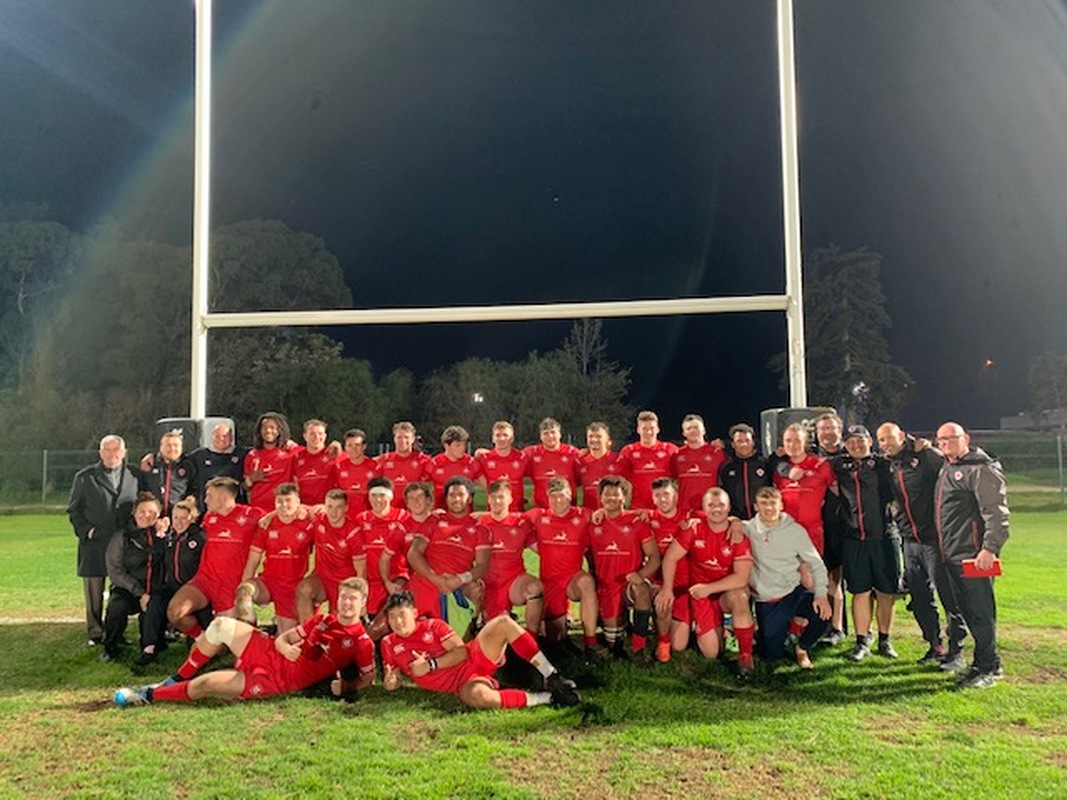 Canada's U20 Men's Team get big win over Portugal
Dr. Pat Parfrey
Rugby 15s U20 Men
Canada's U20 men's team win 48-20 in final game of Portugal Tour.
The fifth attempt in three years was indeed the charm for Canada's U20 Men's Team, as an inspired squad bested Portugal's U20s by a score of 48-20, putting up six tries against Portugal's two.
It was a lovely night for rugby at the Jamor National Training Centre in Portugal. Canada began the game in fine form thanks to a Cole Brown score under the posts, following breaks by Brock Webster and Matt Percillier. Portugal answered with two consecutive converted tries before a Canadian lineout drive resulted in a converted try from hooker Jacob Bossi, equalizing the score. Canada then struck again when a beautiful pass from Brock Webster led to Ciaran Breen streaking under the posts. Portugal made it 21-17 with a penalty before Sion Griffiths extended his country's lead by finishing a long movement from the ensuing re-start, which featured breaks by Will Matthews and Breen. Three conversions were kicked by Cole Brown and one by Thomas Isherwood in the first half.
With Siaki Vikalani and Webster withdrawn at halftime, Portugal began the second half strongly, kicking a penalty to make the score 28-20. Canada would not faulter from then on, adding 20 unanswered points and displaying their strength in finishing.
Following another Breen break, Bossi scored from a forward drive. Isherwood kicked the ensuing conversion as well as two more penalties. Finally, Willem den Ouden crossed the line with a dive after an Isherwood break. Isherwood's two conversions and two penalties in the second half would bring his points total on the day to 17.
"Our players played with great heart and determination, and were not going to be denied a win," said coach Jeff Williams. "Our improved defence and set-play compared with Monday's match were a testament to the hard work the team has put in. The skill in the game was demonstrated by the fact that the first scrum wasn't until the 14 minute mark, and our first lineout at the 20 minute mark. Despite the hectic nature of the game we lasted the entire 80 minutes."
Man of the Match honours were awarded to Ciaran Breen, while second row Liam Casey, flanker Matthews and fullback Isherwood also put in fine performances. Canada U20 will next travel to Britain to take on Cardiff Met and Bristol Bears Academy on May 3 & 7 respectively.