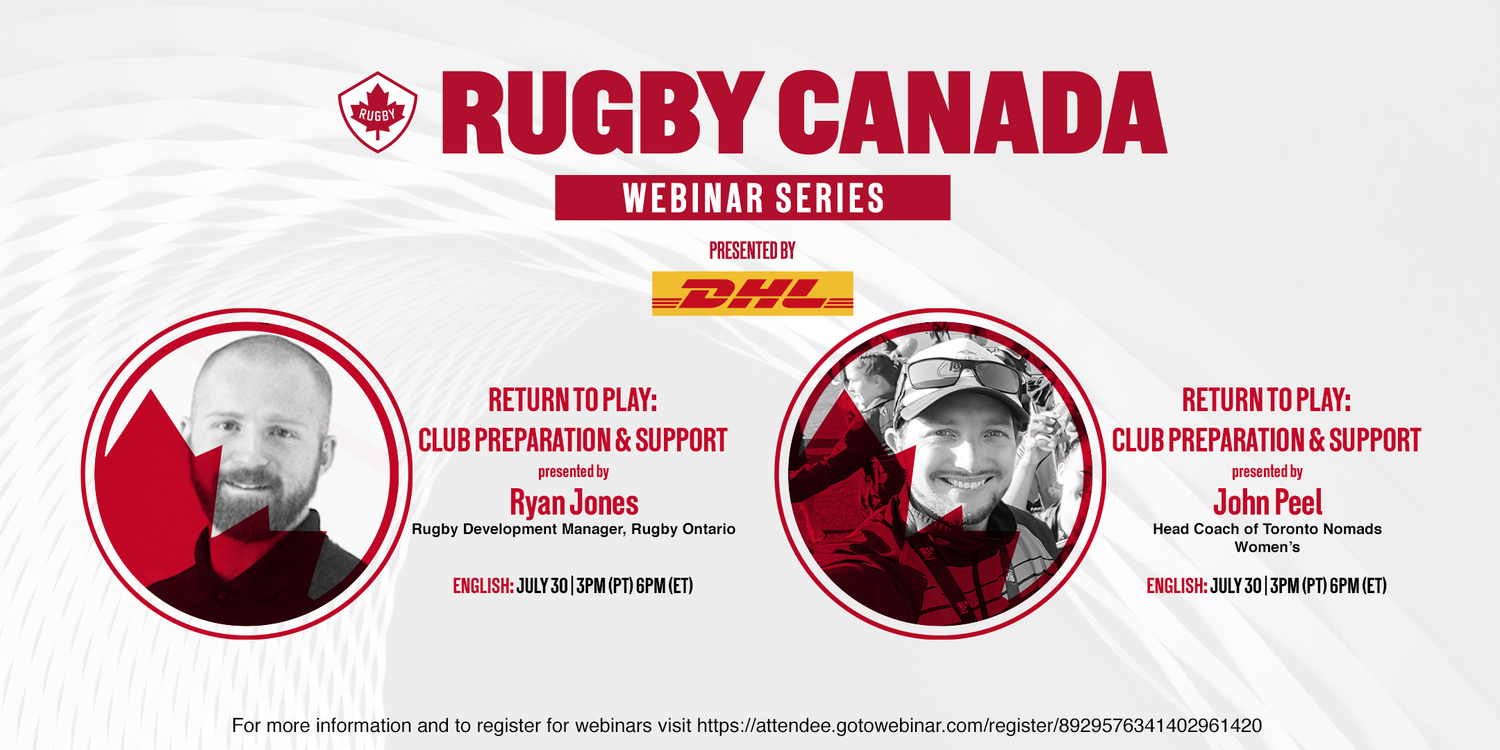 Rugby Canada Online Webinar Series
Rugby Canada is proud to present its free online webinar series open to all, led by distinguished members of the Canadian rugby scene.
Rugby Canada is delighted to present a series of free online webinars led by distinguished members of the national rugby scene. The unique sessions are a great opportunity for the Canadian rugby community to engage and learn, during these unprecedented times.
Each hour-long session will cover a unique topic delivered by Rugby Canada personnel, followed by a Q&A.  
All webinars are FREE and open to ALL -- coachers, players, match officials, managers, administrators and fans!
To register, please click 'Register Now' on the session you wish to join. All sessions will be uploaded to Rugby Canada's YouTube Channel For questions, contact Paul Hunter (phunter@rugby.ca) or Nathan Abdelnour (nabdelnour@rugby.ca).
Upcoming webinars:
Return to Play: Club Preparation and Support
Ryan Jones – Rugby Development Manager, Rugby Ontario & John Peel – Head Coach, Toronto Nomads Women's
July 30, 2020, 3pm PT / 6pm ET
Coaching The Scrum w/ John Lavery - Head Coach, Concordia Stinger's Men's Rugby 
Original Air Date: July 16, 2020, 3pm PT / 6pm ET
World Rugby Activate Program w/ Matt Hislop - Technical Services Researcher, World Rugby 
Original Air Date: Thursday, July 2, 2020, 12pm PT / 3pm ET
Nutrition For Rugby Performance w/ Vanessa Zoras - Sport Dietitian, Rugby Canada
Original Air Date: Thursday, June 18, 2020, 3pm PT / 6pm ET
Gamification: Chatting With The Creator of The Magic Academy w/ Russell Earnshaw - Director, The Magic Academy
Original Air Date: Thursday, June 25, 2020, 3pm PT / 6pm ET
Formal & Informal Professional Development w/ Andy Pilmer - Teacher, John Abbott College/Assistant Coach, Concordia University; Beth Barz - Teacher, Katarokwi Learning Centre/Mentor/Facilitator, Canadian Sport Institute – Ontario/Assistant Coach, RMC Men's Rugby/Master Coach Developer; Jackie Tittley - Manager of Training and Education, Rugby Canada
Original Air Date: Thursday, June 11, 2020, 3pm PT / 6pm ET
Life Off the Pitch: Adapting to Current Realities w/ Carolyn Mcewen - Instructor, School of Kinesiology UBC; Sommer Christie - Postdoctoral Fellow, McGill University/Mental Performance Consultant, Canadian Sport Psychology Association 
Original Air Date: Thursday, June 4, 2020, 3pm PT / 6pm ET
Trends and Skill Development in the Women's Game w/ Colette McCauley - Head Coach, University of Guelph; Maria Gallo - Assistant Coach, University of British Columbia; Assistant Coach , NSWT; Brittany Waters - Head Coach, University of Victoria; Jocelyn Barrieau - Head Coach , Concordia University
Original Air Date: Thursday 7th, May 2020, 3pm PT / 6pm ET
Inclusive Rugby w/ LeeAnn Napiorkowski - Head Coach, Carleton Ravens Men's Rugby; Founder of Ottawa Mixed Ability Rugby
Original Air Date: Thursday 14th, May 2020, 3pm PT / 6pm ET
Principles of Attack w/ Henry Paul - Head Coach, Canada's Men's Sevens Team
Original Air Date: Thursday 21st, May 2020, 3pm PT / 6pm ET
Team Culture and World Cup Experiences w/ Francois Ratier - Executive Director, Rugby Québec
Original Air Date: Thursday 28th, May 2020, 3pm PT / 6pm ET
Successful Event Organization w/ Jennifer Smart - Director of Events Rugby Canada
Original Air Date: Tuesday 28th, April 2020
Culture d'équipe et expériences des 2 Coupes du Mondes féminines w/ Francois Ratier - Directeur Général Rugby Québec
Original Air Date: Thursday 30th, April 2020
Trends of International Rugby w/ Kingsley Jones - Head Coach, Canada Men's XV
Original air date: Thursday, March 26
Principles of Defence w/ Jamie Cudmore - Head Coach, Pacific Pride Development Academy
Original air date: (English) Tuesday, March 31  |  (French) Tuesday, April 7
Role of a Team Manager & Tour Organization w/ Alana Gattinger - Operations Manager, National Senior Men's Rugby
Original air date: Thursday, April 9

Principles of Analysis w/ Calum Ramsay - Head of Performance Analysis
Original air date: Tuesday, April 14                                                                                                                         
Coaching the Offensive Breakdown w/ Dave Butcher - Men's Rugby Head Coach, Queens University
Original air date: Thursday, April 16                                                                                                                        
Transition from International Player to Referee w/ Julianne Zussman - World Rugby International Referee, Former Canada Women's 15s and 7s Player
Original air date: Tuesday, April 21                                                                                                                         
The Toronto Arrows: A New Professional Pathway for Canada w/ Mark Winokur, Chris Silverthorn, and Aaron Carpenter
Original air date: Thursday, April 23