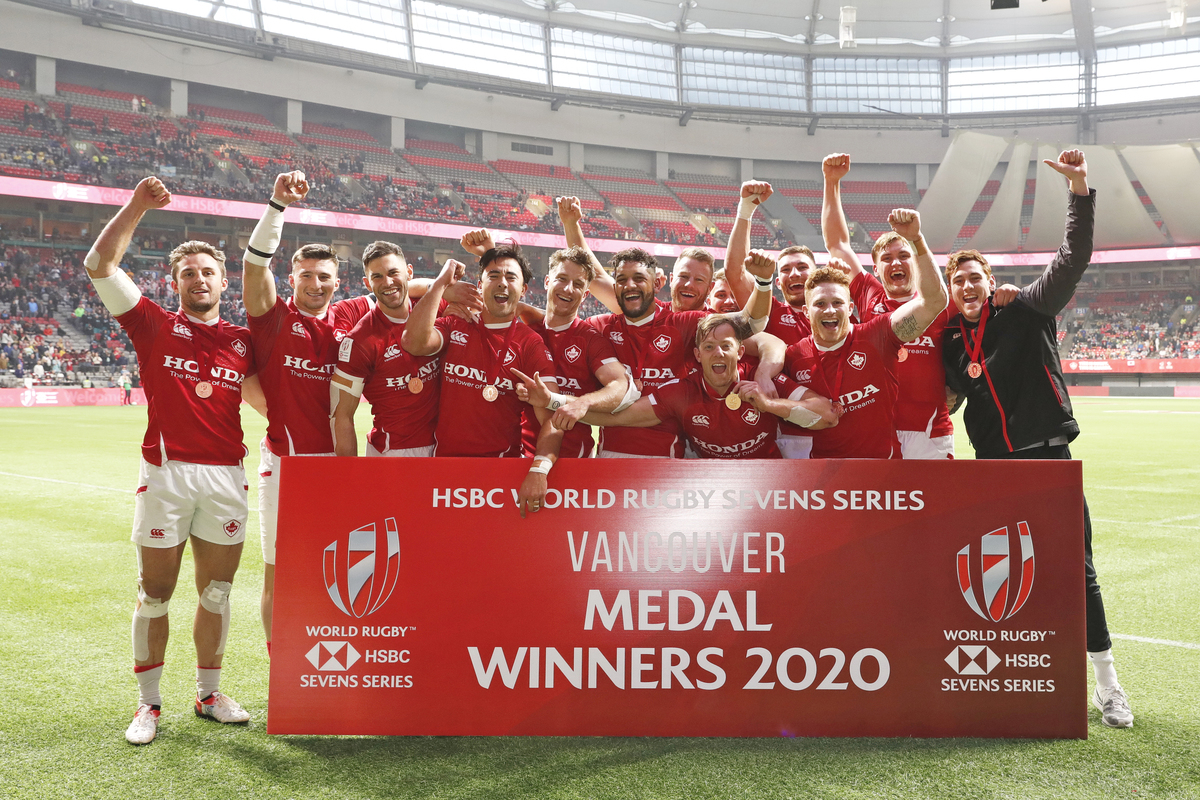 Canada takes bronze on home soil at HSBC Canada Sevens
Canada's men's sevens team finish third at HSBC Canada Sevens in Vancouver, British Columbia, the sixth stop on the HSBC World Rugby Sevens Series.
March 8, 2020 (VANCOUVER) -- The fifth-annual HSBC Canada Sevens rugby tournament set records with the largest single-day crowd in Canadian Rugby history (39,533), and a best-ever performance on home soil by the Canadian team.
Canada got off to a dream start on Day 1, as the team picked up three wins in as many matches, including victories over third seeded Fiji and fourth seeded France, to top Pool B and punch their ticket to Championship Sunday's Quarter Final round. 
The energy in the stadium was as electric on Sunday as it was a day prior. With the fans' support serving as the wind at the players' backs Canada would roll over Spain in their opening match, consequently securing the team's best finish thus far on the 2019-20 Series. In the Semis, the Canadians were thwarted by Australia in a nail-biting, down to the wire contest. With a medal still to play for, the team rose to the occasion in the bronze medal match versus the South Africa Blitzboks, ending the weekend on a win and thrilling the home-fans who were on their feet for all 22 minutes in the process. The third-place finish marks the team's first ever medal on home soil as well as their best tournament result on this years HSBC Sevens Series.
Canadian Co-Captains Nathan Hirayama and Harry Jones received tournament Dream Team selections, while Isaac Kaay was named the DHL Impact Player of the tournament for his 6 tackles, 1 line break, 12 offloads and 24 carries. Other standouts included Justin Douglas and Theo Sauder who scored 4 tries apiece. Moreover, Hirayama was presented with the UL Mark of Excellence award for the team's efforts in raising funds for the Ronald McDonald House of BC through the 'Boots to Kick Cancer' initiative.
Langford, BC will be the site for HSBC Canada Women's Sevens on May 2-3 and will feature the 12 best women's teams. Among those teams is Canada who are coming off back-to-back silver medals and four straight podium finishes on this year's Series. Canada's men will return to action on May 23-24 in London, England for the seventh stop of the HSBC World Rugby Sevens Series.
READ MORE HERE
Day 1 Results: 
Canada 31-21 France
Canada 26-21 Fiji
Canada 29 -7 Wales
Day 2 Results:
Quarter Finals: Canada 21 - 0 Spain
Semi Finals: Canada 14 - 19 Australia
Bronze Medal Match: Canada 26 - 19 South Africa
Full match details on World Rugby Sevens' Match Centre.
Canada's Roster:
Phil Berna (Vancouver, BC) -- UBC Thunderbirds
Connor Braid (Victoria, BC) -- James Bay AA
Andrew Coe (Markham, ON) -- Markham Irish
Justin Douglas (Abbotsford, BC) -- Abbotsford RFC
Mike Fuailefau (Victoria, BC) -- Castaway Wanderers
Lucas Hammond (Toronto, ON) -- UVIC Vikes
Nathan Hirayama (Richmond, BC) -- Unattached (C)
Harry Jones (West Vancouver, BC) -- Capilano RFC (C)
Isaac Kaay (Kamloops, BC) -- UVIC Vikes
Pat Kay (Duncan, BC) -- Castaway Wanderers
Theo Sauder (Vancouver, BC) -- Toronto Arrows
Jake Thiel (Abbotsford, BC) -- Abbotsford RFC
Conor Trainor (Vancouver, BC) -- RC Vannes