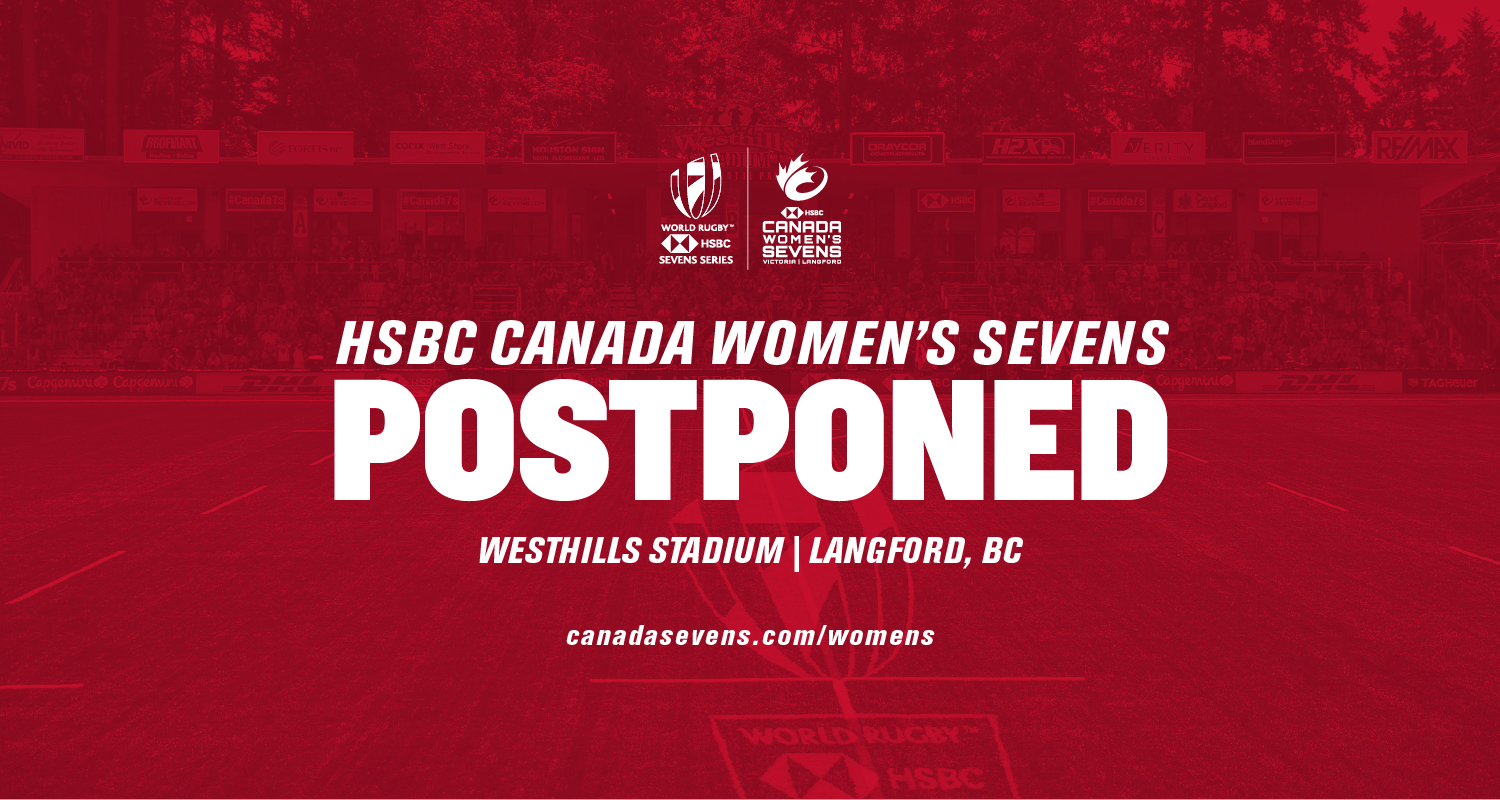 Rugby Canada and World Rugby announce postponement of HSBC Canada Women's Sevens as part of further actions in response to the global COVID-19 pandemic
Rugby 7s Senior Women, Rugby 7s Senior Men, Rugby 15s Senior Women, Rugby 15s Senior Men, Rugby 15s U20 Men
"We are disappointed to have to postpone the tournament, and recognize the investment and commitment put in by our players, coaches, officials, staff, City of Langford and fans. However, as this unprecedented situation continues to evolve, the health and welfare of all involved remains our top priority." - Allen Vansen, Rugby Canada CEO
March 20, 2020 (Langford, BC) -- It is with regret that Rugby Canada confirm the postponement of the 2020 HSBC Canada Women's Sevens originally scheduled for May 2-3, 2020 in Langford, BC due to the global COVID-19 situation. The postponement comes as part of further actions announced by World Rugby today in response to the global pandemic. These actions include:
The HSBC World Rugby Sevens Series tournaments in London and Paris will be postponed, provisionally until September;
The women's HSBC World Rugby Sevens Series tournament in Langford has been postponed until later in the year 
The final men's World Rugby Sevens Challenger Series event has been postponed until later in the year;
Some Rugby World Cup 2021 and 2023 qualifying events have been postponed.
In addition the following event has been cancelled:
The World Rugby U20 Championship 2020, scheduled to be hosted in northern Italy in late June and July, has been cancelled  
"Hosting one of only two 'stand-alone' women's events on the World Series is a point of pride for Rugby Canada. We are disappointed to have to postpone the tournament, and recognize the investment and commitment put in by our players, coaches, officials, staff, City of Langford and fans. However, as this unprecedented situation continues to evolve, the health and welfare of all involved remains our top priority," said Allen Vansen, Rugby Canada CEO.  
 
Fans that have purchased tickets to the postponed HSBC Canada Sevens will retain their seats for the rescheduled event. Once a decision is made on the rescheduled date, fans will have the option of a refund by request or to retain their purchased seats for the new dates. If a decision is made to cancel the event, a refund will be made available to all ticket purchasers. Rugby Canada is working diligently with World Rugby to explore options and will provide an update on the tournament status shortly. Rugby Canada thanks fans for their patience and understanding as they navigate through this evolving situation.  
 
To view the full World Rugby release click HERE.