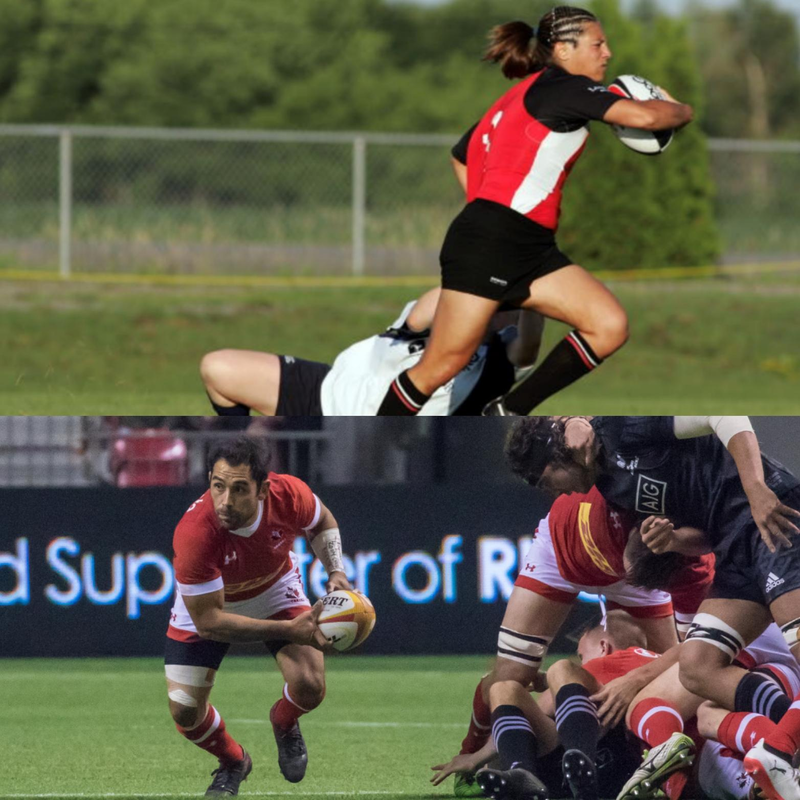 RUGBY CANADA PROVIDES COACHING UPDATES FOR RWC 2021 AND MEN'S DEVELOPMENT ACADEMY
Rugby Canada is pleased to confirm coaching appointments for two former Canadian international players, Dr. Maria Gallo and Phil Mack.
September 18, 2020 (Langford, BC) – Rugby Canada is pleased to confirm coaching appointments for two former Canadian international players, Dr. Maria Gallo and Phil Mack.
Dr. Maria Gallo was capped 55 times for Canada over an 11-year international XV's playing career. She played in the 2002, 2006 and 2010 RWC's, as well as captaining the Canadian team at the 2009 RWC Sevens. She was elected to the Rugby Canada Hall of Fame in 2018 in the player category, and since the conclusion of her playing career has served as an assistant coach with the National Women's XV team and the head coach of the UBC Women's rugby team.
Dr. Gallo was nominated and confirmed for the World Rugby Coach Internship program for RWC 2021, which is fully funded by World Rugby as part of an IOC international development grant. This transformational program was open to all RWC 2021 participating unions, with a goal of creating quality deployment opportunities for aspiring elite female coaches in high-performance environments while addressing the lack of women's coaches at high-performance level across both men's and women's rugby. Dr.Gallo will be fully embedded for 12 months in Canada's RWC 2021 management team, as World Rugby targets a minimum of 40% of all coaches at RWC 2025 to be women.
"We are excited to have someone with Maria's experience and expertise further integrated into our coaching team," said Canadian Women's XV head coach Sandro Fiorino. "She will be a valuable resource as we continue our preparations for RWC 2021, and we thank both World Rugby and the IOC for their support of this coach internship program."
"I'm excited for another stage of my coaching development," added Dr. Gallo. "Having attended RWC as a player, I believe I can bring a unique perspective to our team, in addition to coaching assistance. It's important that deserving female coaches are provided positions at the high-performance level, and I'm grateful for the nomination that brought this opportunity."
To view the full release from World Rugby regarding the coaching internship program, please visit: https://www.world.rugby/news/586998/rugby-world-cup-2021-coaching-interns-confirmed-as-part-of-one-year-to-go-celebrations 
Phil Mack earned 57 XV's caps for Canada, including selections to the 2015 and 2019 RWC squads. With 52 tournaments played on the HSBC Sevens Series, Mack is one of a select group internationally to play over 50 Series events and ranks 2nd all-time for Canada with 973 points scored. Mack also spent two years playing professionally with the Seattle Seawolves of Major League Rugby, where he was a player-coach for successive championship seasons in 2018 and 2019. A member of the Toquaht First Nation, Mack also has been coaching with the Thunder Rugby indigenous program since its inception.
Mack joins the coaching staff of the Rugby Canada Men's Development Academy as an assistant to head coach, Jamie Cudmore. The Men's Development Academy program is based at the home of Rugby Canada in Langford, BC and aims to provide a professional training environment for targeted male players.  The program is comprised largely of uncapped players from across Canada whose progression suggests they are one to three seasons away from playing senior international rugby. Mack joins the staff in place of Adam Kleeberger, who recently moved into a player identification role based out of Vancouver.
"Phil has extensive playing experience in both 15s and 7s, but it's his coaching experience that stands out," stated Kingsley Jones, Director of Men's Performance Rugby. "In three years with the Seattle Seawolves, they won the MLR title twice. He is hugely respected as a player and coach, and we look forward to supporting him on his coaching pathway." Jones added, "Jamie Cudmore has done a fantastic job re-starting our Men's Academy Program and adding Phil to our excellent academy coaching group will ensure the program continues its positive development.
"I'm very much looking forward to joining the coaching team with the Men's Development Academy," said Mack. "I've enjoyed the coaching opportunities I've had over the past years, and this new position will give me the chance to work with some of the best young players in Canada while also continuing my coaching development with Jamie Cudmore, Kingsley Jones and the other coaches with Rugby Canada."
-30-
About Rugby Canada:
Rugby Canada is the national governing body of the sport of Rugby Union in Canada. They administer and operate Men's and Women's Senior and Junior National programs in both rugby XV's and 7s, as well as govern the Club and community game for more than 30,000 registered participants from coast to coast in conjunction with ten Provincial Union members.
Rugby Canada is headquartered at the Al Charron National Training Centre in Langford, BC, with staff also working from Vancouver, Toronto and Ottawa. Rugby Canada business operations, programs and events are delivered nationwide, including the internationally recognized HSBC Canada Sevens annual tournaments.
For more information, please contact: media@rugby.ca.