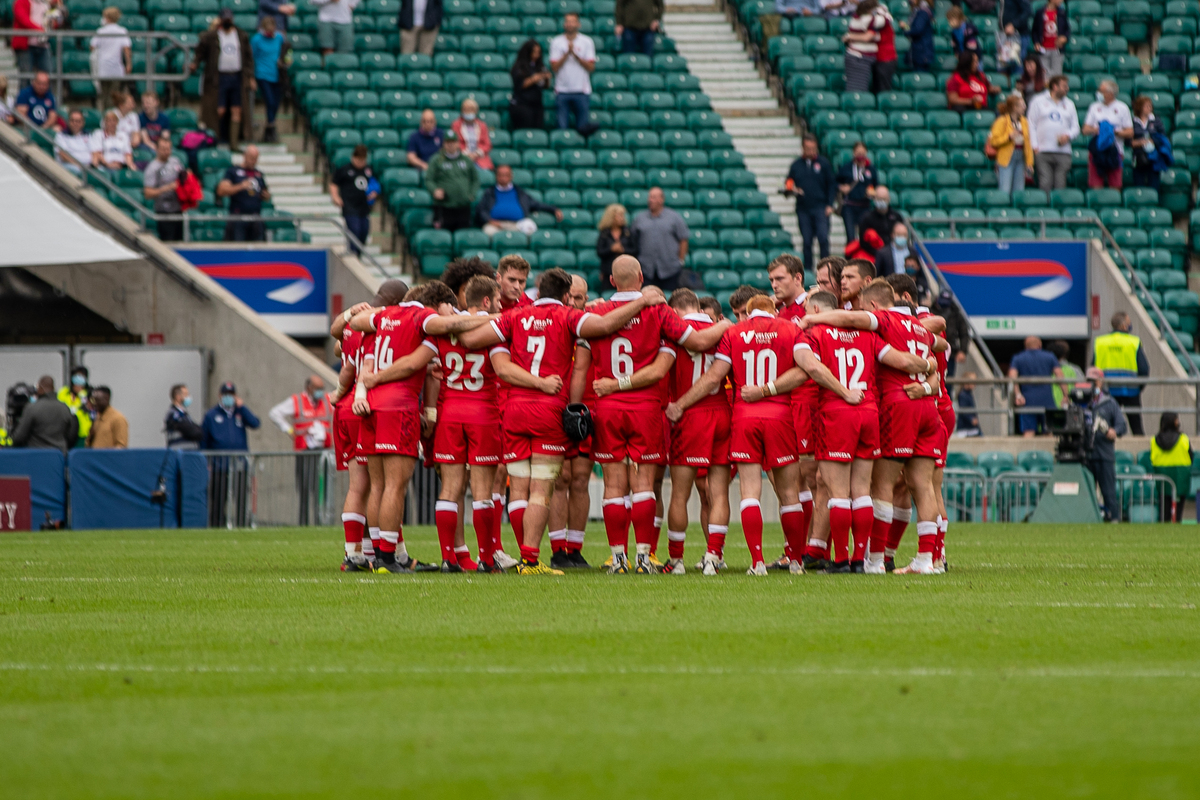 ENGLAND TOO POWERFUL FOR CANADA AT TWICKENHAM
Canada took to the pitch at storied Twickenham for the second match of their UK Tour presented by DHL.
10 JULY 2021 - Canada took to the pitch at storied Twickenham for the second match of their UK Tour presented by DHL. After taking on Six Nations champions Wales in their first match, the opponent this week was England, ranked #3 in the world. Ultimately, a powerful England side would defeat Canada 70-14.
There were three more test debutants for Canada with Corey Thomas starting at #6, Lachlan Kratz starting at #12 and Liam Murray wearing #18 and coming off the bench. The referee Craig Evans from Wales was also making his Tier 1 test debut, as the match marked the first official test between Canada and England in 17 years.
It was a tough start for Canada as England #2 Jamie Blamire powered over from a driving maul within the first minute. Marcus Smith added the conversion for a quick 7-0 lead to England. Canada then showed their ambition, eschewing two kickable penalties in favour of lineouts, and a scrum was called for when a third penalty was awarded. Canada won yet another penalty at the scrum, and #9 Ross Braude caught England flat-footed with a quick tap and darted over for his first Canadian try. #10 Peter Nelson added the conversion and the score was tied 7-7 after 10 minutes.
A key moment happened in the 13th minute, as England again was poised to power over the try line from a driving lineout maul. Referee Evans judged that #4 Reegan O'Gorman was guilty of bringing the maul down, and Canada took a double hit of a penalty try and yellow card to O'Gorman. England quickly capitalized on their extra man advantage as #11 Adam Radwan showed pure pace to touch down a converted try. Canada showed a good response and pushed forward through a good run by #12 Kratz, but when big #14 Joe Cokanasiga tallied twice in 4 minutes, Canada had given up 21 points while playing a man short and were behind 35-7.
Canada then settled in for their best sustained passage of the match. #15 Cooper Coats showed how his work during training week was paying off as he confidently took every high ball England kicked his way. Canada won a second scrum penalty in the 28th minute, and then saw England captain #6 Lewis Ludlow yellow-carded for a clumsy step-over in a ruck that caught #3 Jake Ilnicki in the face and forced #17 Cole Keith to come on as a replacement. The Canadian lineout was also winning penalties, and a good build-up led to a try out wide for #11 Kainoa Lloyd, his second in two matches. #10 Nelson made the difficult conversion and Canada trailed 35-14 after 33 minutes. England responded on the stroke of halftime with a 10-man driving lineout maul with #2 Blamire touching down for his second of the match. That made the halftime score 42-14 in England's favour.
Positives for Canada in the first half were the forcing of 10 penalties on England, and well functioning set pieces on their own ball which showed the value of a full week of training together.
England faltered in the second half of their match last week versus the USA and seemed determined to not allow this to happen again. #14 Cole Davis did break free for Canada in the 42nd minute, but play was called back for a penalty.
England's power game was starting to take its toll on Canadian defenders, and Man of the Match #1 Ellis Genge crossed for a try in the 46th minute. The try would again be converted by #10 Smith, who would kick a perfect 100% on the day. During the conversion, it was announced on the broadcast that Smith had just been called up to the British & Irish Lions Tour, showcasing the quality of the England side. #11 Radwan would add his second try 4 minutes later, and full substitutions started with the score 56-14 in favour of England.
An apparent England try in the 55th minute was called back when the TMO astutely, and correctly, identified a knock-on in the lead-up. However, #2 Blamire would not be denied his hat trick as England drove over another lineout maul 4 minutes later. Shortly after, a poor high ball somehow ended up in the hands of #11 Radwan and his pace again proved too much as he scored a long-range try.
Showing pride and their commitment to fitness, Canada dug in for the final 18 minutes and held England off the scoresheet. Another strong lineout maul in the 75th minute produced two penalties against England, while #13 Ben LeSage was still running strong in the 79th minute and made a nice break. However, there were no rewards to be found for Canada and the match ended at 70-14.
The game was played at a high pace throughout which will serve the Canadians well as they prepare for their Fall matches. Captain Lucas Rumball stated, "We can pick some bright spots from today's game however, we are disappointed with the overall result and feel we let ourselves down a little bit." Speaking on the UK Tour Rumball added, "The experience playing in these large UK stadiums will be invaluable as we move forward."
Canada's focus now turns to the first round of 2023 Rugby World Cup qualifying versus the USA. As announced last week, Canada will host the first game of the series in St. John's NL on September 4th, with the return match scheduled for September 11th in Glendale, CO.
Rugby Canada thanks Premier Partners DHL for their presentation of the UK Tour, and Macron for the supply of the new Canadian on-field kit.
Scorers: Canada 14 (Braude, Lloyd, Nelson 2 con); England 70 (Blamire 3, Radwan 3, Cokanasiga 2, Genge, penalty try, Smith 10 con); HT: 42-14.