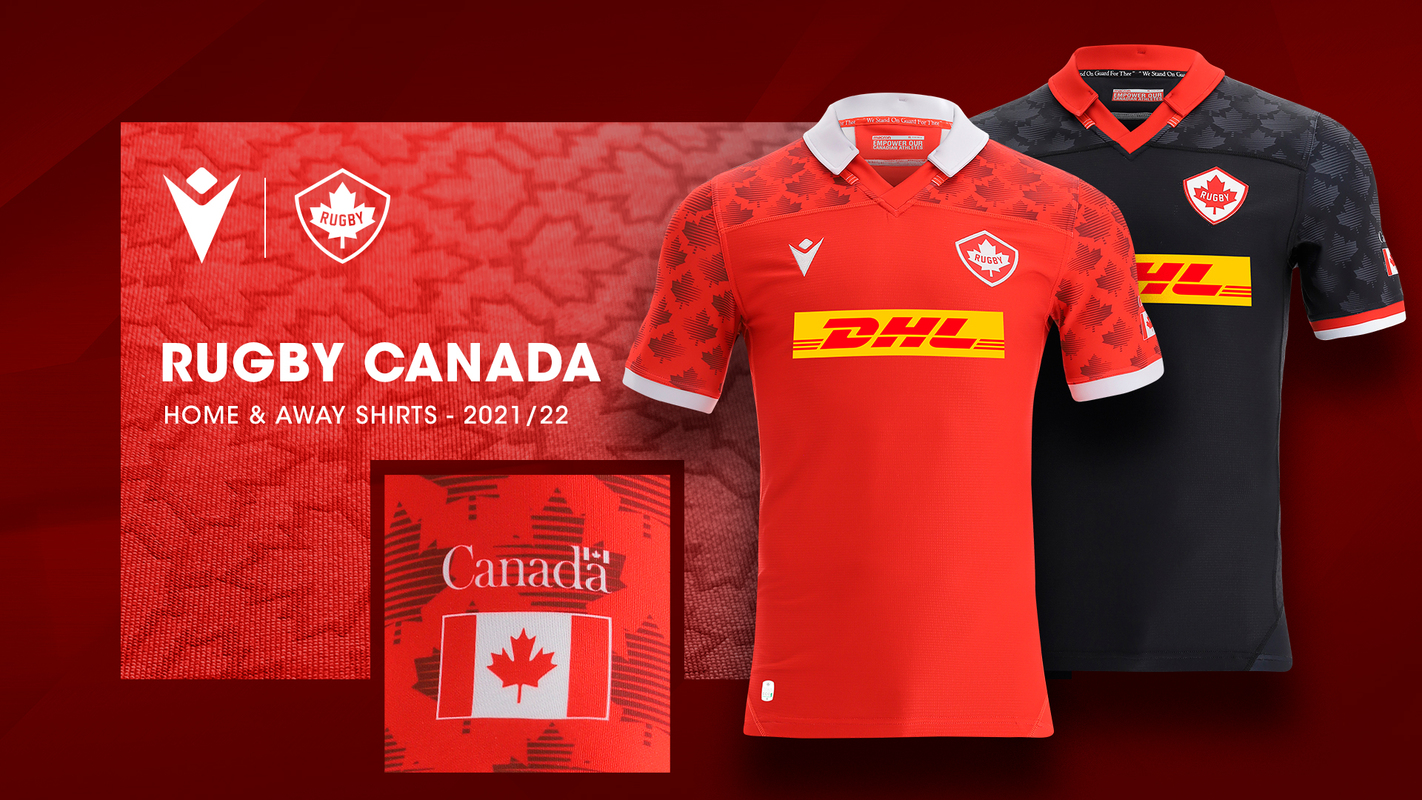 RUGBY CANADA UNVEILS NEW MACRON MATCH JERSEYS
Rugby 7s Senior Men, Rugby 7s Senior Women, Rugby 15s Senior Men, Rugby 15s Senior Women
Replica Jerseys will be available for purchase in mid-July!
July 1, 2021 (Langford, BC) – Rugby Canada are excited to unveil new national team jerseys provided by Premier partner Macron.  The new home and away jersey will be worn by all national teams in both 15s and 7s.  The new jerseys will debut on the senior men's 15s July UK Tour as Canada will wear the away jersey this weekend against Wales while the home jersey will be worn against England on July 10th.
The home jersey is red with a white polo collar and white sleeve trim.  Maple Leafs adorn the sleeves, shoulders and sides of the jersey in a tone-on-tone effect.  The home jersey is paired with red shorts and red socks. 
The away kit is black with a red polo collar. The sleeves are finished with a red and white stripe. The away jerseys also feature the maple leaf along the shoulders, sleeves and sides and are paired with black shorts and black socks. 
The Italian brand's Macron Hero logo is embroidered in white on the right chest, while the Rugby Canada logo appears over the heart on the left.
For Canada's Men's and Women's 15s teams, premier partner DHL Canada will continue as the front of jersey sponsor.  DHL is the official logistics supplier of Rugby Canada.
On the 7s side, Velocity Trade will be the front of jersey sponsor for both Canada's Men's and Women's Sevens Teams.  Earlier this year Rugby Canada and Velocity Trade announced a five-year extension of their partnership that will run through until 2025.
Replica jerseys will be available for purchase by fans later this month. For all Rugby Canada apparel needs, please visit store.rugby.ca.
-30-
About Rugby Canada:
Rugby Canada is the national governing body of the sport of Rugby Union in Canada. They administer and operate Men's and Women's Senior and Junior National programs in both rugby XV's and 7s, as well as govern the Club and community game for more than 30,000 registered participants from coast to coast in conjunction with ten Provincial Union members.
Rugby Canada is headquartered at the Al Charron National Training Centre in Langford, BC, with staff also working from Vancouver, Toronto and Ottawa. Rugby Canada business operations, programs and events are delivered nationwide, including the internationally recognized HSBC Canada Sevens annual tournaments.
For more information or if interested in supporting our teams through sponsorship, please contact: media@rugby.ca.