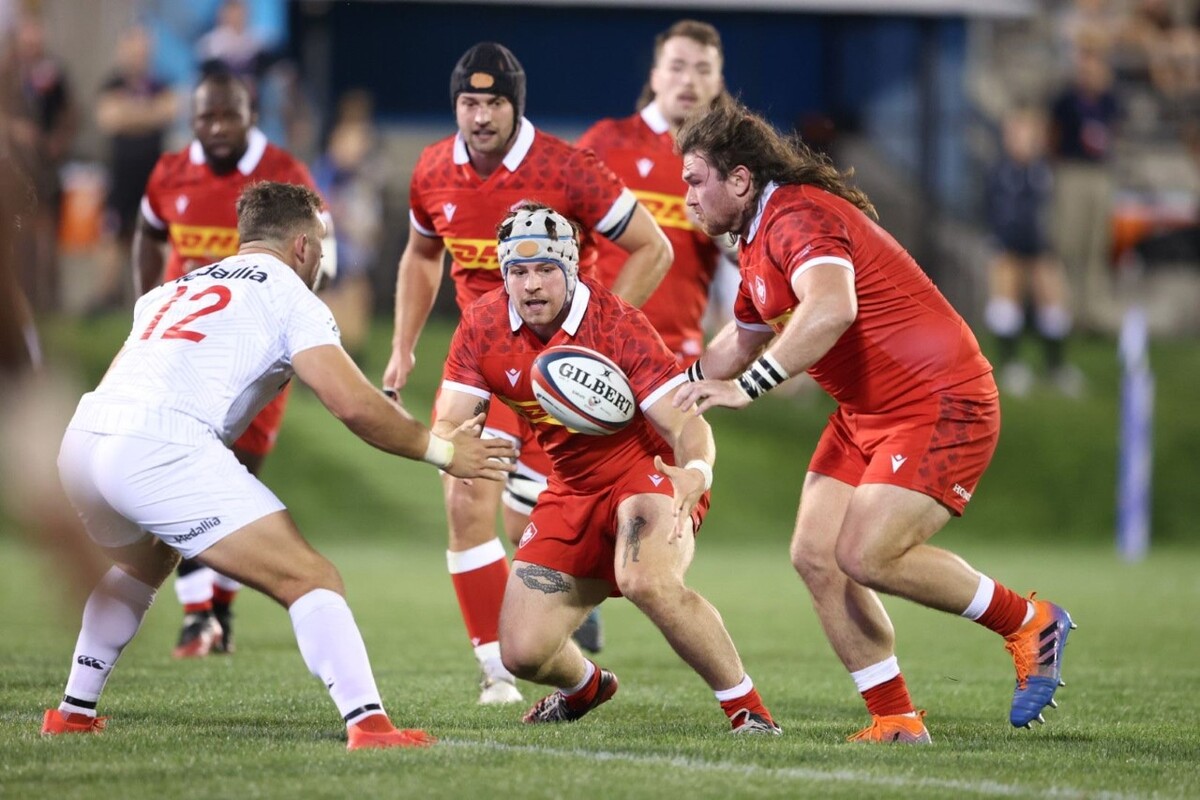 Canada falls to USA 38-16 in second leg of World Cup Qualifying Series
Canada was unable to carry their first leg momentum into the Saturday's second leg match against USA Rugby at Infinity Park in Glendale, CO., dropping a 38-16 decision (59-50 aggregate score) to their southern rivals.
Canada was unable to carry their momentum into the second leg match against the USA at Infinity Park in Glendale, CO., dropping a 38-16 decision (59-50 aggregate score) to their southern rivals.

The United States got on the board early off the boot of captain AJ MacGinty to put his side up 3-0 just minutes in, but Canada carried over their resilient play from a week prior, answering back with a long penalty from Cooper Coats to level the match 3-3 early. Canada would take a 6-3 lead through a Nelson penalty and looked to be on the front foot when Fa'anana-Schultz received a yellow card for a dangerous tackle. However, like Canada the week prior, it was the USA who scored a try while playing a man short as Germishuys dotted down.
The home side then carried the majority of play for the remainder of the first half, scoring three more tries. The United States' Hanco Germishuys was the standout player, adding a brace to his earlier score., Canada would trail 25-9 at the half.
Continuing their strong play into the second half of play, the United States extended their lead to 33-9 via a long drop goal and fifth try from Ruben de Haas. Taufete'e found a way through some inspired Canadian defence in the 62nd minute to increase the lead to 38-9. Canada didn't hang their heads, and some inspired play late in the second half led to a penalty try off a driving maul making the final 38-16.
"This game came down to our errors," stated Canadian captain Lucas Rumball. "You can't win games at the international level making those mistakes and we let ourselves down." Rumball added that the team would be "getting back to basics" prior to the next round.
Canada now look ahead to a series against Chile starting on October 2nd in Langford, BC before travelling to Chile to play on October 9th. Tickets for the match in Langford will go on sale this Wednesday, September 15.
The United States move on to face Uruguay and compete for the Americas 1 spot at Rugby World Cup 2023.
Match Score Report*

Canada
Tries: Penalty Try (80')
Penalties: Coats, Nelson (2)
USA
Tries: Germishuys (16', 28', 40'), Dyer (22'), De Haas (55'), Taufete'e (62')
Penalties: MacGinty
Drop Goals: De Haas
Conversions: MacGinty

CANADA'S MEN'S RUGBY TEAM'S MATCH DAY ROSTER
Forwards:
1. Djustice Sears-Duru - Oakville, ON - Unattached
2. Andrew Quattrin - Holland Landing, ON - Toronto Arrows
3. Matt Tierney - Oakville, ON - Castres Olympique
4. Corey Thomas - Perth, Western AUS - LA Giltinis
5. Conor Keys - Stittsvile, ON - Rugby ATL
6. Lucas Rumball - Markham, ON - Toronto Arrows (C)
7. Matt Heaton - Godmanchester, QC - Rugby ATL
8. Siaki Vikilani - Burnaby, BC - Toronto Arrows
Backs:
9. Ross Braude - Pretoria, SA - Toronto Arrows
10. Peter Nelson - Dungannon, UK - Stade Aurillacois Cantal Auvergne
11. Kainoa Lloyd - Mississauga, ONT - James Bay AA
12. Spencer Jones - Cambridge, NZ - Toronto Arrows
13. Ben LeSage - Calgary, AB - Toronto Arrows
14. Brock Webster - Uxbridge, ON - Canada Rugby 7's
15. Cooper Coats - Halifax, NS - Canada Rugby 7's
Reserves:
16. Eric Howard - Ottawa, ON - Nola Gold
17. Cole Keith - Apohaqui, NB - Toronto Arrows
18. Tyler Rowland - Mississauga, ON - Toronto Arrows
19. Kyle Baillie - Summerside, PEI - Nola Gold
20. Michael Smith - White Rock, BC - San Diego Legion
21. Rob Povey – Long Buckly, UK - Houston Sabercats
22. Jason Higgins - Cork, Ire - Toronto Arrows
23. Patrick Parfrey – St. John's, NL – Toronto Arrows/Swilers RFC
ABOUT RUGBY CANADA
Rugby Canada is the national governing body of the sport of Rugby Union in Canada. They administer and operate Men's and Women's Senior and Junior National programs in both rugby XV's and 7s, as well as govern the Club and community game for more than 30,000 registered participants from coast to coast in conjunction with ten Provincial Union members.
Rugby Canada is headquartered at the Al Charron National Training Centre in Langford, BC, with staff also working from Vancouver, Toronto and Ottawa. Rugby Canada business operations, programs and events are delivered nationwide, including the internationally recognized HSBC Canada Sevens annual tournaments.
ABOUT RUGBY WORLD CUP 2023
The Rugby World Cup has been held every four years since 1987. A benchmark competition for international rugby, it represents the holy grail for any player. Hosted in France in 2023, there will be 600 players from the 5 major continents, divided into 20 teams, all dreaming of the William Webb Ellis Trophy which is awarded to the winning country.
The 2023 tournament will mark the 10th Rugby World Cup with matches starting on September 8, 2023 and concluding 45 days later with the final on October 28.
For more information, please contact: media@rugby.ca.
-30-