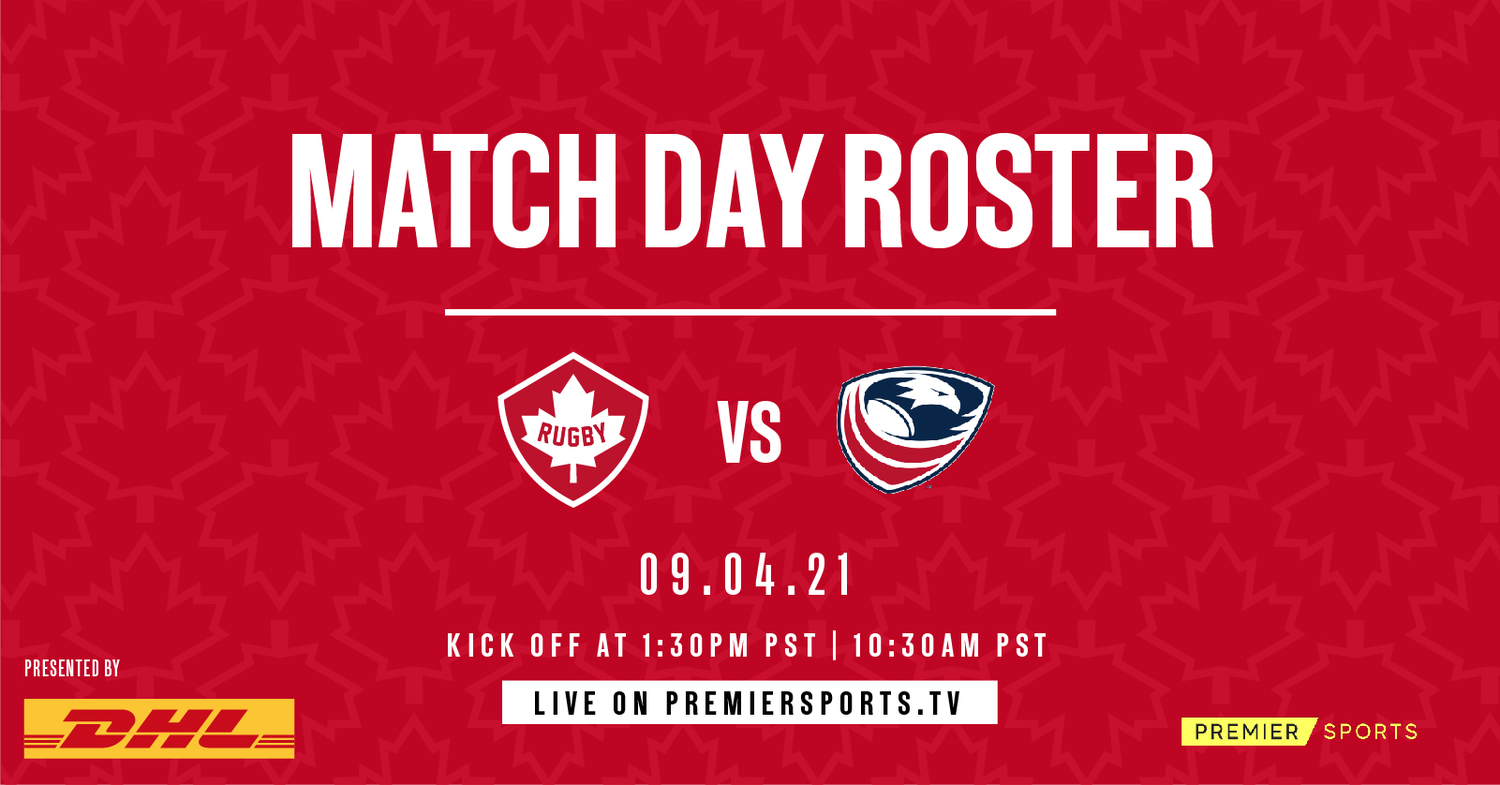 St. John's Match Day - September 4th, 2021
Head coach Kingsley Jones has named the match day roster for Canada's Senior Men's 15s team that will face the USA in the first of two crucial Rugby World Cup 2023 Qualification Pathway matches on September 4th.
View Match Day Program Below
Sept 2, 2021 (St. John's, NL) – Head coach Kingsley Jones has named the match day roster for Canada's Senior Men's 15s team that will face the USA in the first of two crucial Rugby World Cup 2023 Qualification Pathway matches on September 4th.
Saturday's match, powered by DHL Rugby, kicks off at 3pm local time (1:30pm ET/10:30am PT) on September 4 at Swilers Rugby Club in St. John's, NL. Limited tickets remain and can be purchased by visiting www.mileonecentre.com.Canadian rugby fans across the country can tune in to both matches on Premier Sports -new customers can watch exclusively live for just $14.95 USD. The match will also be available to Canadian rugby fans around the world in more than 25 countries, including the UK and Ireland,
Jones stated, "We've been able to assemble the team for a couple weeks here in St.John's, and I've been very happy with the work put in by all the players under unique circumstances due to the continuing impact of the global pandemic." The head coach added, "Congratulations to the players that earned their selection - we can't wait to take the pitch again in front of a home crowd for the first time in almost two years for this important match." 

After the first game, Canada and the USA will then head south for the return match in Glendale, CO on September 11. Kick-off for game two is set for 9pm ET/6pm PT.  

The winner of the two-match North American series is determined by an aggregate score across both games. The winner will move on to face Uruguay on October 2 and 9, with the victor of this series qualifying for Rugby World Cup 2023 as Americas #1.

CANADA'S MEN'S RUGBY TEAM'S MATCH DAY ROSTER
Forwards:
1. Djustice Sears-Duru - Oakville, ON - Unattached
2. Andrew Quattrin - Holland Landing, ON - Toronto Arrows
3. Matt Tierney - Oakville, ON - Castres Olympique
4. Corey Thomas - Perth, Western AUS - LA Giltinis
5. Conor Keys - Stittsvile, ON - Rugby ATL
6. Lucas Rumball - Markham, ON - Toronto Arrows (C)
7. Matt Heaton - Godmanchester, QC - Rugby ATL
8. Siaki Vikilani - Burnaby, BC - Toronto Arrows

Backs:
9. Ross Braude - Pretoria, SA - Toronto Arrows
10. Peter Nelson - Dungannon, UK - Stade Aurillacois Cantal Auvergne
11. Kainoa Lloyd - Mississauga, ONT - James Bay AA
12. Spencer Jones - Cambridge, NZ - Toronto Arrows
13. Ben LeSage - Calgary, AB - Toronto Arrows
14. Brock Webster - Uxbridge, ON - Canada Rugby 7's
15. Cooper Coats - Halifax, NS - Canada Rugby 7's
Reserves:
16. Eric Howard - Ottawa, ON - Nola Gold
17. Cole Keith - Apohaqui, NB - Toronto Arrows
18. Tyler Rowland - Mississauga, ON - Toronto Arrows
19. Mason Flesch - Cobourg, ON - Toronto Arrows
20. Michael Smith - White Rock, BC - San Diego Legion
21. Rob Povey – Long Buckly, UK - Houston Sabercats
22. Jason Higgins - Cork, Ire - Toronto Arrows
23. Patrick Parfrey – St. John's, NL – Toronto Arrows/Swilers RFC
ABOUT RUGBY CANADA
Rugby Canada is the national governing body of the sport of Rugby Union in Canada. They administer and operate Men's and Women's Senior and Junior National programs in both rugby XV's and 7s, as well as govern the Club and community game for more than 30,000 registered participants from coast to coast in conjunction with ten Provincial Union members.

Rugby Canada is headquartered at the Al Charron National Training Centre in Langford, BC, with staff also working from Vancouver, Toronto and Ottawa. Rugby Canada business operations, programs and events are delivered nationwide, including the internationally recognized HSBC Canada Sevens annual tournaments.

For more information or if interested in supporting our teams through sponsorship, please contact: media@rugby.ca.
ABOUT RUGBY WORLD CUP 2023
The Rugby World Cup has been held every four years since 1987. A benchmark competition for international rugby, it represents the holy grail for any player. Hosted in France in 2023, there will be 600 players from the 5 major continents, divided into 20 teams, all dreaming of the William Webb Ellis Trophy which is awarded to the winning country. 

The 2023 tournament will mark the 10th Rugby World Cup with matches starting on September 8, 2023 and concluding 45 days later with the final on October 28. 
-30-