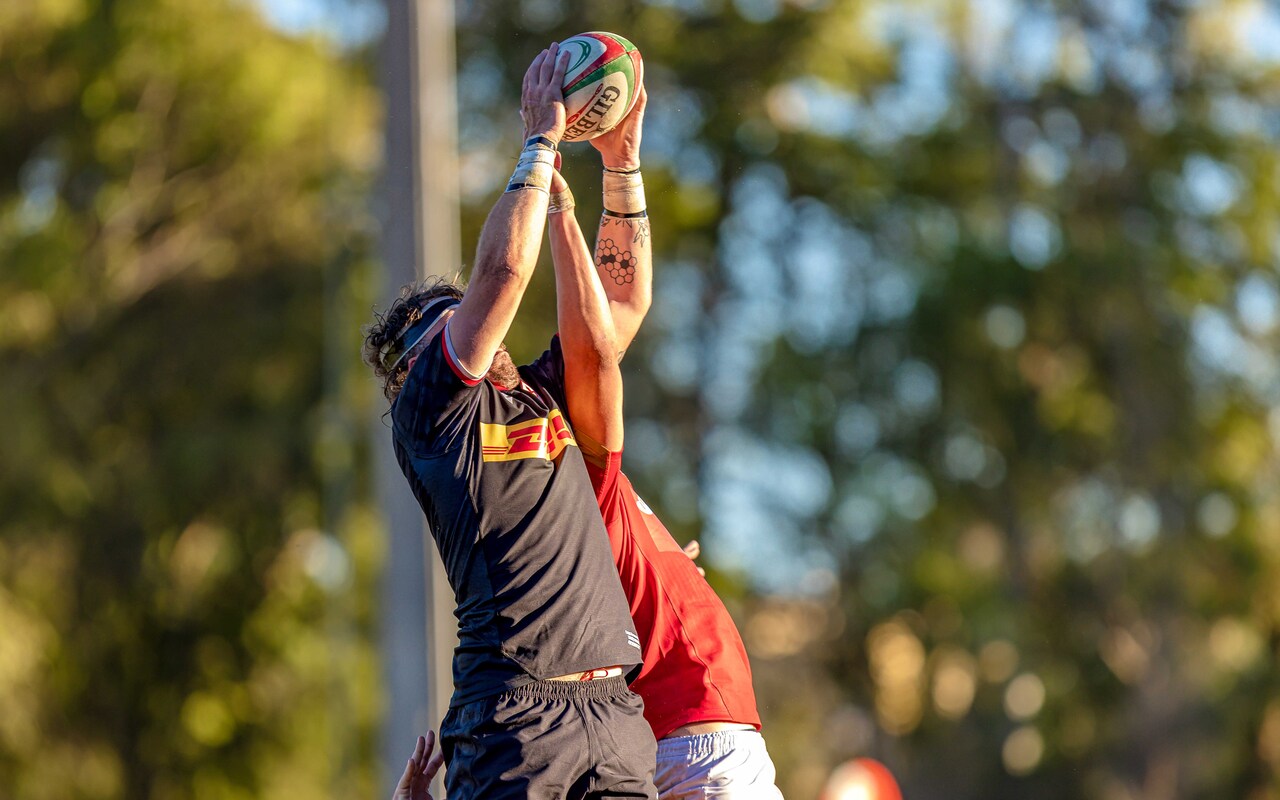 Canada's Senior Men's 15s Team Defeat Belgium 24-0
Canada's Senior Men's 15s squad earned a 24-0 win over Belgium in the final match of their Fall fixture schedule, November 13 at Stade Nelson Mandela in Brussels, Belgium.
November 13, 2021 (Brussels, BE) - Canada's Senior Men's 15s squad earned a 24-0 win over Belgium in the final match of their Fall fixture schedule, presented by DHL, at Stade Nelson Mandela in Brussels, Belgium.
Last minute changes to Canada's lineup saw Rob Povey replacing Brock Webster due to illness, with Victoria's David Richard added to the bench. The game started under some sunny skies, but a light rain began to fall shortly into the match making conditions more challenging, but not affecting the artificial surface.

Canada got on the board early, as a clean break by Ben LeSage led to a converted try by Corey Thomas in the third minute, before teammate Povey added to the lead with a penalty goal 10 minutes later to extend the lead to 10-0.

Canada's resolve was tested early, as Michael Smith saw a red card for unintentional contact to the head in the 16th minute that meant Canada would be playing down a man for more than three quarters of the match. The incident did not deter the Canadian attack, which continued to press forward despite playing a man down, but the visitors were unable to extend their lead over the young Belgium side, taking the 10-0 lead into halftime.

A yellow card to Eric Howard cut Canada to 13 men to open the second half, but strong organization on defence prevented Belgium from taking advantage as the undermanned Canadian squad continued to look strong despite their disadvantage in numbers.

"I think we just weathered the storm in the first," said Canada captain Lucas Rumball. "We came back into the room at halftime and we talked about tactics and really asked ourselves that hard question about how we wanted to play and what style of rugby we wanted to play, even with a man down."

Spencer Jones broke a scoreless run of play at the 56-minute-mark, converting a penalty kick to extend Canada's lead. Jones would convert two more penalties before teammate Ross Braude  scored a late try created off a fine kick chase and turnover by Kainoa Lloyd. The conversion from Jones in the 76th minute finished the scoring for the day.

The 24-0 scoreline would earn Canada a decisive win in their final outing of the calendar year. Three Canadian players – Isaac Olson, Foster DeWitt and David Richard – earned their first Senior caps in the victory.

"I'm very, very proud of our team's performance in the second half with 14 players and at times 13 players," added Canada head coach Kingsley Jones. "We don't want those scenarios, but I thought the way we maturely managed field position, played in the right areas and in the end came away with a 24-0 victory with 14 players for nearly the whole game is a big tick for the mentality of the team and it's a starting point for us in terms of where we go from here."

As Canada returns home and starts the planning process looking towards 2022, players will decentralize and return to their clubs in MLR, Europe or make final preparations for the HSBC World Rugby Sevens Series. The National Men's team's next action will be July 2022.
Scoring summary:
Tries - Corey Thomas (3'), Ross Braude (76')
Conversions - Rob Povey (4')
Penalties - Rob Povey (13'), Spencer Jones (56', 63', 65')
Yellow Card - Eric Howard (47')
Red Card - Michael Smith (18')

ABOUT RUGBY CANADA
Rugby Canada is the national governing body of the sport of Rugby Union in Canada. They administer and operate Men's and Women's Senior and Junior National programs in both rugby 15s and 7s, as well as govern the Club and community game for more than 30,000 registered participants from coast to coast in conjunction with ten Provincial Union members.

Rugby Canada is headquartered at the Al Charron National Training Centre in Langford, BC, residing on the unceded territories of the Coast Salish, Á,LEṈENEȻ ȽTE (W̱SÁNEĆ), Te'mexw Treaty Association, and Lekwungen/Songhees peoples, with staff also working from Vancouver, Toronto and Ottawa. Rugby Canada business operations, programs and events are delivered nationwide, including the internationally recognized HSBC Canada Sevens annual tournaments.