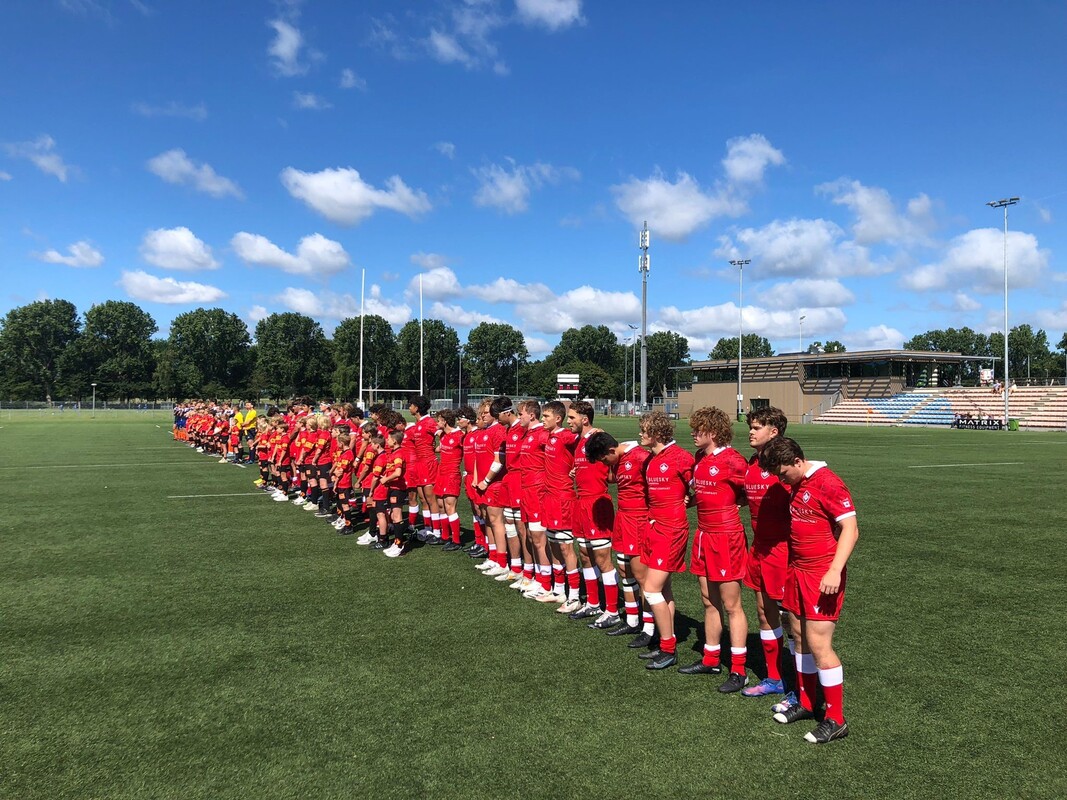 Canada's Men's U18s conclude Corendon Summer Tour with narrow loss to the Netherlands
The curtain was closed on Canada's Men's U18s Corendon Summer Tour on Saturday as they lost narrowly 23-15 to the host nation Netherlands at the National Rugby Stadium in Amsterdam.
The match was Canada's third and final of the tournament after they had beaten Belgium 26-20 in their opener, followed by a 38-10 loss to the USA in their penultimate game.
In sunny, 22-degree conditions, Canada went behind in the first ten minutes thanks to an early penalty conversion by the hosts. That was followed two minutes later by an unconverted try, giving the Netherlands an 8-0 lead.
With just under 20 minutes to go in the first half, tighthead prop Charles Trollip got Canada on the board with a try for which fly half Sanad Ibrahim hit a successful conversion to reign in the Netherlands' advantage to just a point.
Winger Morgan Di Nardo then went over with five minutes on the clock as Canada took the lead for the first time in the match. A successful penalty conversion by the home team ensured the score read 12-11 to Canada at the break.
In the second half, Stephen Webb extended the lead as he struck a penalty conversion between the posts. Two late scores for the Netherlands swung the score in their favour, however, as the hosts sealed the victory.
Following the game, Canada's Men's U18s Head Coach Cory Hector commented: "I'm sure there is mixed emotions from this game from the boys and the staff. While obviously we were gutted about not coming away with the win, the boys had their best game of the tournament. Their goal line defense was heroic, pushing the Netherlands back several times. They also played with the speed we were after all tournament."
Speaking about the Corendon Summer Tour as a whole, Hector added: "We obviously would have liked to finish with a better record. That said, one of our goals from the start of the tournament was to improve every game and we certainly did that, playing our best in the last game. Over the three games we saw our players develop their resiliency, their contact skills and their decision making under pressure. They have also now been exposed to the rigors of international competition and a two-plus week tour. This was a truly worthy and important step in their overall personal/player development and preparation for future international competition"
CANADA'S MEN'S U18s CORENDON SUMMER TOUR ROSTER vs THE NETHERLANDS
1. Ryan Dier
2. Marco Mitchell
3. Charles Trollip
4. James Skene
5. Sandon Gupta
6. Grant Meadows
7. Garin Schroeder
8. Owen Williams
9. Paddy Kirwin
10. Sanad Ibrahim
11. Lenny Bonduau
12. Mac Reimer
13. Marcus D'Acre
14. Morgan Di Nardo
15. Brenden Black
16. Jeffrey Young
17. Nehemiah O'Niel
18. Ollie Wigman
19. Leo Chen
20. Presley Bosa
21. William von Dadelszen
22. Sam LeVasseur
23. Stephen Webb
24. Hudson Bell
25. Ollie Clarke
26. Graeme Tremain
27. Calum Hayes