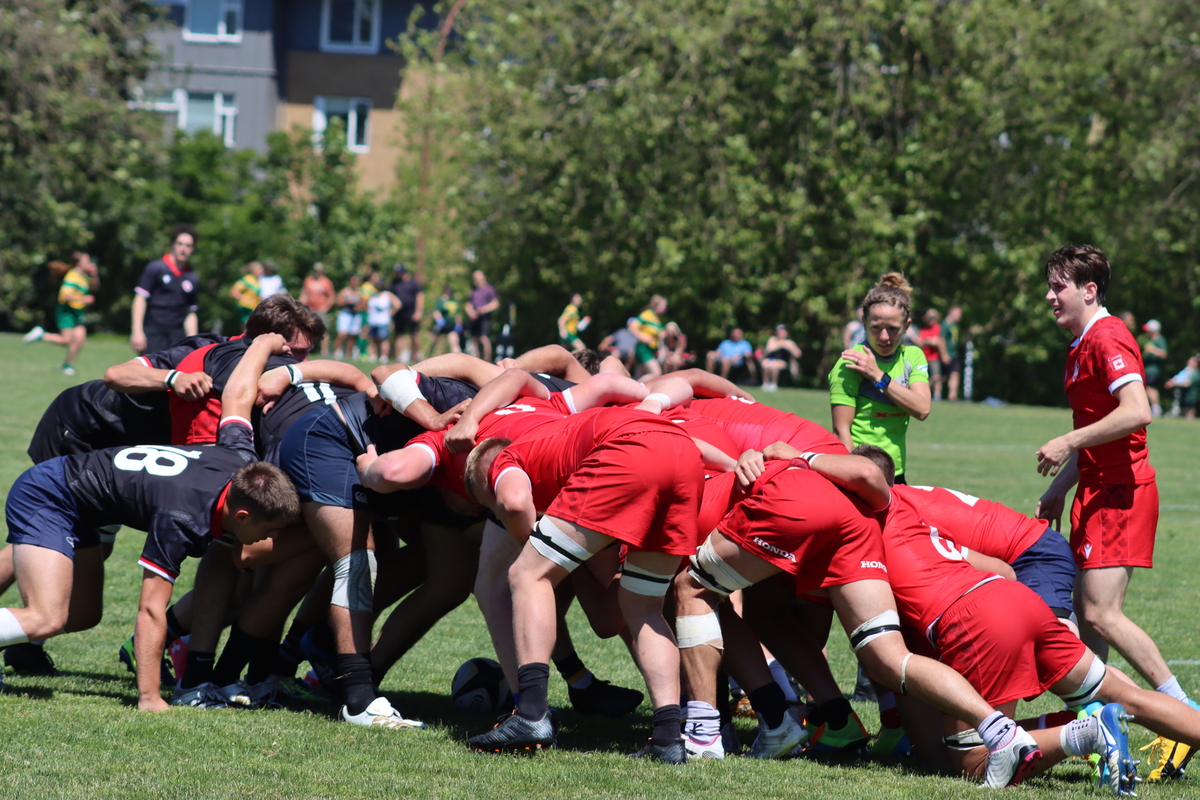 Rugby Canada Men's U20s participate in East and West Camps
Rugby Canada's Men's U20s program is currently in the midst of back-to-back camps, their first since early 2020, with 50 players – who were identified through pathways including their club and university games in the past year - coming together in total.
The first camp, the West Camp, ran at Shawnigan Lake School on Vancouver Island from June 28 to July 1 and concluded with a match at the Provincial Rugby Championships (BC). Rosters for the game (below) were organized into Rugby Canada Men's U20s, who wore red, and BC U19s, who wore black.
However, players were tried and tested in various positions and were swapped out between teams during the three, 25-minute periods.
"Playing our game in front of the crowd at the BC Provincial Rugby Championships was exciting," said Rugby Canada Men's U20s Head Coach Adam Roberts. "After a long hiatus, it made for a great day to collaborate with BC U19M to showcase the West's top U20 players."
The U20s are now taking part in their East Camp in Guelph which runs from July 2 - 5 and will conclude with a game against the Toronto Arrows Senior Academy at Brampton RFC on Tuesday (kickoff 6:30 p.m.).
The purpose of the East and West Camps is to act as a selection tool for the Men's U20s program and provide players with coaching targeted at performance in international tournaments. The Canadian Rugby Championships are due to commence at the end of July, while the World Rugby Men's U20s Test Series is scheduled for August 9 - 24.
"The World Rugby-sponsored U20 tournament is critically important for Canada's development," commented Dr. Pat Parfrey, Program Director of the Men's U20s. "As 2022 is a transition year from past COVID-19-related restrictions to a 2023 World Trophy, we hope to create a basis for a strong 2023 team that can be exposed to more competition"
CANADA'S MEN'S U20 EAST ROSTER vs TORONTO ARROWS SENIOR ACADEMY
1. Ethan Jurgeneit
2. Cameron Hayward
3. Tyler Matchem
4. MacLeanTobin
5. Sam Miller
6. Bauer Mercer
7. David Scollon
8. Caleb Hickey
9. Adam Doyle
10. Jamin Hodgkins
11. Josh Eustache
12. JS Cook
13. Noah Flesch
14. Jimmy Clark
15. Ted Champion

RESERVES
19. Sean Snyman
20. James Webb
21. Justin Taylor
22. Kobe Faust
23. Sam Reimer

NOT AVAILABLE FOR SELECTION
William Birch
Michael Di Lella
Jacob Ince
Callum O'Neill
Duncan Phillips

CANADA'S MEN'S U20 WEST (RED) ROSTER vs BC U19s
1. Joe McNulty
2. Ethan Lee
3. Peyton Teneyche
4. Logan Weidner
5. Relmu Wilson-Valdez
6. Marcus Lott
7. Peiter Swart
8. Matt Klimchuk
9. Caleb Milette-Barker
10. James Biss
11. Sam Heyward
12. Talon McMullin
13. Takoda McMullin
14. Lukas Scheck
15. Jack East
16. James Thiel
BC U19'S (BLACK) ROSTER vs CANADA'S MEN'S U20 WEST
1. Alex McCallum
2. Sullivan Curran
3. Beaudry Lemon
4. Caden Wilson
5. Muiredach Casey
6. Taine Clague
7. Sol Jaques
8. Brendan Kim
9. Jacob Muerkal
10. Owain Cormack
11. Sam Brown
12. Kieran Martin
13. Liam Poulton
14. Alastair Marshall
15. Craig Mitchell-Hermann
16. Keaton Williams