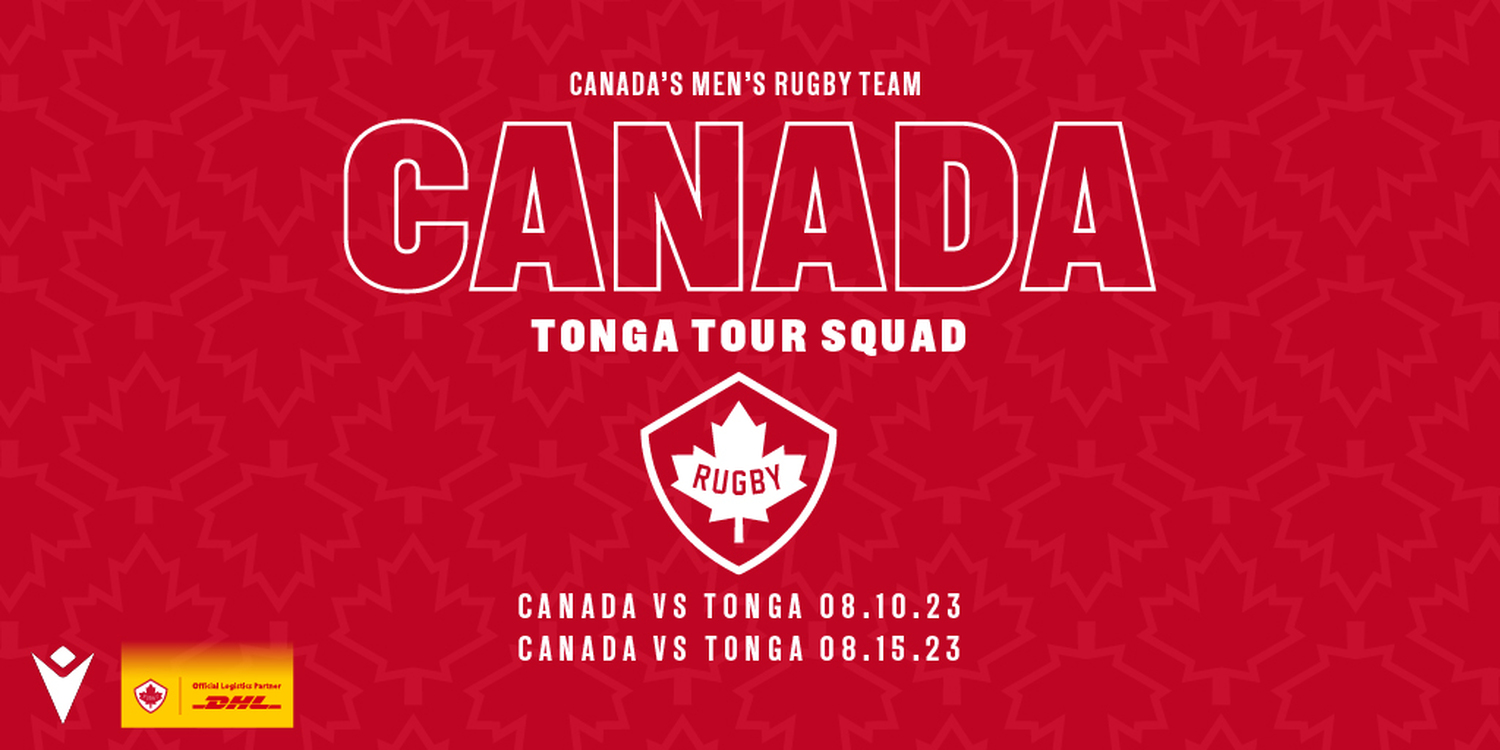 Canada's Men's Rugby Team squad named for summer Tonga tour
Head Coach Kingsley Jones has named the 32-player squad for Canada's Men's Rugby Team's upcoming tour in Tonga.
Wednesday July 5, 2023 (Langford, BC) – Head Coach Kingsley Jones has named the 32-player squad for Canada's Men's Rugby Team's upcoming tour in Tonga.
Led by co-captains Lucas Rumball and Ben LeSage, the squad includes five players who will embark on their first career Canadian senior national team tour. These players include Tyler Wong and Ciaran Breen, who both progressed through Rugby Canada's age grade and Pacific Pride programs before being signed to the Toronto Arrows for the 2023 season. Zephyr Melnyk, who had a standout performance at the Coast to Coast Cup in June with the BC Bears, is another Pacific Pride player who could earn his first cap for Canada.
Debuting for Canada's U20 Men's Team in 2020 and now travelling with the senior team is Jack Shaw, who also made his MLR debut this season with Rugby ATL. Siôn Parry, who qualifies to play for Canada through his Ontario-born mother, comes to Canada's Men's Rugby Team from Wales, where he has impressed defensively with Pontypridd RFC in the Indigo Group Welsh Premiership.
Returning to the squad after missing last season due to injury are Mason Flesch and Spencer Jones. Flesch had a triumphant return to MLR play this season, starting 14 games and playing over 900 minutes for the Toronto Arrows.
Jones is one of four players named to the Tonga tour who played in the Eastern Conference MLR final on July 1, helping the New England Free Jacks to their first ever Eastern Conference final victory along with LeSage, Andrew Quattrin, and Conor Keys.
"The Tonga tour is an opportunity for us to play two tough test matches and get a look at some new faces with a group of players who are very committed to the sport and to furthering their rugby careers," said Kingsley Jones. "Building up to the selection of this roster, we've been pleased to see the number of Canadians embedded in professional daily training environments such as the MLR and playing domestic rugby in New Zealand and Australia such as Izzak Kelly and Callum Botchar, and are looking forward to regrouping as a program following what has been a great season for many of our players."
Tyler Rowland, Reegan O'Gorman and Takoda McMullin, who were named to Canada's Tonga tour long list, are unavailable due to injury.
Following a training camp in Fiji, which will include a training scrimmage with the Fijian Drua academy, Canada will play Tonga at Teufaiva Stadium in Tonga on August 10 and 15. More information, including kick-off times and how to follow, will be announced in the coming weeks.
CANADA'S MEN'S RUGBY TEAM TONGA TOUR SQUAD
FORWARDS
Andrew Quattrin (Holland Landing, ON) – Aurora Barbarians / New England Free Jacks
Callum Botchar (Vancouver, BC) – Pacific Pride / New Plymouth Old Boys
Conor Keys (Stittsville, ON) – Barrhaven Scottish / Ottawa Ospreys / New England Free Jacks
Conor Young (Yamba, Australia) – Greater Sydney Rams / New England Free Jacks
Djustice Sears-Duru (Oakville, ON) – Oakville Crusaders / San Diego Legion
Foster Dewitt (Courtney, BC) – Westshore RFC / New England Free Jacks
Izzak Kelly (White Rock, BC) – Bayside RFC / University of British Columbia / Spotswood United RFC
Kyle Steeves (Winnipeg, MB) – Manitoba Wombats / Dallas Jackals
Liam Murray (Langley, BC) – Dallas Jackals
Lucas Rumball (Scarborough, ON) – Balmy Beach RFC / Toronto Arrows
Mason Flesch (Cobourg, ON) – Pacific Pride / Toronto Arrows
Matthew Klimchuk (Regina, SK) – Regina Rogues / Pacific Pride
Piers Von Dadelszen (Vancouver, BC) – Oxford University
Siaki Vikilani (Vancouver, BC) – Burnaby Lake RFC / The American Raptors
Siôn Parry (Cardiff, Wales) – Rhiwbina RFC / Pontypridd RFC
Travis Larsen (Parksville, BC) – James Bay AA / Meralomas / Toronto Arrows
Tyler Wong (North Vancouver, BC) – Pacific Pride / Toronto Arrows
Zephyr Melnyk (Gabriola Island, BC) – Nanaimo Hornets / Pacific Pride
BACKS
Ben LeSage (Calgary, AB) – Calgary Canucks / New England Free Jacks
Ciaran Breen (Victoria, BC) – Cowichan RFC / Toronto Arrows
D'Shawn Bowen (Toronto, ON) – Pacific Pride / Toronto Arrows
Gabe Casey (Ottawa, ON) – University of Victoria
Gradyn Bowd (Red Deer, AB) – Castaway Wanderers / Old Glory DC
Isaac Olson (Vernon, BC) – New England Free Jacks
Jack Shaw (Oakville, ON) – Oakville Crusaders / Rugby Atlanta
Jason Higgins (Cork, Ireland) – San Diego Legion
Kainoa Lloyd (Mississauga, ON) – Queen's University / Houston SaberCats
Mitch Richardson (Stoney Creek, ON) – McMaster University / Toronto Arrows
Peter Nelson (Dungannon, UK) – Dungannon RFC / Toronto Arrows
Robbie Povey (Northampton, UK) – Long Bukby RFC / Houston SaberCats
Ross Braude (Pretoria, South Africa) – Toronto Arrows
Spencer Jones (Cambridge, New Zealand) – New England Free Jacks
NON-TRAVELLING RESERVES
Andrew Davidson
Dewald Kotzi
Jacob Bossi
Liam Bowman
Lindsey Stevens
Noah Bain
Owain Ruttan
Talon McMullin
STAFF
Kingsley Jones, Head Coach
Robert Howley, Senior Assistant Coach
John McFarland, Defence Coach
David Butcher, Scrum and Forward Coach
Michael Deasy, Strength and Conditioning Coach
Gwern James, Analyst
Dr. Billy Longland, Team Doctor
Kristy Mueller, Lead Therapist
Alistair Wilson, Therapist
Michael Jordan, Team Manager
Dustin Hopkins, Managing Director, Rugby Operations