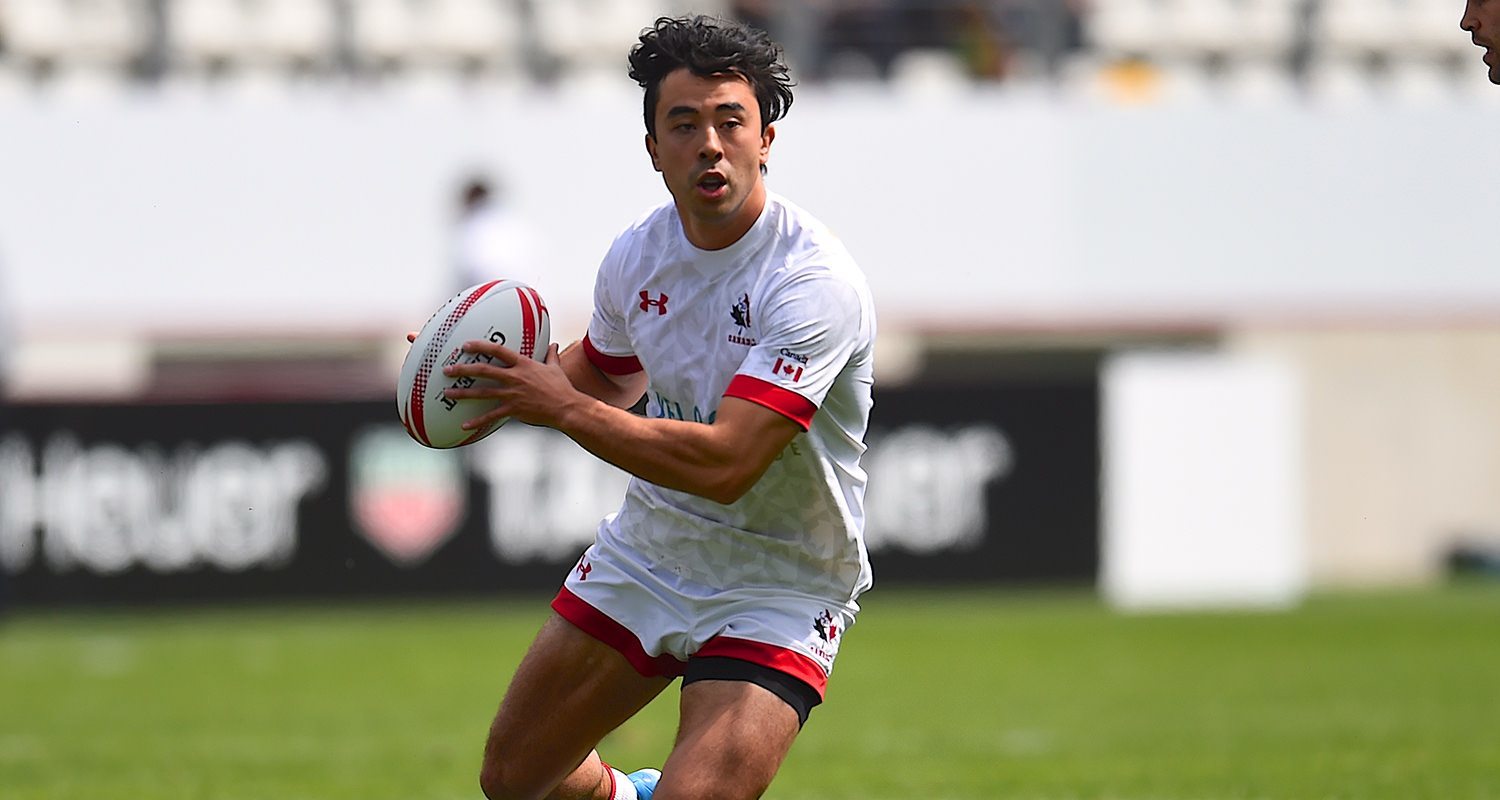 MCGRATH ANNOUNCES TEAM FOR SYDNEY AND HAMILTON
Wilhelm Horn
Rugby 7s Senior Men
Langford, B.C. - Canada's Men's Sevens Team is hard at work preparing for a busy start to the calendar year for 2018, which kicks off at the end of the month in Sydney and Hamilton.
Head coach Damian McGrath announced today his team for the next two legs of the HSBC World Rugby Sevens Series in Australia and New Zealand and is looking to build on a successful week in Cape Town, which saw his team narrowly lose to Argentina in the Cup Semi-finals.
After impressing for the Maple Leafs the last two weekends' in South America, former Canada U-20 stand out Jake Thiel has earned his first call-up to the national team. Luke McCloskey and Jared Douglas also return to the team after playing for the Maple Leafs in Dubai.
Injuries have, however, hampered the team's preparations. "Liam Underwood is missing due to injury, while Lucas Hammond and Phil Berna have been doubtful, but should be fit to play. In terms of numbers, we have been struggling in training over the last few weeks," added McGrath.
Admir Cejvanovic and Connor Braid are also unavailable as they have joined the men's fifteens team for the upcoming Rugby World Cup qualifiers against Uruguay and will be sorely missed in Sydney.
"They had a big impact on our success in South Africa, so that's a big loss for us," said the coach.
Sitting in 7th place after the first two tournaments, Canada has been placed in a pool alongside hosts Australia, Scotland and the USA. With 30 degree temperatures expected in Sydney, the players will once again be put to the test.
"Last year the weather was a big factor for us in Australia. We had a great week in Wellington, flew to Sydney where temperatures were mid 30's and suffered badly in the heat. We know what to expect, we know it's coming, and we're trying everything we can to maximise that, but it's difficult when you're not used to it," added McGrath.
After winning their first Cup Title in 2017, the coach believes improvements can still be made. "Our game is based on a lack of errors. The less errors we make, the more successful we are. We're working towards improving the little things and improving every day. 
The team has showed they have what it takes to beat the top teams and McGrath believes managing the players and their bodies will be key to success. 
"If we have 14 or 15 of our top players available we will be very competitive. We know we can compete against the better teams, it's just a matter of always being on a level playing field," he added.
With the most highly anticipated tournament of the year less than two months away, the team cannot wait to once again step out in front of the home fans at BC Place on the 10th and 11th of March for the Vancouver leg of the series.
"HSBC Canada Sevens is the one the players look forward to the most, it's obviously a chance to play in front of family and friends. I've done it twice, once as coach of Samoa and once with Canada. The first time with Samoa blew us away, it was absolutely amazing," said McGrath.
"To be there last year as Canadian coach was an incredible experience. A lot of pressure for the players as we feel the weight of the country on our shoulders but I'd rather have that than not be involved with it. It's a terrific event and it's great to know that everyone is behind you and hoping for the best," said McGrath.
The Sydney Sevens will be streamed LIVE on CBC Sports at www.cbcsports.ca or on their mobile app "CBC Sports" on iOs and Android
Tickets for HSBC Canada Sevens can be purchased here
Canada's men's roster for Sydney & Hamilton:
Phil Berna – UBC Thunderbirds (Vancouver, BC)
Jared Douglas – Abbotsford RFC (Abbotsford, BC)
Justin Douglas – Abbotsford RFC (Abbotsford, BC)
Mike Fuailefau – Castaway Wanderers (Victoria, BC)
Lucas Hammond – Toronto Nomads (Toronto, ON)
Nathan Hirayama – Unattached (Richmond, BC)
Harry Jones – Captain, Capilano RFC (North Vancouver, BC)
Isaac Kaay – UVIC Vikes (Kamloops, BC)
Pat Kay – Castaway Wanderers (Duncan, BC)
Luke McCloskey – Castaway Wanderers (Victoria, BC)
John Moonlight – James Bay AA (Pickering, ON)
Matt Mullins – Queen's University (Belleville, ON)
Jake Thiel – Abbotsford RFC (Abbotsford, BC)
Unavailable for selection due to injury:
Liam Underwood – Balmy Beach RFC (Toronto, ON)
Day 1:
Canada vs Scotland 8:34PM local time (4:34AM ET/1:34AM PT on Friday)
Day 2:
Canada vs Australia 5:15PM local time (1:15AM ET on Saturday/10:15PM PT on Friday)
Canada vs USA 8:26PM local time (4:26AM ET/1:26AM PT on Saturday)
Day 3:
TBD
-30-