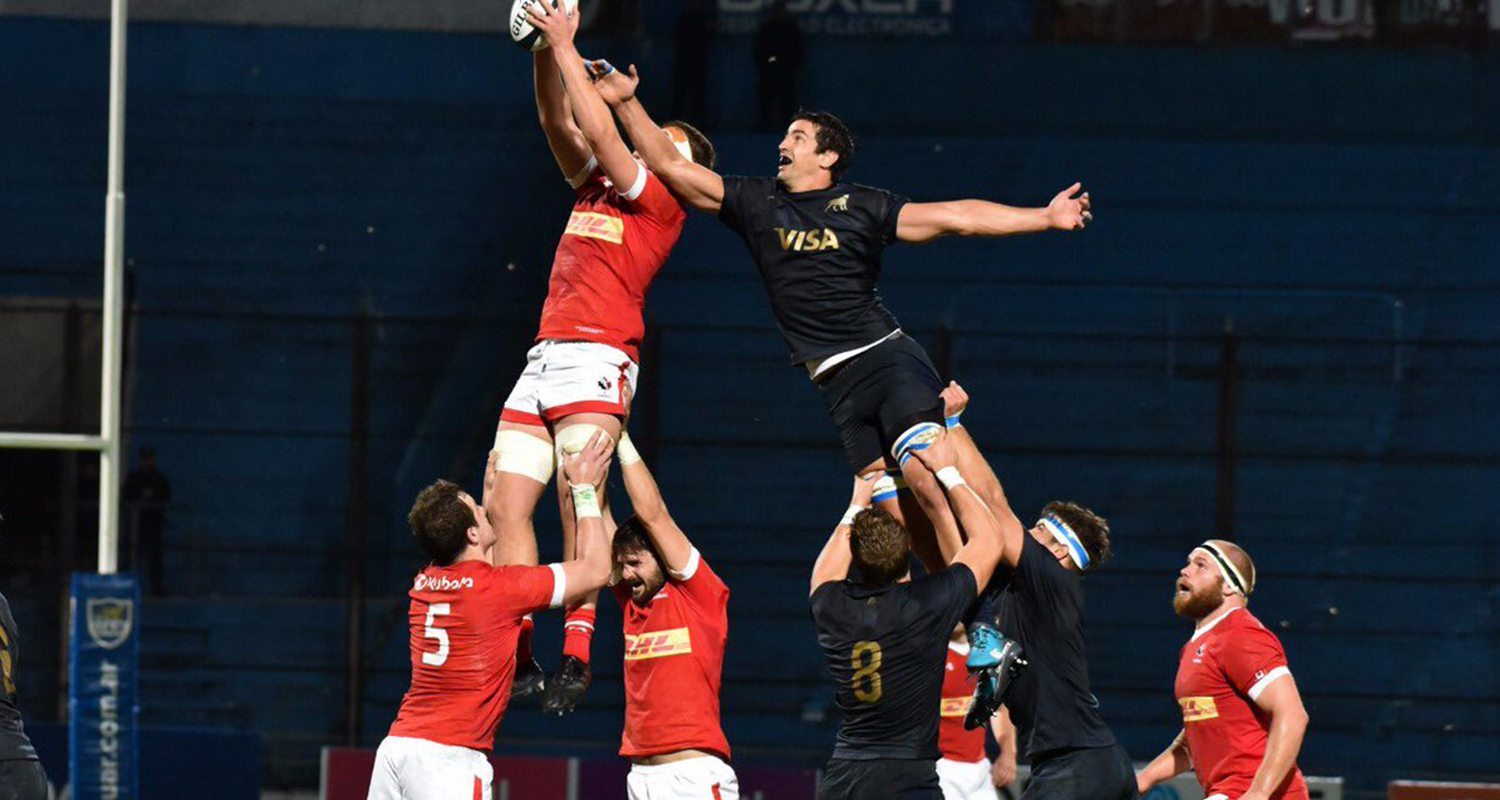 ARGENTINA XV DEFEAT CANADA IN ARC ROUND 4
Wilhelm Horn
Rugby 15s Senior Men
Jujuy, Argentina – The Argentina XV defeated Canada's Men's Rugby Team 40-15 at the Estadio 23 de Agosto in Jujuy, Argentina in the fourth round of the Americas Rugby Championship.
Game Recap:
Canada opened the scoring through a Brock Staller penalty in the 11th minute. The lead however did not last long as Argentina hit back with a try from flyhalf Lucas Mensa no more than two minutes later.
Argentina gave the ball a lot of air in the opening minutes and a string of passes lead to winger Santiago Alvarez dotting down for the home team. The trend continued as another backline move put outside centre Santiago Resino in space who didn't need another invitation as he ran straight through to score under the poles. The hosts stretching their lead to 19-3.
Canada got themselves back in the game when Ray Barkwill scored at the back of a well-worked driving maul in the left corner of the field. The half-time score 19-8 to the Jaguars.
The second-half started similar to the first as Argentina continued to spread the ball wide. The tactic paid off as Santiago Resino went over for his brace, before 8th man Santiago Montagner scored another. The score Argentina 33-8 Canada.
Canada's second try of the night came through captain, Phil Mack. The agile scrumhalf with a clever dart around the breakdown to reduce the home sides lead. Brock Staller added the extras to give Canada a small glimmer of hope. Argentina 33-15 Canada.
But it wasn't to be. With four minutes to go, replacement outside back Gaston Arias inflicted the final blow as the number 23 ran a good line to score Argentina's 6th try of the night.
The final score 40-15 to Argentina.
Scoring Recap:
Canada:
Tries: '31 Ray Barkwill, '56 Phil Mack
Conversions: Brock Staller (1)
Penalties: '11 Brock Staller (1)
Drop goals: 0
Argentina XV:
Tries: '13 Lucas Mensa, '24 Santiago Alvarez, '27, '45 Santiago Resino (2), '47 Santiago Montagner, '76 Gaston Arias
Conversions: Juan Cruz Mallia (5)
Penalties: 0
Drop goals: 0
Canada's roster to face Argentina XV on Saturday:
1. Djustice Sears-Duru – (Ealing Trailfinders/Ontario Blues) Oakville, ON
2. Ray Barkwill – (Seattle Seawolves/Ontario Blues) Niagara Falls, ON
3. Jake Ilnicki – (Newcastle Falcons/BC Bears) Williams Lake, BC
4. Josh Larsen – (Northland) Parksville, BC
5. Conor Keys - (UVIC Vikes/Atlantic Rock) Stittsville, ON
6. Kyle Baillie – (London Scottish/Atlantic Rock) Summerside, PEI 
7. Lucas Rumball – (Balmy Beach RFC/Ontario Blues) Mississauga, ON
8. Dustin Dobravsky - (Castaway Wanderers/BC Bears) Hanover, Germany 
9. Phil Mack – Captain (James Bay AA/BC Bears) Victoria, BC
10. Robbie Povey - (Castaway Wanderers/Prairie Wolf Pack) Northampton, England
11. Brock Staller – (Meralomas RFC/BC Bears) Surrey, BC
12. Nick Blevins – (Calgary Hornets/Prairie Wolf Pack) Calgary, AB
13. Doug Fraser – (Castaway Wanderers/BC Bears) Ladysmith, BC
14. Cole Davis - (Calgary Saints/Prairie Wolf Pack) Calgary, AB 
15. Patrick Parfrey – (Swilers RFC/Atlantic Rock) St. John's, NL
16. Martial Lagain - Sherbrooke Abenakis/Atlantic Rock) Saint-Jean-de-Marsacq, France
17. Anthony Luca - (Burnaby Lake RFC/BC Bears) Pitt Meadows, BC
18. Ryan Kotlewski – (Westshore RFC/Prairie Wolf Pack) Calgary, AB
19. Noah Barker - (James Bay AA/BC Bears) Courtenay, BC
20. Cameron Polson – (Castaway Wanderers/BC Bears) Victoria, BC
21. Andrew Ferguson – (Oakville Crusaders/Ontario Blues) Mississauga, ON
22. Guiseppe du Toit – (UVIC Vikes/BC Bears) Maple Ridge, BC
23. Kainoa Lloyd – (Mississauga Blues/Ontario Blues) Mississauga, ON 
Canada's 2018 Americas Rugby Championship & RWC Qualifier schedule:
Canada vs. Uruguay
Result: Canada 29 – 38 Uruguay
*Rugby World Cup Qualifier round 1 and ARC round 1*
Canada vs. Uruguay
Result: Canada 31 – 32 Uruguay
*Rugby World Cup Qualifier round 2, not an ARC match*
Canada vs. USA
Result: Canada 10 – 29 USA
ARC round 2
Canada vs. Brazil
Result: Canada 45 – 5 Brazil
ARC Round 3 
Canada vs. Argentina XV
Canada 15-40 Argentina
Canada vs. Chile
March 3rd at 6pm local time
La Pintana, Santiago, Chile
-30-