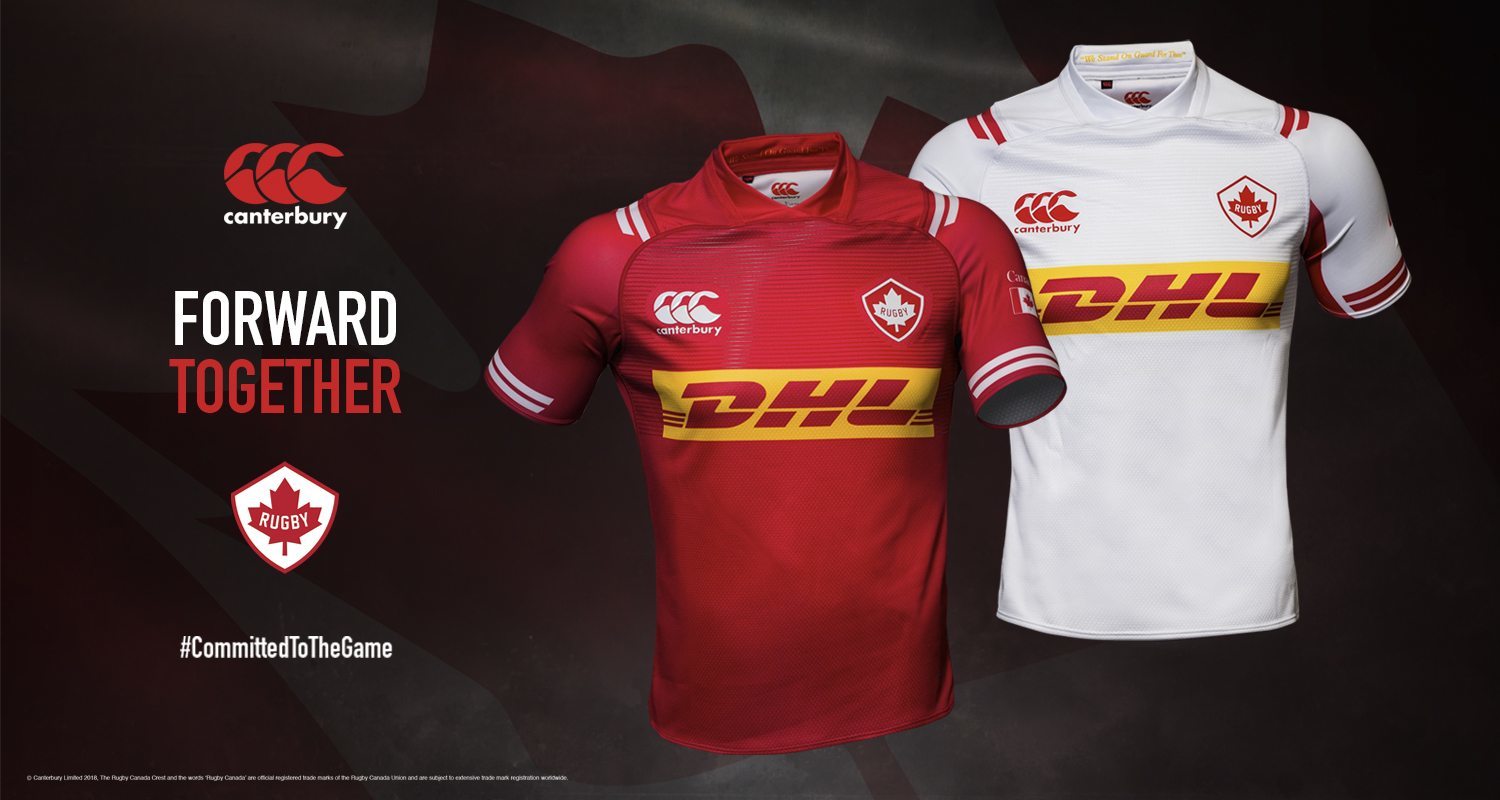 Major Announcement
Rugby Canada Communications
Rugby 7s Senior Women, Rugby 7s Senior Men, Rugby 15s Senior Women, Rugby 15s Senior Men, Rugby 15s U20 Women, Rugby 15s U20 Men, Rugby 15s U19 Men, Rugby 15s U18 Women, Rugby 15s U18 Men
Rugby Canada announces Canterbury as new apparel partner; new national team jerseys will showcase unmistakable logo as part of Rugby Canada's new brand.
LANGFORD, BC (February 26, 2018) Rugby Canada announced today, that the National Team uniform will be undergoing a transformation with the announcement of a new multi-year partnership with global rugby brand Canterbury, a leading supplier of team apparel that has been dedicated for more than a century to making the most innovative highest quality products in rugby. In addition to the Canterbury partnership, Rugby Canada also unveiled today a new brand platform that boasts a distinctly Canadian look and feel, and hits at the heart of what Canadian rugby is all about. The new look will begin to roll out across all touch points from merchandise and national team uniforms, to social media and a dramatically improved website, RUGBY.CA.  For images and brand applications, click here. (www.rugby.ca/en/about/the-brand)
Canterbury as new apparel partner
The new partnership with Canterbury is the result of an extensive RFP process undertaken by Rugby Canada with a goal of forming a partnership with a provider who can deliver a world class product to support our national programs.   Canterbury will play a key role in introducing Rugby Canada's new brand, and comes during a period of growing interest and participation in the sport of rugby across Canada, as evidenced by record breaking attendance in the hosting of both Fifteens and Sevens events over the past two years. The rapid growth of fan support and awareness is a product of a systematic effort to raise the profile of the sport in Canada, and coincides with a major push by Rugby Canada to evolve and renew its operations and high-performance training facilities, honouring its commitment to supporting growth and excellence.
 "Canterbury has a proven track record of excellence in the delivery of elite international rugby kit, and we are thrilled to be welcoming them into the Rugby Canada family," said Allen Vansen, CEO, Rugby Canada. "This important partnership comes at a critical time in Rugby Canada's evolution. Their commitment to the game, and shared values of innovation and excellence are an ideal fit for our organization as we strive to create the best conditions possible for our athletes to succeed on the world stage."
"We are proud to partner with Rugby Canada. With a deep commitment to growing the game at grass roots to providing pathways to both Men's and Women's National Teams, Rugby Canada is focused on the elements of the sport that drive it - community, passion, inclusion and determination," said Robbie Flynn, Canterbury's North American General Manager. "Those values mean something to Canterbury and we aim to support programs that embody them. We are excited to work with Allen and his team to create further opportunities to support youth to University programs which are foundational to success at the National level. Our product team has worked closely with Rugby Canada over the past several months on a top-notch collection that I think is going to be really exciting for the teams and the fans."
The newly unveiled brand will come to life on the field this season when it makes its debut on the Canterbury kit worn by Canada's men's and women's high-performance teams, beginning with the upcoming USA Sevens in Las Vegas, March 2-4, 2018.  Canterbury will also supply Rugby Canada's "National Team Collection" (on and off-field apparel merchandise bearing the new logo), that will be available today to the public for purchase on Rugby Canada's newly redesigned website, rugby.ca.
"Canterbury's respect for tradition while simultaneously pushing the envelope in innovation has established them as a leader in the global rugby community," said Mark Lemmon, Chief Commercial & Marketing Officer, Rugby Canada. "We share this commitment to excellence for our athletes and our fans, and believe this partnership will play a key role in helping our athletes succeed on the field of play, while building a strong foundation of support through the introduction of our brand to the Canadian public."
"Wearing the maple leaf on behalf your country is always a great honour," said DTH van de Merwe, Men's Fifteens. "Knowing that maple leaf will be showcased on our Canadian team jerseys by the most dedicated rugby brand in the world is a definite source of pride and inspiration that will hopefully extend beyond the pitch, to all the rugby loving Canadians who are supporting us on our journey."
"It's exciting to know that a company like Canterbury, whose proven excellence in the delivery of technical rugby apparel, will be playing such an important role in supporting our Canadian teams on the pitch, and promoting our new brand," said Ghislaine Landry, Women's Sevens.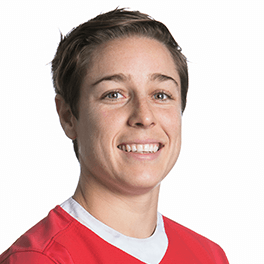 This is an exciting step forward for rugby in Canada
– Ghislaine Landry, Women's Sevens
Rugby Canada's new brand
Rugby Canada's rebrand is the result of extensive research that was undertaken to better understand rugby's position in the Canadian market place. With a view to capitalizing on the growing interest of the sport, the goal was to evolve the brand and the core pillars of what the sport means to the current rugby community and new potential fans and athletes.
The newly introduced Rugby Canada brand was developed by Hulse & Durrell, an award winning Canadian design firm based out of Vancouver, and known for their exemplary work on the Vancouver 2010 Olympics, both Canadian and International Olympic Committees, as well as several other Canadian National Sport Federations.  The new website was designed and developed by Locomotive based in Montreal, an award-winning bilingual agency that has helped bring Rugby Canada's digital presence to the next level.  Funding for Rugby Canada's new brand system and platform was made possible through the Canadian Olympic Committee's National Sport Federation "Brand Enhancement Initiative" project.
The new brand brings an unmistakable look and feel to Canadian rugby. No bells. No whistles. Bold, straight forward, and genuine. This is rugby. This is Canada. The brand was built on the themes that make this sport remarkable. Courage, tradition, honour, perseverance, and straight up fun. And, the look was influenced by nearly half a century of Canadian rugby iconography.
"Canadians have signaled that Canada is now and forever-more a rugby loving nation, and their support has inspired us to reach for even greater heights – that's what this new brand represents," said Allen Vansen, CEO, Rugby Canada. "This design pays homage to our heritage, while pointing to a future where Canadians intuitively connect to our brand and its values – because they share them with us as Canadians – and it is a critical component to growing the sport's profile, participation, and sustainability."
A strikingly simple logo is at the heart of the new brand. The sport is center stage, set within an angular interpretation of the maple leaf — a symbol instantly understood around the world. The logo is framed by a shield, referencing the sport's heritage and barricade-like athletic qualities. It's an unmistakable design that will help connect fans and future players to the sport of rugby in Canada, and serve as a powerful symbol of pride and excellence for Canada's men's and women's high-performance teams.
"Nothing says Rugby like the word itself, so we put it at the heart of the brand. Rugby is bilingual, crystal clear and only five letters," said Greg Durrell, Partner, Hulse & Durrell. "It's a rare opportunity for a national sports brand." 
"We are thrilled to have captured the spirit, values and traits of Canadian rugby in a strong, simple and distinctive way," said Mark Lemmon, Chief Commercial & Marketing Officer, Rugby Canada. "We also look forward to seeing the new brand come to life through our new website that will be the hub for Rugby Canada's digital platform, and will increase awareness and impact through engaging features for fans, followers and the broader community."
About Canterbury:
Canterbury has been committed to the game of rugby for 114 years and has previously provided playing shirts to the New Zealand and Australia teams. It is currently team kit supplier to England Rugby and Ireland Rugby as well as Bath Rugby, Leinster, Ospreys, Cardiff Blues and Rugby Canada. Canterbury were also the official apparel partner for the British and Irish Lions New Zealand tour in 2017 and the Official Sportswear Supplier for Rugby World Cup 2015. In addition to its rugby union pedigree, Canterbury is proud supplier of two NRL sides, the Vodafone Warriors and the Canterbury-Bankstown Bulldogs and were the official supplier to the 2017 Rugby League World Cup.
Canterbury has been a keen supporter of grassroots and development level rugby for many years and currently supplies playing apparel to thousands of school and club sides throughout the globe.  They are the leaders in innovating and bringing to market the world's most technical, durable and design focused rugby tested and inspired athletic wear.
 The company's global HQ is based in Nottingham, England with offices in over 100 countries worldwide.