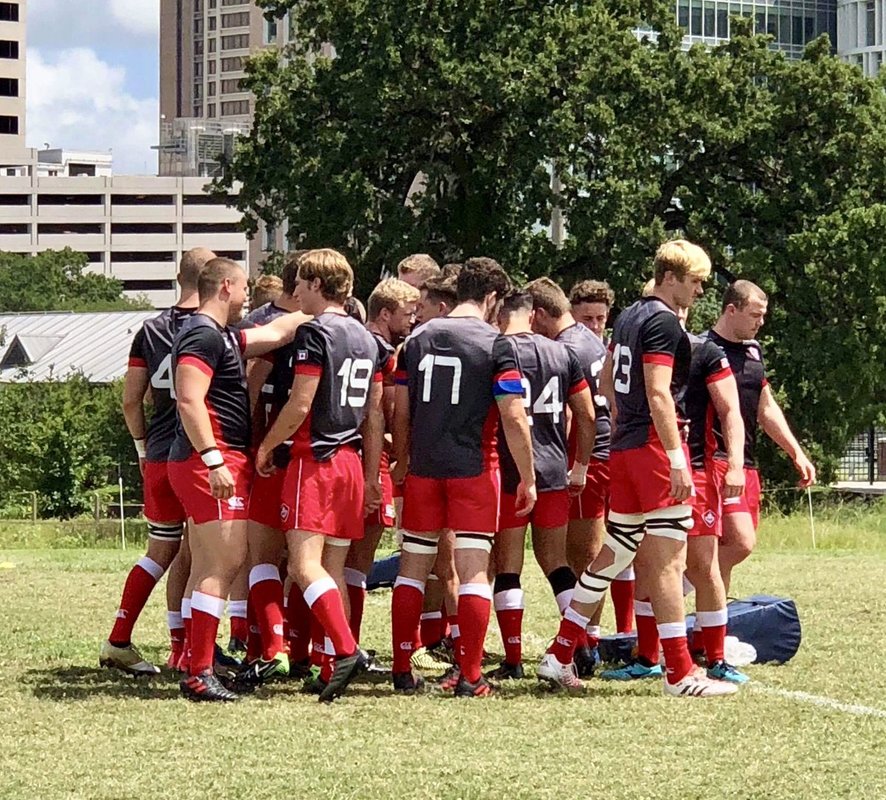 Canada U-20 qualify for world trophy
Canada's Under-20 Men's Team has qualified for the Junior World Trophy after a two-game aggregate series win against the United States in Texas.

Canada sealed a 82-62 aggregate victory over the USA to progress to the Junior World Trophy in Romania in August.
Game 1: Canada 60-22 USA
Game 2: Canada 22-40 USA
Match Report - Dr Pat Parfrey:
Based on aggregate scores Canada U-20 qualified for the World Rugby Junior Trophy in Bucharest by a points difference of twenty points.

Canada lost to a hyped-up, invigorated USA team in Houston by 40 points to 22. The reality of the day was Canada wilted in the 38 degee heat at Rice University, as USA's athletic backrow and Southern hemisphere midfield dominated the last 25 minutes. The South African scrumhalf and inside centre, together with the New Zealand flyhalf were outstanding .
USA rocked Canada with a 14-point start within 8 minutes, as Canada failed to cope with USA's intensity. Canada however, got into the game through a penalty by Brennig Prevost sixteen minutes in, and a try by Elias Ergas, following a multi-phase movement, converted by Prevost. In the last five minutes before half-time Canada were over the line three times but failed to touch down. USA were leading by 14-10 at the break despite playing against the twenty mile per hour wind.
Early In the second-half Prevost scored a suberb individual try in the left corner, gathering a short kick at pace. However, USA countered with two fine tries and a conversion. Canada countered with a second Ergas try converted by Prevost, but the last 15 minutes belonged to the USA, who scored 2 converted tries .
Man of the match for Canada was Prevost. James O'Neill was outstanding, as was Emmerson Prior coming off the bench at 30 minutes.
"We were delighted to qualify over an athletic and skillful USA team, but our frailties were revealed today " commented Jeff Williams, Head Coach.

"We have challenges ahead to perform well in Bucharest."
Canada Under-20 roster to face USA U-20:
 
1. Gavin Kratz – UVIC Vikes (Victoria, BC)
2.Jack McRogers – McMaster University (Toronto, ON)
3.Tyler Rowland – UBC Thunderbirds (Toronto, ON)
4.Quentin James – Perpignan (Vancouver, BC)
5.Reid Davis – Bayside RFC (Surrey, BC)
6.Michael Smith – UBC Thunderbirds (Vancouver, BC)
7.James O'Neill – Captain,UVIC Vikes (Cochrane, AB)
8.Jackson Matthews – UVIC Vikes (Montreal, QC)
9.Will Percillier – UBC Thunderbirds (Victoria, BC)
10.Steven Commerford – Brock University (Toronto, ON)
11.Jack McCarthy – Vandals RFC (St, John's, NL)
12.Kevin Vertkas – UBC Thunderbirds (Toronto, ON)
13.Elias Ergas – UBC Thunderbirds (Vancouver, BC)
14.Mostyn Findley – UVIC Vikes (Regina, SK)
15.Brennig Prevost – UVIC Vikes (Victoria, BC)
16.Tyler Wong – UVIC Vikes (Vancouver, BC)
17. Sam Turner -  UBC Thunderbirds (Vancouver, BC)
18.Emerson Prior – Trent University (Toronto, ON)
19.Ben Newhook – Vandals RFC (St, John's, NL)
20.Owain Ruttan – UBC Thunderbirds (Toronto, ON)
21.Peter Ingoldsby – Exmouth RFC (England)
22.Brock Gallagher – James Bay AA (Edmonton, AB)
23.Brandon Schellenberg – Castaway Wanderers (Victoria, BC)

Canada's Under-20 Men's Team Staff:
Jeff Williams – Head Coach
Adam Roberts – Assistant Coach
Adam Kleeberger – Strength and Conditioning Coach
Pat Parfrey – Manager
Mike Flynn – Co-Manager
Derrick Pue – Video analyst
Kiyomi Thompson – Physiotherapist