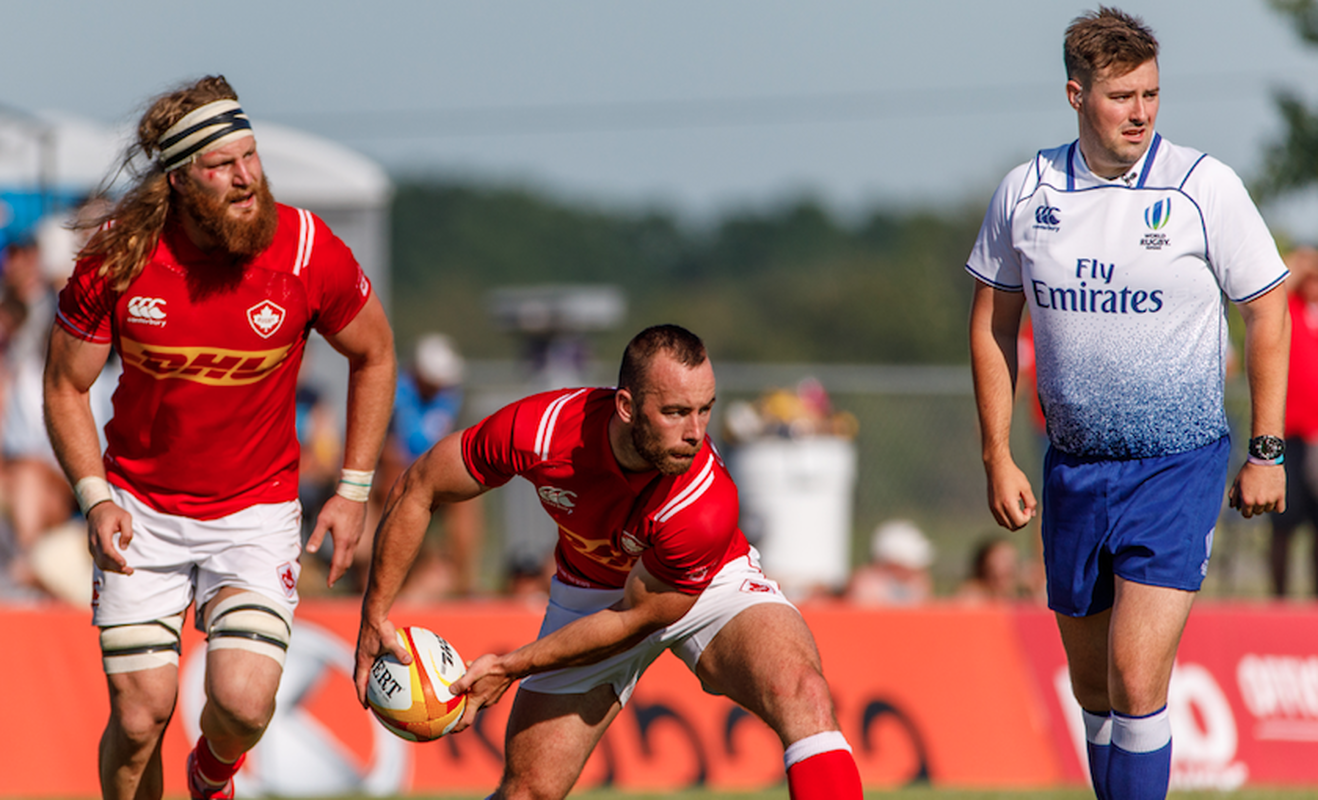 JONES CHANGES EIGHT FOR USA TEST
HALIFAX, NS (JUNE 21, 2018) – Canada's Men's Rugby Team head coach Kingsley Jones has made eight changes to his starting roster to face USA on Saturday at Wanderers Ground in the final fixture of the 2018 Summer Series.                 
Jones has shuffled the front-row after a tough day at the office for Canada's scrum against Russia. Djustice Sears-Duru and Jake Ilnicki replace Noah Barker and Cole Keith, while Ray Barkwill retains his place in the number two jersey. Lucas Rumball will again captain the team, with Matt Heaton and Luke Campbell making up the back-row.
After experimenting with a new half-back combination against Russia, Jones has opted for experience against an in-form Eagles side with Phil Mack and Shane O'Leary coming back in at nine and ten. The pair started in Canada's Summer Series opener against Scotland in Edmonton. Jones has also decided to bring UBC's Ben LeSage back into the midfield alongside Nick Blevins.
The back-three sees two changes from the defeat at Twin Elm. Pat Parfrey slots back into the full-back position after recovering from injury, while Kainoa Lloyd gets his first chance on the wing alongside Jeff Hassler.
Kingsley Jones:
"There's a feeling of frustration and disappointment amongst the group. We played some young players, it's difficult to find them an opportunity at that level and we knew it'd be a risk against a team ranked above us but we have to find out about each other. Unfortunately they weren't helped by the senior players and the senior players are frustrated, they felt they probably had their worst game.
Our work this week has been on the mental side, we need to make sure we play with the right frame of mind on Saturday against a really good USA side who've just beaten Scotland and are full of confidence. Hopefully we respond in a positive manner because we need a good performance.
There's a couple of faces we've brought back in. Parfrey comes in at full-back and gives us that voice and experience there. Phil Mack coming back into the group is important for direction, not only is he a really good player but he was desperate to come back and play in this game and thankfully Seattle Seawolves have been very understanding. Shane O'Leary comes in at flyhalf, which gives us a bit more experience at nine and ten.
We need to concentrate on our performance and make sure we deliver. The support last week in Ottawa was exceptional and we felt we let the support down so we hope to put in a much better performance this week."
Canada vs. USA kicks off at 4pm local time on Saturday, June 23.
Watch LIVE on Rugby Canada's Facebook page
Tickets > https://rugby.ca/en/tickets  
Canada roster to face USA in Halifax:
1. Djustice Sears-Duru – Unattached/Ontario Blues (Oakville, ON)
2. Ray Barkwill – Seattle Seawolves/Ontario Blues (Niagara Falls, ON)
3. Jake Ilnicki - Yorkshire Carnegie/BC Bears (Williams Lake, BC)
4. Josh Larsen - Otago (Parksville, BC)
5. Evan Olmstead – Auckland/Prairie Wolf Pack (Vancouver, BC)
6. Lucas Rumball – Balmy Beach RFC/Ontario Blues (Scarborough, ON)
7. Matt Heaton – Darlington Mowden Park/Atlantic Rock (Godmanchester, QC) 
8. Luke Campbell – James Bay AA/BC Bears (Victoria, BC)
9. Phil Mack - Seattle Seawolves/BC Bears (Victoria, BC)
10. Shane O'Leary – Ealing Trailfinders (Campbellton, NB)
11. Kainoa Lloyd - Mississauga Blues/Ontario Blues (Mississauga, ON)
12. Nick Blevins – Calgary Hornets/Prairie Wolf Pack (Calgary, AB)
13. Ben LeSage - UBC Thunderbirds/Prairie Wolf Pack (Calgary, AB)
14. Jeff Hassler – Unattached/Prairie Wolf Pack (Okotoks, AB)
15. Pat Parfrey - Swilers RFC/Atlantic Rock (St. John's, NL)
16. Eric Howard – New Orleans Gold/Ontario Blues (Ottawa, ON)
17. Noah Barker - James Bay AA/BC Bears (Courtenay, BC)
18. Ryan Kotlewski - Westshore RFC/Prairie Wolf Pack (Calgary, AB)
19. Paul Ciulini - Aurora Barbarians/Ontario Blues (Vaughan, ON)
20. Dustin Dobravsky - Castaway Wanderers/BC Bears (Hanover, Germany) 
21. Jorden Sandover-Best - UBC Old Boys/BC Bears (Abbotsford, BC)
22. Guiseppe du Toit - UVIC Vikes/BC Bears (Maple Ridge, BC)
23. Theo Sauder - UBC Thunderbirds (Vancouver, BC)
Stats & Facts:
Saturday's Test Match against USA will be the 60th encounter between the two nations – Canada has faced no other nation on more occasions. 
The first ever Test between Canada and the USA dates back to May 21, 1977 - Canada claiming 17-6 victory in Burnaby, British Columbia.
The current win-draw-loss record reads 38-2-19 in favour of Canada – the only two draws coming at Tim Hortons Field in Hamilton in 2017 (28-28) and Bleeker Stadium in New York in 1982 (3-3).
USA have had the upper-hand in the rivalry in recent times, winning seven and drawing one of the last eight encounters – The most recent, a 28-10 victory at Papa Murphy's Park in California in this year's Americas Rugby Championship.
It has been almost five years since Canada last beat the USA – A narrow 13-11 victory at BMO Field in Toronto on August 24, 2013. 
USA (15th) are currently ranked seven positions above Canada who sit in 22nd position – Uruguay (18th) and Argentina (10th), the only other nations from the Americas in the top twenty.
USA have been in fine form under new head coach, Gary Gold in 2018. Winning seven from seven, lifting the Americas Rugby Championship title and scoring 60+ points in their fixtures against Uruguay and Russia.
Canada have claimed two victories in 2018 so far, defeating Brazil at home (45-5) and Chile away (33-17).
Canada vs. USA will be the first ever Test Match in Halifax, NS. The only other international fixture being a Rugby World Cup warm-up match between Canada and Glasgow Warriors on August 29, 2015.
Canada's 2018 Summer Series:
June 9th
Canada 10 – 48 Scotland
June 16th
Canada 20-43 Russia
June 23rd
Canada vs. USA
Wanderers Ground
Halifax, NS
Kick off: 4pm local time (3pm ET/12pm PT)
Tickets for the 2018 Summer Series can be purchased by clicking here> https://rugby.ca/en/tickets      
-30-