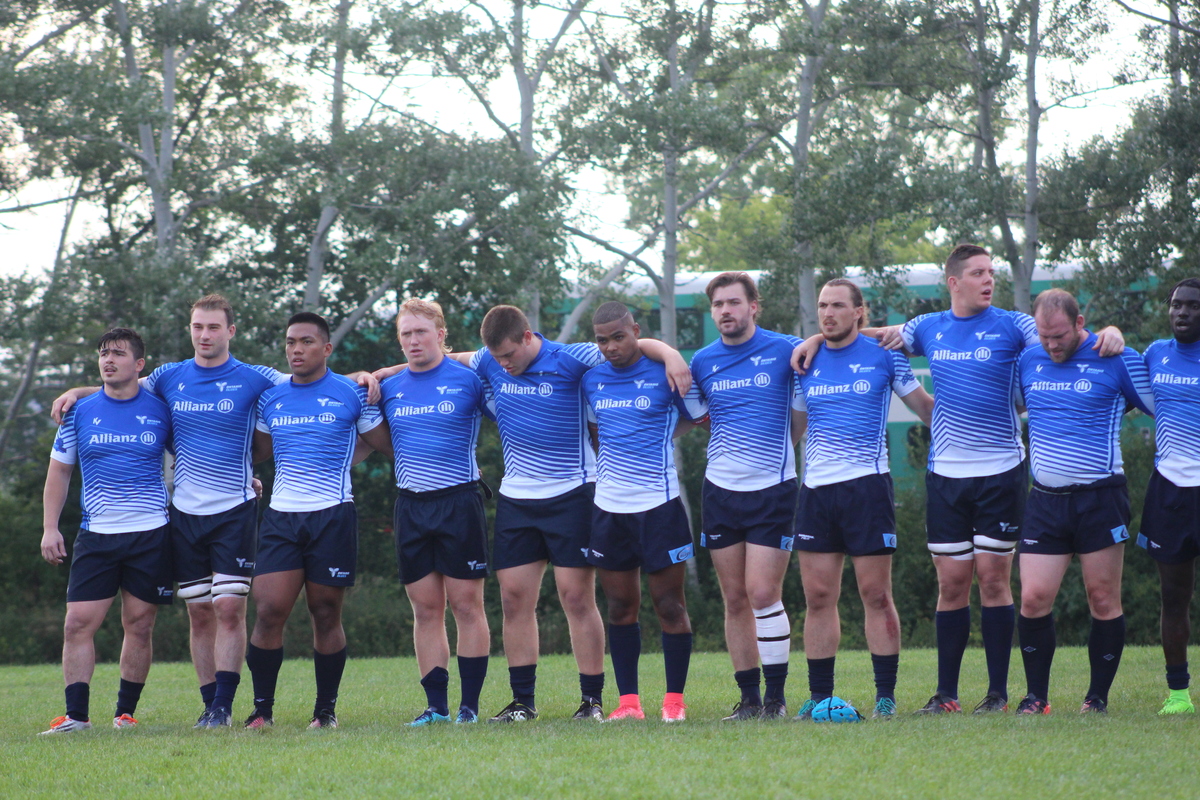 Blues Sr. Men victorious in Game 2 of CRC; will match up against BC Bears in semi-finals on August 23, 2018
Rugby Ontario
Rugby 15s Senior Men
The Ontario Blues Senior Men's team avenged their opening loss to the Atlantic Rock with a strong display on Tuesday night at Burlington Centaurs Rugby Football Club
The Blues did not allow the Rock to score a try, only conceding three penalty conversions. The final score at the end of the match was 22-9 for the Ontario Blues, who were able to secure their first Canadian Rugby Championship (CRC) win of the season.
In the first half, Ontario got things started with a Kolby Francis try. Shawn Windsor completed the conversion to give the Blues the early lead. Cooper Coats of the Rock hit two penalty conversions in the half, but the Blues had the narrow 7-6 lead going into the second frame.
The Blues were resilient in their attack, spending much of the second half in Rock territory. Early on in the second half, Mitch Richardson was able to get past the first line of Rock defense and get the ball off to Windsor who scored right under the posts. He converted his own try to pad the Blues' lead. Next, after a goal line stand from the Rock, Marcello Wainwright was able to get the ball over the line off of a Mike Smith offload and bring the Blues' lead to 19-6. Windsor and Coats traded penalty conversions to end the game and the Ontario Blues came away with a 22-9 victory.
Though the Blues secured a series advantage in point differential with the win, the Rock secured a bonus point in their Game 1 five-try performance. With the point advantage, the Rock place first in the East division and will match up against the Prairie Wolfpack in their semi-final. The Blues will face their rivals, the BC Bears in their semi-final on Thursday August 23 in Calgary at 7:00pm ET. More details about the match including the Blues' roster and streaming details will be announced shortly.
For more information on the Ontario Blues Senior Men's program, go to http://www.rugbyontario.com/blues-senior-men/.
BLUES SCORING
Tries: Kolby Francis, Shawn Windsor, Marcello Wainwright
Conversions: Shawn Windsor x2
Penalties: Shawn Windsor
ROCK SCORING
Penalties: Cooper Coats x3
Ontario Blues Senior Men's Starting XV vs. Atlantic Rock - August 7, 2018
1. Rob Brouwer, Lindsay RFC/Ontario Arrows (Capt.)
2. Andrew Quattrin, Aurora Barbarians/Ontario Arrows
3. Tom Dolezel, London St. George's/Ontario Arrows
4. Tom Van Horne, Brantford Harlequins/Ontario Arrows
5. Ben Jones, Balmy Beach
6. Peter Milazzo, Toronto Scottish/Ontario Arrows
7. Marcello Wainwright, Toronto Scottish/Ontario Arrows
8. Kolby Francis, Brantford Harlequins/Ontario Arrows
9. Riley Dinardo, Toronto Scottish
10. Shawn Windsor, Stoney Creek Camels/Ontario Arrows (Vice Capt.)
11. Josiah Morra, Toronto Saracens
12. Jamie Leveridge, Crusaders/Ontario Arrows
13. Mitch Richardson, Stoney Creek Camels/Ontario Arrows
14. D'Shawn Bowen, Kingston Panthers
15. Nate Boeyenga, Brantford Harlequins
Reserves
16. Jack McRogers, Aurora Barbarians/Ontario Arrows
17. Andrew Wilson, Burlington Centaurs/Ontario Arrows
18. Mike Smith, Toronto Scottish/Ontario Arrows
20. Matt Fish, Waterloo County
21. Jesse Lofthouse, Markham Irish
22. Kyle Lagasca, Guelph Redcoats/Ontario Arrows
23. Graham Dobbs, Crusaders
26. Emerson Prior, Peterborough Pagans
Coaching Staff
Head Coach-Chris Silverthorn
Assistant Coach-Cory Hector
Assistant Coach-Aaron Carpenter
Manager-Mark Winokur
Performance Analyst-Rodin Lozada
Ontario Blues Senior Men's Canadian Rugby Championship Schedule
GAME 1: Blues vs. Atlantic Rock (L 34-22) – August 4, 2018 – Concordia University, Montreal QC
GAME 2: Atlantic Rock vs. Blues (W 22-9) – August 7, 2018 – Burlington ON 
SEMI FINAL: Blues vs. BC Bears – August 23, 2018 – 7:00pm ET – Calgary, AB
GOLD/BRONZE: August 26, 2018 – Calgary, AB
Cette victoire, une première cette saison pour les Blues dans le tournoi a été amorcée en première demie quand Kolby Francis a inscrit un essai. Shawn Windsor a complété la conversion pour donner les devants aux locaux. Cooper Coats a réussi deux penalties pour le Rock en première demie, mais le Blues menait toujours 7-6 à la mi-temps.
L'attaque ontarienne a été résiliente, passant presque toute la deuxième demie dans le territoire du Rock. En début de deuxième demie, Mitch Richardson a percé la première ligne défensive du Rock pour larguer le ballon vers Windsor qui a marqué sous les poteaux. Il a converti son propre essai pour accroître l'avance des hôtes. Ensuite, après une défensive solide du Rock à sa ligne de but, Marcello Wainwright a inscrit l'essai suite à une remise de Mike Smith pour porter la marque à 19-6 pour les Blues. Windsor et Coats ont ensuite chacun botté un penalty pour conclure le pointage, dominé 22-9 par les Blues.
Si les Blues ont eu le dessus sur leurs rivaux de l'Est en vertu du différentiel de points, le Rock a inscrit un point boni grâce à ses cinq essais dans le premier match. Le Rock prend donc le premier rang et affrontera le Wolfpack des Prairies en demi-finale, tandis que les Blues retrouveront les Bears de la Colombie-Britannique dans l'autre demi-finale, celle-ci à compter de 19 h HE, le jeudi 23 août à Calgary. Plus de détails suivront sur ce match ainsi que les informations relatives à la webdiffusion.
SOMMAIRE DU MATCH Rock de l'Atlantique Essaie – aucun Penalties – Cooper Coats (3)
Blues de l'Ontario Essais – Kolby Francis, Marcello Wainwright, Shawn Windsor
Conversions – Windsor (2) Penalty - Windsor
XV partant des Blues de l'Ontario vs Rock de l'Atlantique (7 août 2018)
1. Rob Brouwer, Lindsay RFC/Arrows de l'Ontario (capitaine) 2. Andrew Quattrin, Barbarians d'Aurora/Arrows de l'Ontario 3. Tom Dolezel, St. George's de London / Arrows de l'Ontario 4. Tom Van Horne, Harlequins de Brantford / Arrows de l'Ontario 5. Ben Jones, Balmy Beach 6. Peter Milazzo, Scottish de Toronto/Arrows de l'Ontario 7. Marcello Wainwright, Scottish de Toronto/Arrows de l'Ontario 8. Kolby Francis, Harlequins de Brantford/Arrows de l'Ontario 9. Riley Dinardo, Scottish de Toronto 10. Shawn Windsor, Camels de Stoney Creek /Arrows de l'Ontario (asst. capitaine) 11. Josiah Morra, Saracens de Toronto 12. Jamie Leveridge, Crusaders/Arrows de l'Ontario 13. Mitch Richardson, Camels de Stoney Creek /Arrows de l'Ontario 14. D'Shawn Bowen, Panthers de Kingston 15. Nate Boeyenga, Harlequins de Brantford
Réservistes 16. Jack McRogers, Barbarians d'Aurora / Arrows de l'Ontario 17. Andrew Wilson, Centaurs de Burlington / Arrows de l'Ontario 18. Mike Smith, Scottish de Toronto / Arrows de l'Ontario 20. Matt Fish, Waterloo County 21. Jesse Lofthouse, Irish de Markham 22. Kyle Lagasca, Redcoats de Guelph/Arrows de l'Ontario 23. Graham Dobbs, Crusaders 26. Emerson Prior, Pagans de Peterborough
Personnel d'entraîneurs
Entraîneur-chef - Chris Silverthorn Entraîneur adjoint - Cory Hector Entraîneur adjoint - Aaron Carpenter Gérant - Mark Winokur Analyste de performance - Rodin Lozada
Calendrier des Blues de l'Ontario au CCR
1er match – Blues 22 -34 Rock de l'Atlantique 2e match : Rock de l'Atlantique 9-22 Blues
DEMI-FINALE : Blues vs Bears de la Colombie-Britannique, 23 août 2018 à 19 h au Rugby Park de Calgary, AB
FINALE / MATCH POUR LA MÉDAILLE DE BRONZE : 26 août 2018 au Rugby Park de Calgary, AB
-------------------
Formation du Rock de l'Atlantique face aux Blues de l'Ontario 1. Frank Walsh 2. Martial Lagain 3. Cole Keith 4. Lucas Hotton 5. Liam Carter 6. Mo Abdelmonem 7. Matt Heaton 8. Matt Murphy 9. Jamie McKenzie 10. Pat Parfrey 11. Tony Pomroy 12. Jordan Wilson-Ross 13. Aidan McMullen 14. Josh Campbell 15. Cooper Coats 16. Jordon Power 17. Keelan Chapman 18. Alex Forrest 19. Toni Wodzicki 20. Zac Coughlan 21. Graham Barry 22. Federico Cisneros 23. Maxime Perrault