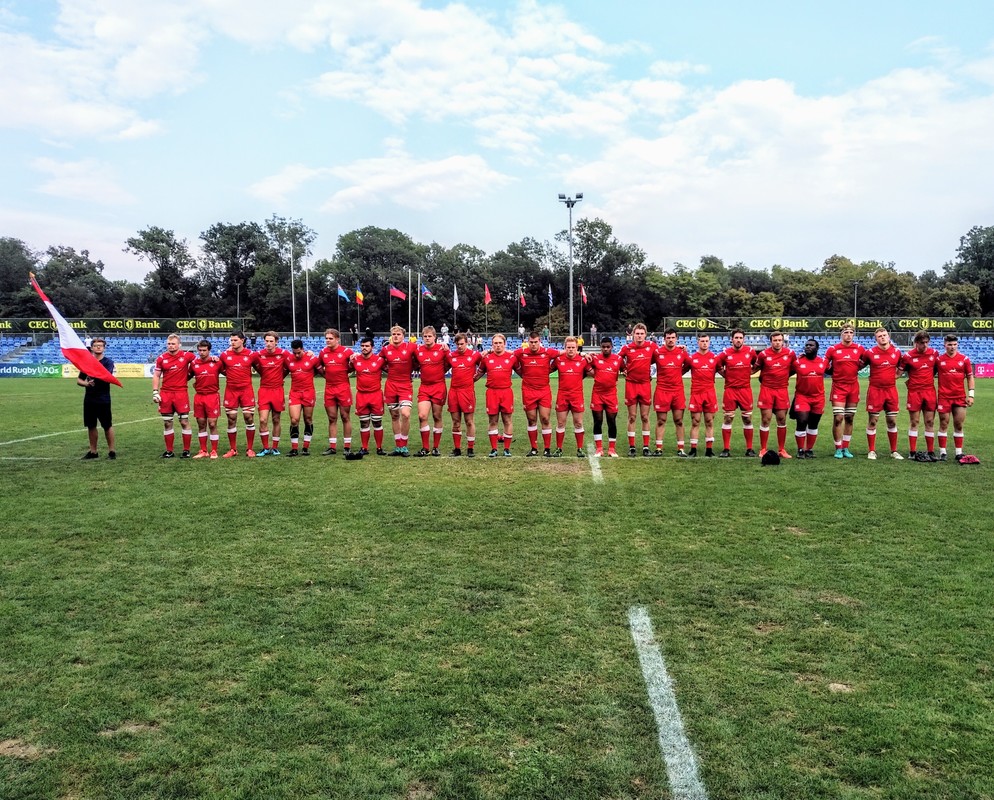 Canada u20 finish World Trophy with massive win over Romania
Dr. Pat Parfrey
Rugby 15s U20 Men
BUCHAREST, ROMANIA – Canada U-20 beat Romania U-20 71-14 at the Junior World Rugby Trophy in Bucharest, scoring 11 fine tries in the process, 8 of which were converted by Brennig Prevost. As a result, Canada finish 7th in the tournament.
Canada's game was built on an excellent line out, strong defence and hard running with the ball in hand.The first try was scored at 5 minutes when Kevin Vertkas touched down under the posts from a potent line out drive. Romania responded with a converted try.
At 13 minutes Jack McCarthy, who had an excellent game, finished a multiphase movement in the left corner. At 18 minutes Josiah Morra, who also was excellent, made a break in midfield resulting in a try for Elias Ergas, who started at fullback. At 29 minutes Morra counter attacked from within his 22 to create a try for flanker Peter Ingoldsby. At 33 minutes Morra was in the action again scoring an intercept try. Jack McCarthy finished another multiphase movement with his second try.

At the half Canada were leading 40-7.
In the second half Romania scored first with a converted try, but after that it was one way traffic with tries at 48, 54, 67, 72 and 73 minutes. From a half way line out Jack McRogers scored when play was reversed to him; Vertkas scored his second try direct from a scrum; Prevost made his total points 21 when he touched down following a change in direction by substitute outside half Campbell Clarke; The captain, James O'Neill scored under the posts following another line out drive; and finally the moment of the day when Guerschom Mukendi, the substitute tight head prop, outstripped everyone to grasp Brandon Schellenberger's chip into space.
There was a lot to admire in the way Michael Smith controlled the defensive line outs, the resilience of the scrum that overcame the heavier pack and the running of the whole team, particularly Morra.
"I think we were probably the fifth best team in the tournament, as the teams that beat us in our pool destroyed the other teams in the playoffs: Uruguay beat Hong Kong 78- 17, Portugal beat Namibia 67-36 and Fiji beat Samoa," commented head Coach Jeff Williams. "In the coming year we will select early, focus on strength and conditioning, play more games, and spend more time together. Ten of this team will return in 2019," he added.
These include props Tyler Rowland and Guerschom Mukendi, second rows Quentin James, Reid Davis and Tyler Duguid, halfbacks Will Percillier and Campbell Clarke, and centres Kevin Vertkas, Lockie Kratz and Gabe Casey.
 
Canada U20 Team to face Romania:
 
1. Gavin Kratz – UVIC Vikes (Victoria, BC)
2. Jack McRogers – McMaster University (Toronto, ON)
3. Emerson Prior – Trent University (Toronto, ON)
4. Tyler Duguid – Nor'Westers (Edmonton, AB)
5. Quentin James – Perpignan (Vancouver, BC)
6. Peter Ingoldsby – Exmouth RFC (England)
7. James O'Neill – Captain,UVIC Vikes (Cochrane, AB)
8. Michael Smith – UBC Thunderbirds (Surrey, BC)
9. Brandon Schellenberger – Castaway Wanderers (Victoria, BC)
10. Brennig Prevost – UVIC Vikes (Victoria, BC)
11. Jack McCarthy – Vandals RFC (St, John's, NL)
12. Kevin Vertkas – UBC Thunderbirds (Toronto, ON)
13. Seth Purdey – UCal at Berkeley (Shawnigan Lake, BC)
14. Josiah Morra – Toronto Saracens (Toronto, ON)
15. Elias Ergas – UBC Thunderbirds (Vancouver, BC)
16. Tyler Rockwell – James Bay AA (Calgary, AB)
17. Mitchell Wainman – (Banff, AB)
18. Guershom Mukendi – Stoney Creek RFC (Mississauga, ON)
19. Reid Davis – Bayside RFC (Surrey, BC)
20. Jackson Matthews – UVIC Vikes (Montreal, QC)
21. Campbell Clarke – Swilers RFC (St. John's, NL)
22. Lachlan Kratz – Castaway Wanderers (Victoria, BC)
23. Gabriel Casey – Bytown Blues (Ottawa, ON) 
24. Owain Ruttan – UBC Thunderbirds (Toronto, ON)
 
Canada's schedule: 
 
August 28 - Canada 29 - 31 Portugal
September 1 - Canada vs. Uruguay
September 5 - Canada vs Fiji
September 9 - Canada vs. TBC
Management:
Gethin Watts – Program Leader
Jeff Williams – Head Coach
Adam Roberts – assistant coach
Pat Parfrey – Manager
Kiyomi Thompson – Physiotherapist
Mylan Clairmont – Strength and Conditioning Coach
Derek Pue – Video Analyst
Shannon Houston – Doctor

U20 Support Group:

Karl Fix – Saskatchewan(Chair)
Andrew Purdey – BC
Mike Holmes – BC
David Robertson – BC
Bill Webb – Ontario
Pat Parfrey – Newfoundland
-30-