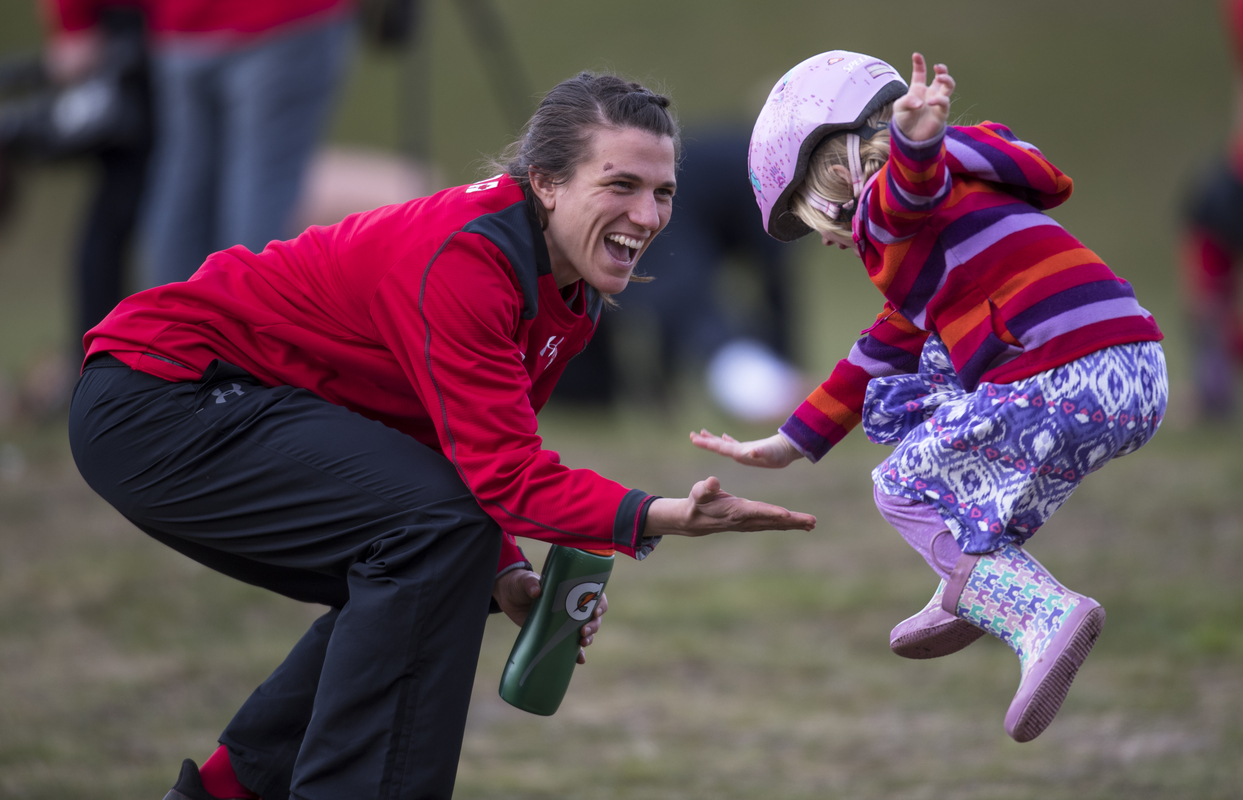 Zussman calls time on 11-year career with Canada
Bryan Kelly
Rugby 15s Senior Women
LANGFORD, BC – One of Canada's all-time greats, Julianne Zussman, has blown the whistle on her career wearing the maple leaf for her country. After 44 test caps, 18 tries, two stops on the HSBC World Rugby Women's Sevens Series and three appearances at the Women's Rugby World Cup, the Ottawa, Ontario native has decided to take on a new career as a referee while now residing in Victoria, BC
Known for her expert knowledge of the game, speed, leadership and impeccable attitude that any coach would love to have on their roster, Zussman has been involved in the Canadian set up since making her debut in 2007 against Scotland.
 
A versatile back, who could play flyhalf, wing or her preferred fullback, Zussman played an integral role in Canada's best-ever silver-medal finish at the 2014 Women's Rugby World Cup in France. She was also named to the World Rugby Dream Team for the tournament.
 
BK – How did you first get your start in Rugby?
 
JZ – "I started playing rugby at my high school in Ottawa. My brother played on the boys' team and he took me under his wing. I didn't know the sport to begin with but I was hooked after my first practice. It combined everything that I liked in other sports, and I found it exciting and challenging to make effective decisions at a high speed.
 
BK – Reflecting back on your career, what has been your highlights as National Team player?
JZ – "There was an impromptu dance party during the 2014 World Cup. There was nervous energy percolating in the residence the night before our pool game against England and it was the right outlet. There's a picture of a crew squeezed in a dorm room dancing to Doses and Mimosas with handmade strobe lights. The next day we tied against England and clinched a spot in the semi-finals. During that World Cup we felt that together, and in the right mind-set, we could do anything.
 
In the 2014 World Cup semi-finals we demonstrated something special to ourselves and our fans when we beat France at home in front of 20,000 spectators. We weren't expected to make the top 4 but we had self-belief, and we played for each other and for our loved ones.
 
2016 Super Series is one of the best memories I have. We went undefeated against England, France and USA – but more importantly we played with a freedom and self-expression that I will always remember. Everything clicked."
 
BK – Who/what was the biggest reason for you making it as far as you did? Any specific person you'd like to thank?
 
JZ – "Rugby attracts a wide range of personalities and different types of people. There's something about the sport that brings a community together. My teammates have inspired and motivated me throughout my career and I owe it to them that I kept pushing forward when times were tough. I also want to thank my family. There's nothing better than a post-game hug from a loved one, and they were always there when it mattered, even if it was across the world.
 
BK – What made you make the decision to hang your boots up? When did you know – it's time?
 
JZ – "It feels like the right time to step away. I went through the motions of starting another season but my heart wasn't in it. I can feel the energy of the next generation of players, and this is their time. They are going to be a force."
 
BK – Plans for your career after rugby? Plans to stay involved in the game?
 
JZ – "It can be scary to take a step in to the unknown. When people ask me what my post-rugby goals are, it's much easier to have a plan or at least a next step, but sometimes the most authentic response for me is to say, "I don't know." It is a vulnerable place to be.
I'm looking for something that is challenging like my sporting career was. I have taken on roles in coaching and refereeing, and I work for Athletics Canada's high performance team. Ultimately, I want to give back to my community by empowering young people, especially women, to feel strong and to be relentless.
 
For now, I am finding my competitive edge playing spikeball."
 
BK – What do you think of the current state of the game in Canada and what would you like to see happen going forward in this country?
 
JZ – "The player pool has never been stronger in Canada. More girls are picking up a rugby ball, and they have access to programs and coaching to develop their skills at an earlier age. The quality of athletes and coaches is there. I am excited to see what identity the next generation of players builds for Canadian rugby.
 
Going forward we need a better competition structure in Canada – both domestically and internationally – if we are going to compete with the likes of England and New Zealand, the top teams in the world. This means more quality games, and in a structure that players can afford. There are individuals who are taking this challenge seriously, and with all the brains and passion in this country, I know we can do better."
 
BK – Advice for girls wanting to follow in your footsteps?
 
JZ – "My advice for girls wanting to follow in my footsteps is – not to follow in my footsteps. Everyone's experience will be different and just like in a rugby game, you can plan and prepare but at the end of the day you need to take the gap that's in front of you. Oh, and sometimes the smallest players can fit through the smallest gaps, so don't get discouraged if you are a lightweight like me."
-30-