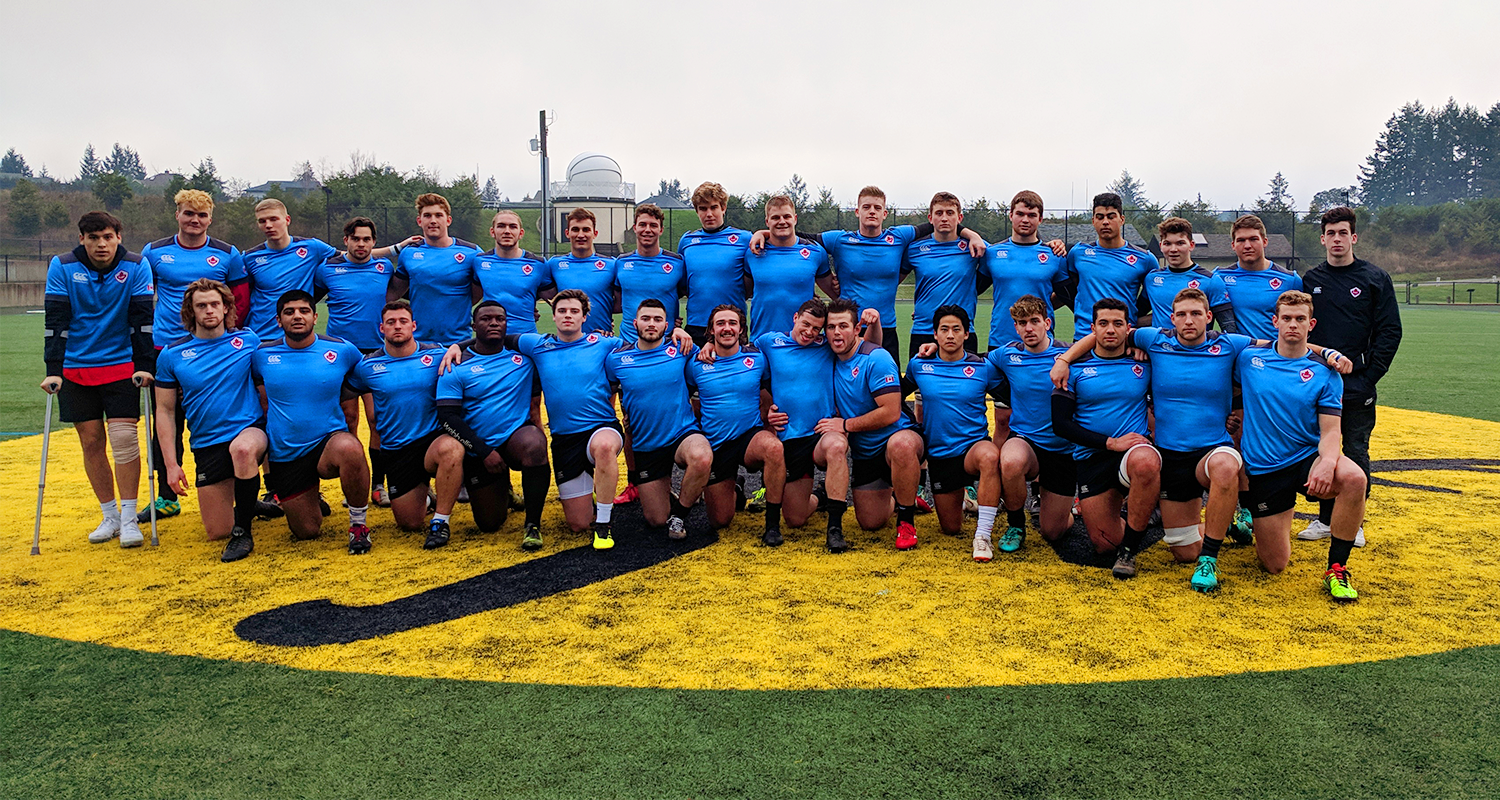 Men's U20 Roster Announced for Portugal and Spain tour
Dr. Pat Parfrey
Rugby 15s U20 Men
LANGFORD, BC (January 11, 2019) – Canada's Men's Under-20 Team head coach Jeff Williams has named his 30-player roster for their upcoming tour to Portugal and Spain.
Canada U-20 started its preparations for the qualifiers for the 2019 World Trophy against USA by having a selection camp at Shawnigan Lake School January 3-7. 32 players attended the camp, excluding five who are currently with the Maple Leaf Sevens in Montevideo, three injured players and Will Percillier, who is now playing with the Stade Francais Academy.
An excellent game of three 30 min periods was played against UBC in Vancouver on a cold but lovely day on January 6th, allowing all players at camp to be evaluated fairly.
This year's U-20 team will have a longer and more sustained preparation period than last year, with the same coaching/management team as last year. Gethin Watts will lead the program, Jeff Williams is Head Coach and Adam Roberts Assistant Coach.
The Portugal/Spain tour is planned for February 13-25 with matches against Portugal on February 17 and 20 in Lisbon, and a U-20 tournament with France, Spain and Portugal in Valladolid on February 23 and 24. Each of the 4 teams will play each other in 50 min games over the weekend.
Back in Canada, East and West weekend camps will take place on the last weekend of March. The squad for the USA qualifiers will congregate at Shawnigan Lake School on May 14 to prepare for two games v USA at the end of May (location TBC) and start of June (location TBC). The winning team, based on a two-game aggregate score, will go to Sao Jose dos Campos, Brazil July 9-21 for the World Trophy.
Canada's Men's U20 Team for Portugal/Spain Tour:
Glenn Butler – (Royal Military College) Grimsby, ON
David Carson – (UVIC Vikes) Victoria, BC
Frank Carson – (UBC Thunderbirds) Tsawwassen, BC
Gabriel Casey – (Bytown Blues) Ottawa, ON
Campbell Clarke – (Swilers RF) St. John's, NL
Jarvis Dashkewytch  – (UVIC Vikes) Tsawwassen, BC
Reid Davis – (Bayside RFC) White Rock, BC
Tyler Duguid – (Edmonton Nor'Westers) Edmonton, AB
Mason Flesch – (Coburg Saxons RFC) Coburg, ON
Antoine de la Fontaine – (Saint Mary's College of California) Sherbrooke, QC
Brandon Hebert – (Saint Anne de Bellevue) Ile Perrot, QC
Quentin James – (Perpignan) Vancouver, BC
Lockie Kratz – (UVIC Vikes) Victoria, BC
Will Matthews – (Beaconsfield RC) Beaconsfield, QC
Michael McCarthy – (Swilers RFC) St. John's, NL
Connor McKinney – (Upper Canada College) St. John's, NL
Guerschom Mukendi – (Stoney Creek Camels) Stoney Creek, ON
Quinn Ngawati – (Westshore RFC) Victoria, BC
Kevin Oh – (Waterloo County RFC) Toronto, ON
Will Percillier – (Stade Francais) Mill Bay, BC
Austin Pinnel – (Edmonton Nor'Westers) Edmonton, AB
David Richard – (Mississauga Blues) Milton, ON
Tyler Rowland – (Toronto Nomads) Toronto, ON
Henry Stephenson – (Toronto Nomads) Toronto, ON
Reece Tudor-Jones – (UVIC Vikes) Shawnigan Lake, BC
Ross Tweed – (UBC Thunderbirds) Surrey, BC
Kevin Vertkas – (Toronto Nomads) Mississauga, ON
Brock Webster – (Oshawa) Oshawa, ON
Tyler Wong – (UVIC Vikes) Vancouver, BC
Stefan Zuliani – (Queens University) Thornhill, ON
Head Coach: Jeff Williams
-30-