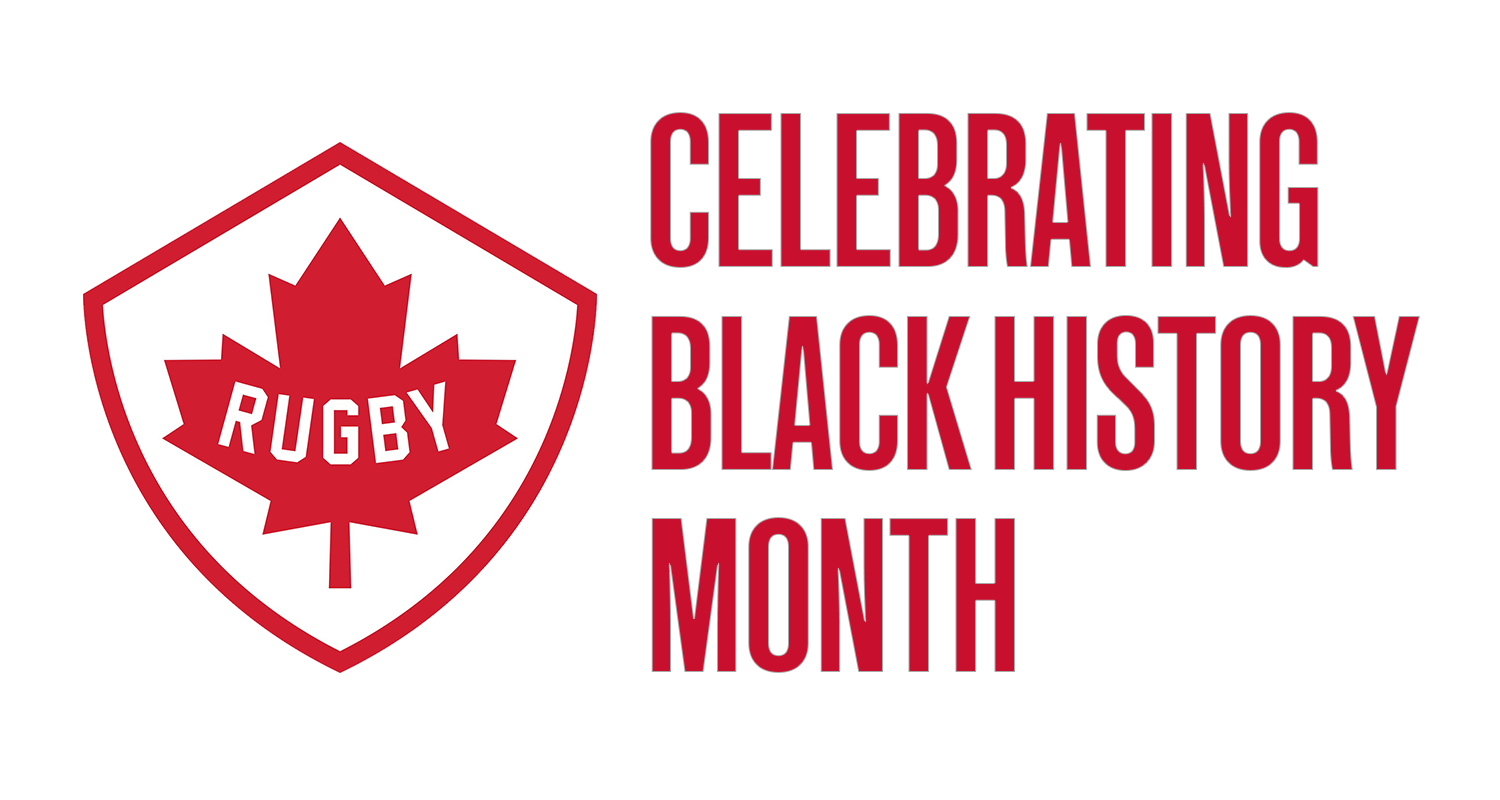 Black History Month: Athlete Spotlight
Rugby 7s Senior Men, Rugby 7s Senior Women, Rugby 15s Senior Men, Rugby 15s Senior Women
Rugby Canada is proud to celebrate Black History Month and the great athletes that contribute their talents to our sport and help to build a legacy of diversity in the organization.
Sport is at its best when diversity is embraced and Rugby Canada is proud of all our athletes who wear the red and white jersey. But we'd like to take the time to highlight a few of our athletes during Black History Month to celebrate their achievements and hear their stories. 
Two of our own National Women's Sevens athletes—Charity Williams and Pam Buisa—heard from some past and present Rugby Canada athletes about their time with the National teams and their experience as black athletes in Canada.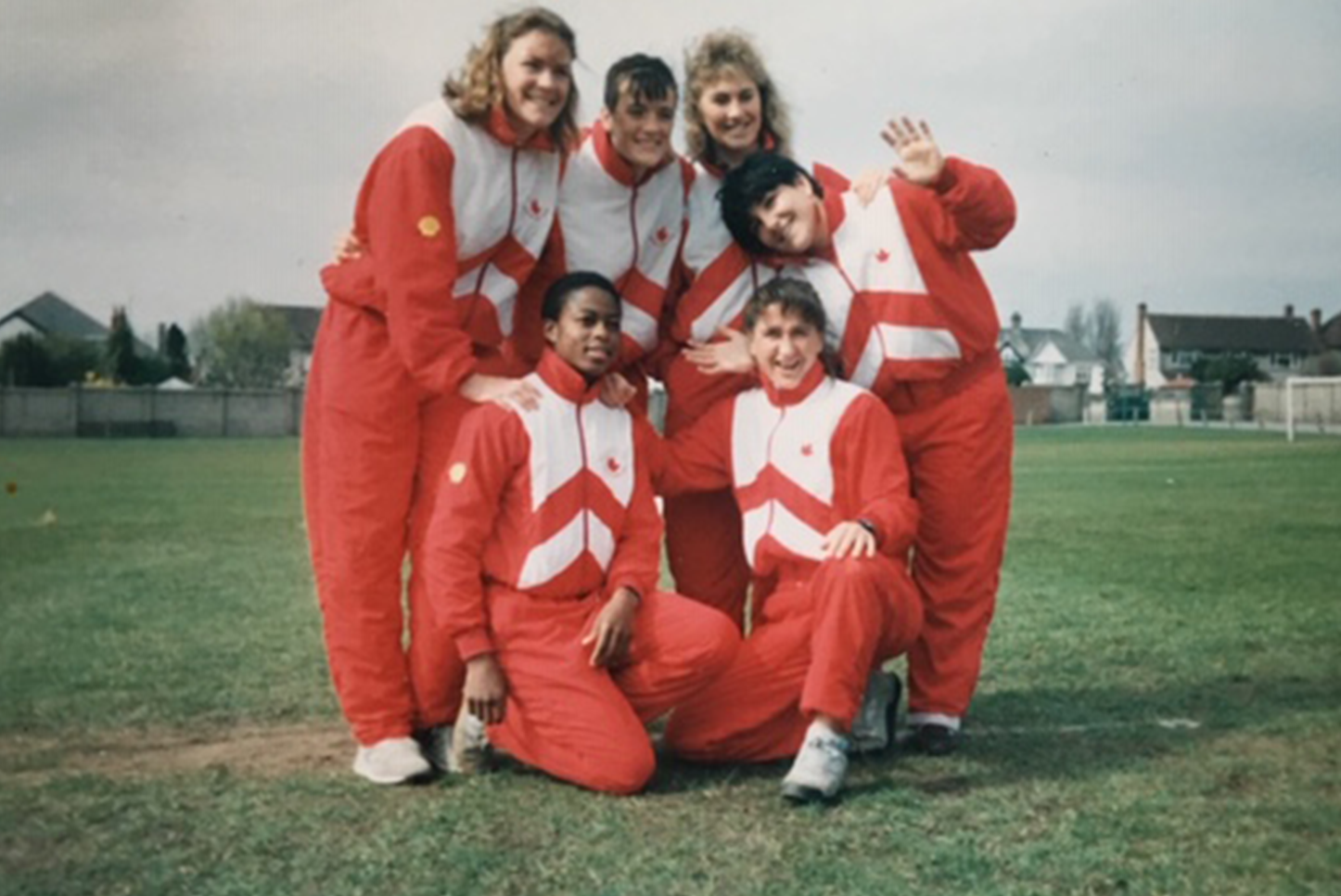 Dawn Williams
Pathway to the National Team: Saskatoon Kirin Regina Raven's Saskatchewan played 7s in Burnaby lake club.
Favorite rugby moment: Stepping on the field as a coach for the first time.
What is your hometown: Saskatoon, Saskatchewan
-------------
Being the first black women to have represented your country, how would you say rugby in Canada has evolved since?
First of all there is more women playing [and there's] better structure for coaching and youth programs that progress to senior teams.
How did you feel to have represented your country? What did it mean to you?
I felt blessed to be coached and to be playing with the best players in Canada. It meant I would be playing with the best against the best on an even playing field.
Has your race ever been something you've thought about when you were a player? Has it ever affected you?
I am proud of my race and yes all the rough stuff that happened because of [it and] other insecurities made me stronger and gave me the desire to rise above and excel.
What would your advice be to aspiring black youth and girls everywhere in Canada?
Honestly, if I can do it so can you. You have to believe in yourself and you will achieve all your goals. The journey may be rough at times you may have disappointments and setbacks but at the end of the day if you believe you can be the best [to] succeed.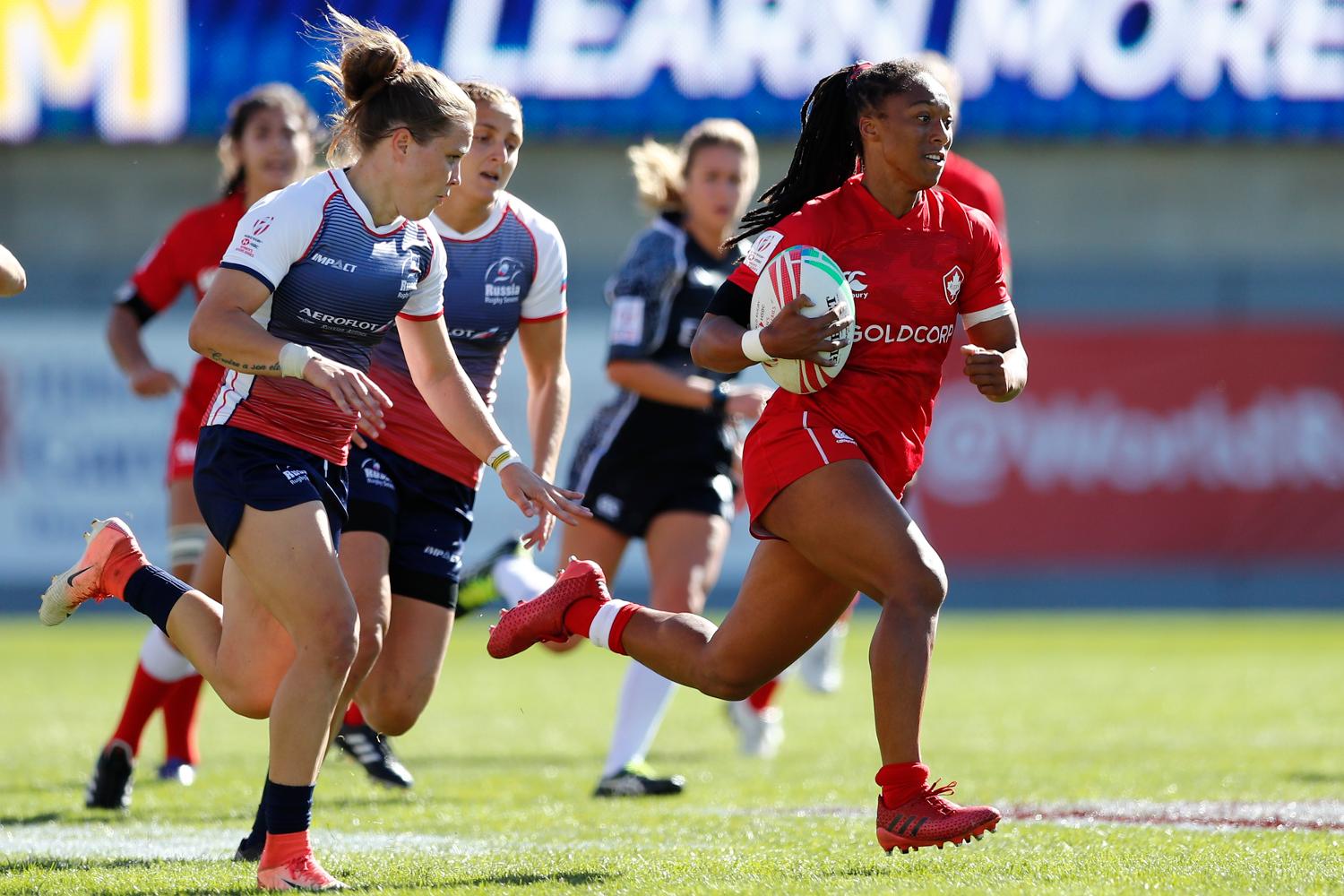 Charity Williams
Pathway to the National Team: I started playing in grade 10 and played Club rugby for a year before playing on the provincial team of Ontario. From there I was identified by the NSW7s team in 2013.
Favourite rugby moment: Scoring my first Olympic try against Australia.
What is your hometown: Toronto, Ontario
-------------
What did it mean for you to be 1 of 12 women to be selected to go to Rio de Janeiro Olympics in 2016?
Being selected to the first ever Olympic rugby team was probably one of the highest achievements of my life thus far. It was such an honour to play next to my teammates, some of which are the best players in the world. My dream since I was a child was to be an Olympian and I got to do it when I was only 19. We all worked so hard for a tournament that lasted three days and came home with a bronze medal. I can confidently say that every sweat and tear and 8 hour day was worth it. 
What does being a black women in sport mean to you?
Being a black women in sport is something I take very seriously because I know I'm not just representing myself but every young black youth in sport. When I was selected for the Olympic Games I was the only black woman on my team. I was so excited but I knew that came with a different set of responsibilities. There has yet to be a team where I've faced no prejudice, whether it be by the way of jokes or just plain ignorance. We shouldn't be blind to the struggles that a lot of black athletes face day to day at every level of sport. However, I'm very proud of my skin and the role I play on my team. My goal is to be able to educate & enlighten to the best of my ability. What I would say to aspiring black youth is, be prepared for adversity...but remember that people can't deny talent & hard work no matter how much they might try to. 
How was your overall experience winning bronze for Canada?
All-in-all the Olympics was a highlight of my life and career. And the fact that our team fought all the way to the end to grab that bronze medal is so special to me. Representing Canada is always such a gift that I never take for granted. I'm really excited about this qualifying year & gearing up for Tokyo 2020, standing for Canada on the highest stage!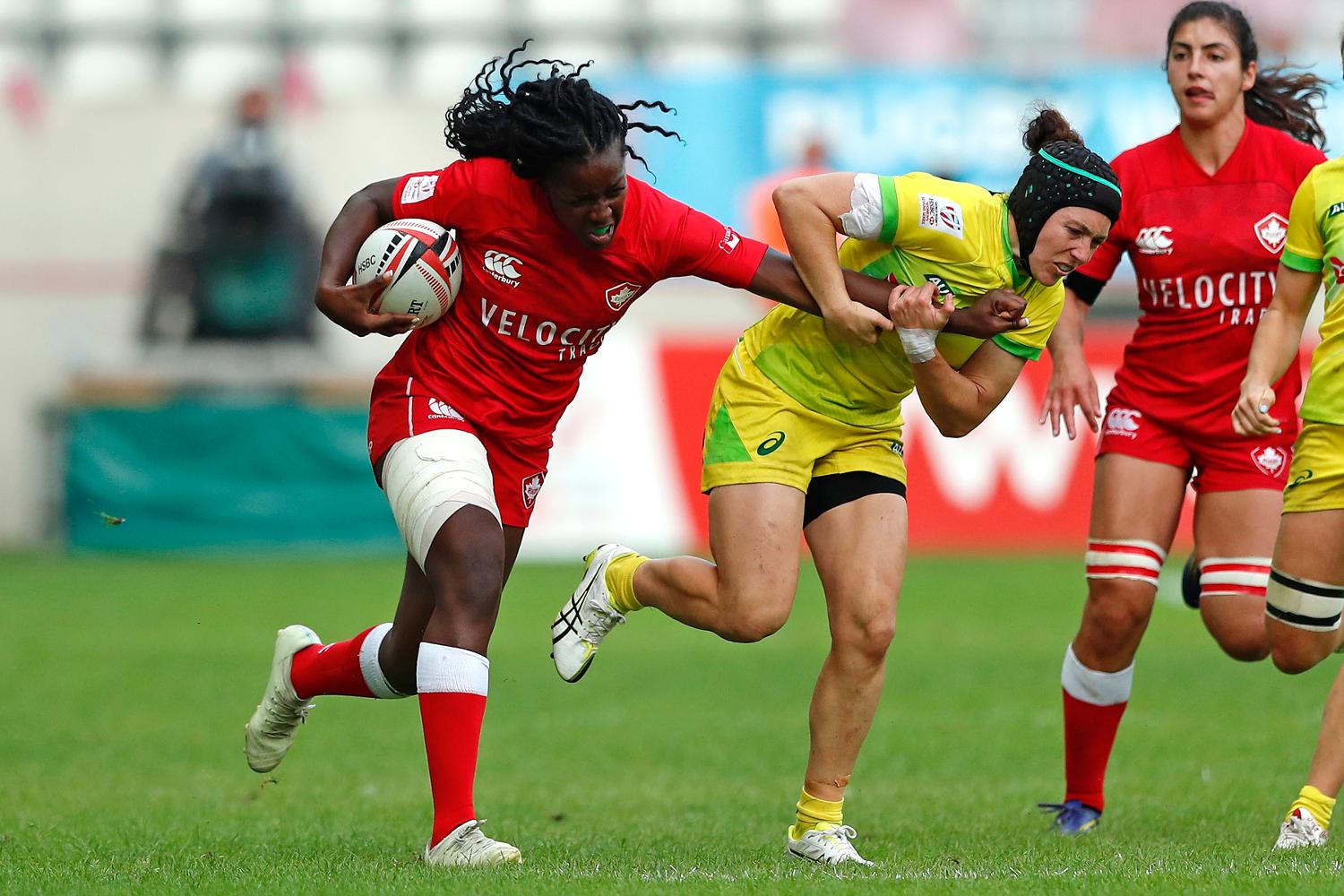 Pam Buisa
Pathway to the national team? I started playing rugby at Philemon Wright High School, played club with Ottawa Irish, made it onto Team Quebec, was identified and represent Canada at the Youth Olympic Games, and have been involved with the Canadian team ever since. 
Favourite rugby moment? My favorite rugby moment was having my dad come watch me play for Canada first time at the World Cup. 
Hometown: Gatineau, Quebec
-------------
What are some of your rugby career goals for yourself individually and for your team? 
My future rugby career goal is to qualify for the 2020 Olympics, make the Pan Am Squad, and go to the Olympics in 2020. 
Has your race ever been a factor or an obstacle in your athletic career? If so, how did you overcome it?  
Even though I have been in situations where my race has caused me to see face some adversity,  I've never thought of being black as something that I've needed to overcome, it's the very makeup of who I am and I'm proud of it. 
As a black female athlete, describe what it is like to represent Canada on an international stage? 
Representing this country on an international stage is both an honor and a blessing, one that I don't take lightly. Being a female of color in a sport like rugby shows me how far we've come, but we can't be complacent because there is always more to be done.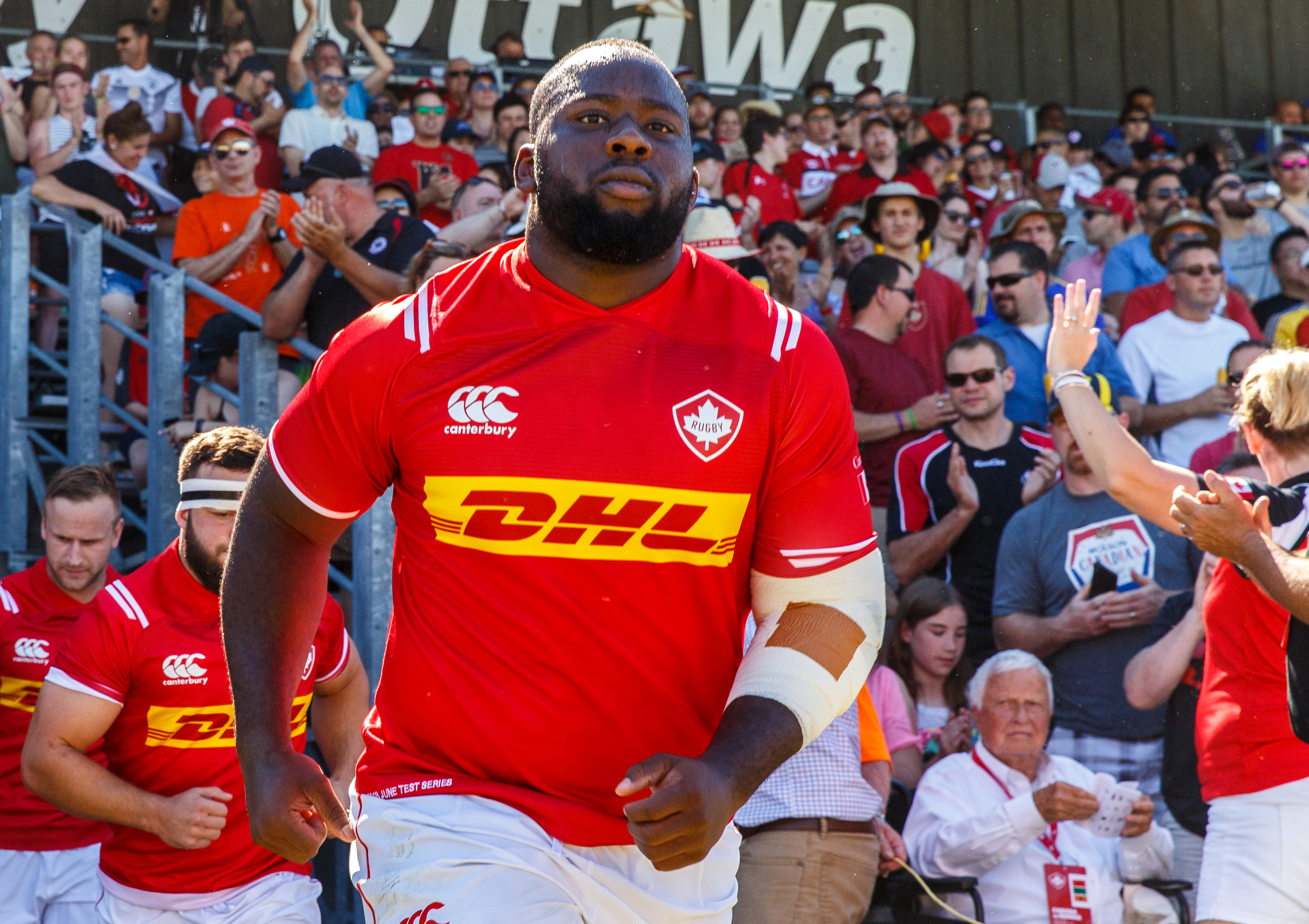 Djustice Sears-Duru 
Pathway to the National Team: From the local club in Oakville, Ontario all the way through age grade playing for Ontario Blues. I had my first international experience at the U17 level for two years. Then under 20s for 2 more years before making my first Men's 15s debut at 19.
Favorite rugby moment: Stepping on to the pitch during the World Cup in 2015 against Ireland
What is your hometown: Oakville, Ontario
-------------
How was your overall experience representing Canada at the World Cup in 2015? 
It was like a dream come true. Growing up I always wanted to represent my country and when I got the chance it felt amazing. I remember watching the World Cup when I was younger thinking to myself I'd like to be there one day. 
Is being a person of color something you think about in a sport like rugby?
Being a person of colour is something I think about everyday but in rugby it doesn't matter what colour you are. I find the rugby community I've had experiences with are very accepting and they just appreciate you for what you bring on the pitch. 
What advice would you give to black aspiring youth and boys everywhere in Canada?
I would tell anyone and everyone who has the dream to represent their country is just to put in the hard work. It's easy seeing the players on the TV and thinking how cool it is to make it. The stuff they don't see is all the hours you put in behind the scene. If you want to make it to the next level just put the hard work in and never give up.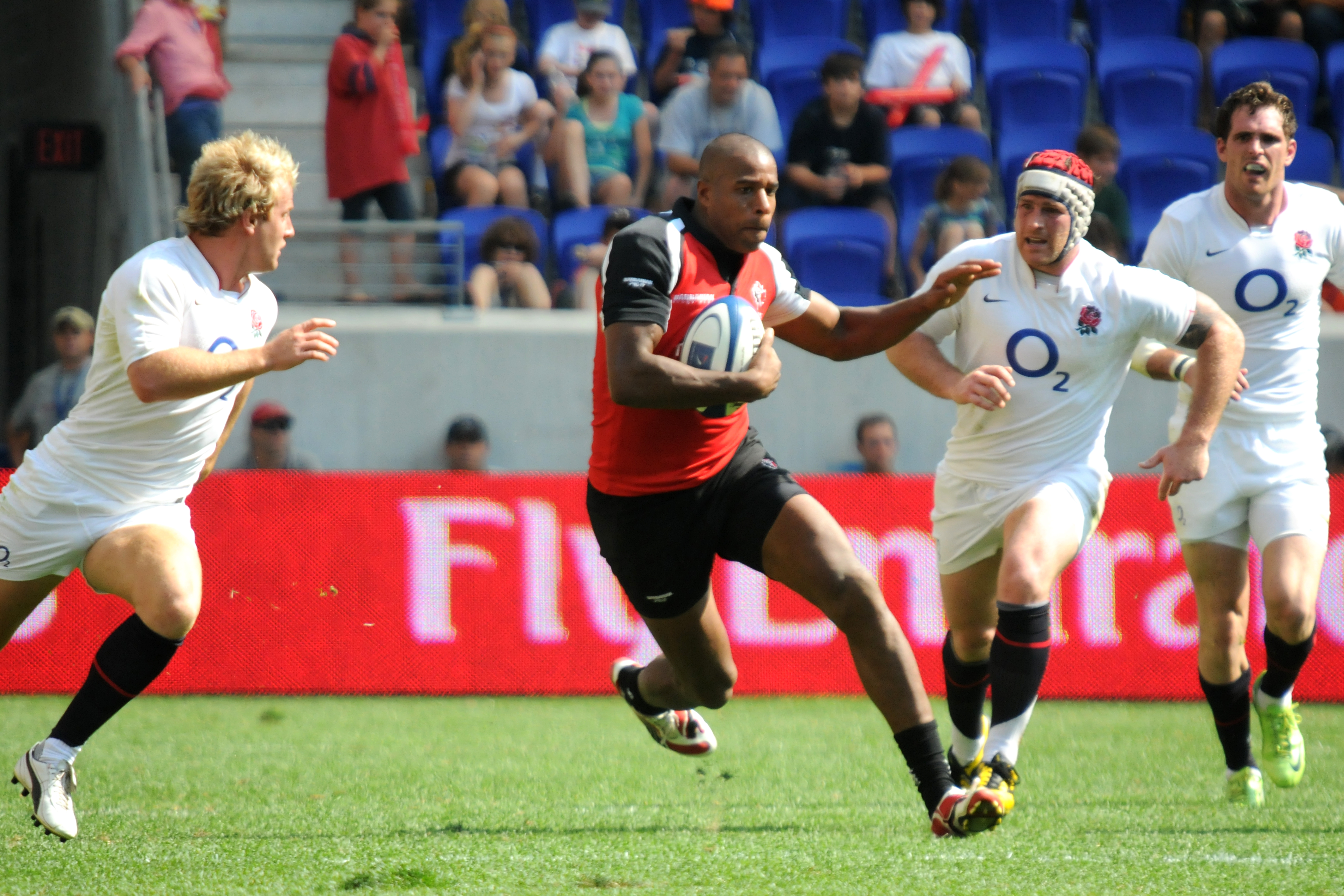 Justin Mensah-Coker
Pathway to the National Team: The summer after graduating from high school I was able to play in the Canada Games competition, after which I was selected to play for the Under 19 National Team. From there I played representative age grade National Rugby, until I was selected to join the then "Pacific Pride" program in Victoria. During my 2 year tenure in that program, I began to play first 7's for the National Team, followed by 15's. 
Favorite rugby moment: I definitely have quite a few, but a standout moment that was special to me was matching up head to head with Doug Howlett when we playing the All Blacks in Hamilton NZ. Doug had always been one of the players that I loved watching in my younger Rugby years. 
What is your hometown: Vancouver, BC
-------------
What did it mean to you to be able to represent your country? How would you say rugby in Canada has evolved?
Representing my country has been the biggest point of pride thus far in my life. There's no feeling to match going head to head in sporting battle with the maple leaf over your heart. Some of my fondest memories have come from the time that I have spent on the field and traveling on tour, which is definitely something that I wouldn't trade for anything. 
Did you ever feel stigmatized or that the odds were against you because of your race? If so, how did you overcome it? 
Personally I was never put in a position that I felt my race was something that was measured against me. However, that being said, there is always a possibility that there were realities of stigmatization that I wasn't cognizant to at the time. But solely based on personal experience, I have always had an amazing support network around me that was hugely responsible for why I was successful in the sport of Rugby. 
 What advice would you give to black aspiring youth and boys everywhere in Canada?         
 I hope that social stigma does not play a part in the progression of Canadian sport, there is always a potential for this to be used as a measurement in some circles. For young athletes of visible minority in this country, my advice would be to never let someone else's option discourage the goals that you have set for yourself. Resilience and self-belief are the cornerstones for success in sport, and those motivations have to be driven from within, and sometimes without the approval of others. In my experience, hard work and dedication to ones craft trumps all, so if you want something go get it.
-30-