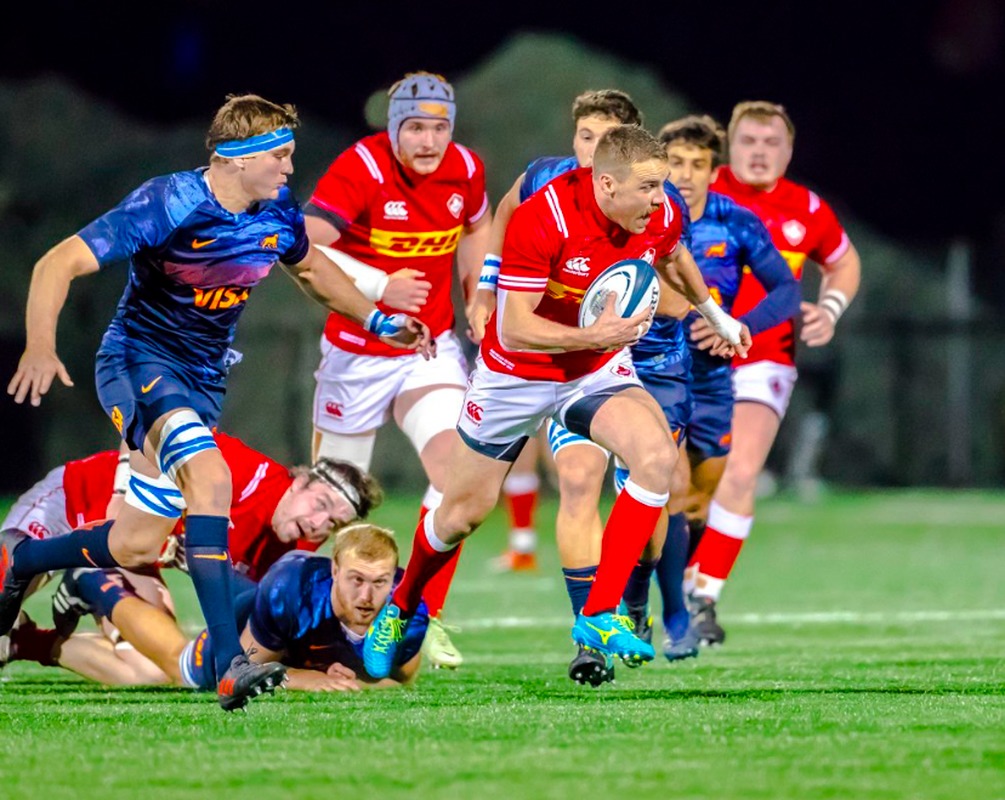 Canada set to close out ARC against USA
Bryan Kelly
Rugby 15s Senior Men
SEATTLE, USA (March 6, 2019) – Canada head coach Kingsley Jones has named two changes to his starting roster to close out the 2019 Americas Rugby Championships (ARC) against USA on Friday.
Veteran scrumhalf and Seattle Seawolves star Phil Mack is set to make his 2019 debut for Canada, while number 8 Luke Campbell returns from injury to bolster the forward pack.
Canada will once again be captained by flanker Lucas Rumball, while replacement hooker Jordan Olsen could win his test match debut off the bench.
Canada are looking for their second win of the tournament on the back of a 56 nil home win over Chile and a very competitive performance in last weekend's loss to Argentina XV in Langford.
"I was pleased with our performance, we were competitive in every department last weekend against a very strong Argentina XV, scoring some good tries with some excellent individual performances," said Jones.
USA hold a 2-2 record so far in the ARC with wins over Chile and Brazil, while falling to Argentina XV and a surprise loss to Uruguay last weekend at Starfire Sports Stadium in Seattle.
"USA will be disappointed with their home defeat last week, we are expecting a tough game against a highly motivated USA team. They are an excellent side and they will also be looking to end their ARC with a positive result in front of their home fans on Friday," added Jones.
"There's a passionate rivalry between these two nations and the USA have had the upper hand lately, so we need to be prepared and maximize the opportunity. A win on Friday would be huge for momentum as we push to the Rugby World Cup."
Friday's test match is the final game for Canada until the Pacific Nations Cup, kicking off against USA in Colorado on July 27th. From there Canada will travel to Suva, Fiji to face Fiji and Tonga on August 3rd and 9th respectively before returning home to continue preparing for the RWC in Japan.
Kick off on Friday is 10pm ET/7pm PT and the game can be seen live online at www.tsn.ca or the TSN App, while it will be delayed by one hour on TSN 3 at 11pm ET/8pm PT.
Canada Roster:
1. Hubert Buydens – (NOLA Gold) Saskatoon, SK
2. Benoit Piffero – (Blagnac Sporting Club) Montreal, QC
3. Cole Keith – (Toronto Arrows) Sussex, NB
4. Conor Keys – (Rotherham Titans) Stittsville, ON
5. Kyle Baillie – (NOLA Gold) Summerside, PEI
6. Justin Blanchet – (Bedford Blues) Montreal, QC
7. Lucas Rumball – Captain (Toronto Arrows) Scarborough, ON
8. Luke Campbell – (James Bay AA) Victoria, BC
9. Phil Mack – (Seattle Seawolves) Victoria, BC
10. Gordon McRorie – (Calgary Hornets) Calgary, AB
11. Kainoa Lloyd – (Toronto Arrows) Mississauga, ON
12. Ciaran Hearn – (London Irish) Conception Bay South, NL
13. Nick Blevins – (Calgary Hornets) Calgary, AB
14. Andrew Coe – (Markham Irish) Toronto, ON
15. Theo Sauder – (Toronto Arrows) Vancouver, BC
16. Jordan Olsen – (Northland) Whangarei, NZ
17. Noah Barker – (Glendale Raptors) Courtenay, BC
18. Ryan Kotlewski – (Westshore RFC) Calgary, AB
19. Josh Larsen – (Austin Elite) Parksville, BC
20. Dustin Dobravsky – (Castaway Wanderers) Hanover, Germany
21. Jamie Mackenzie – (Toronto Arrows) Oakville, ON
22. Pat Parfrey – (Unattached) St. John's, NL
23. Doug Fraser – (Austin Elite) Ladysmith, BC
2019 ARC Schedule:
 
February 2
Canada 17 - 20 Uruguay
 
February 9
Canada 10 - 18 Brazil
 
February 22
Canada 56 – 0 Chile
March1
Canada 23-39 Argentina XV
 
Canada vs. USA
March 8
Starfire Sports
Seattle, USA
Kick-off: 10pm ET/7pm PT
Broadcast:
Live on www.tsn.ca/TSNApp
Tape delay 11pm ET/8pm PT on TSN 3