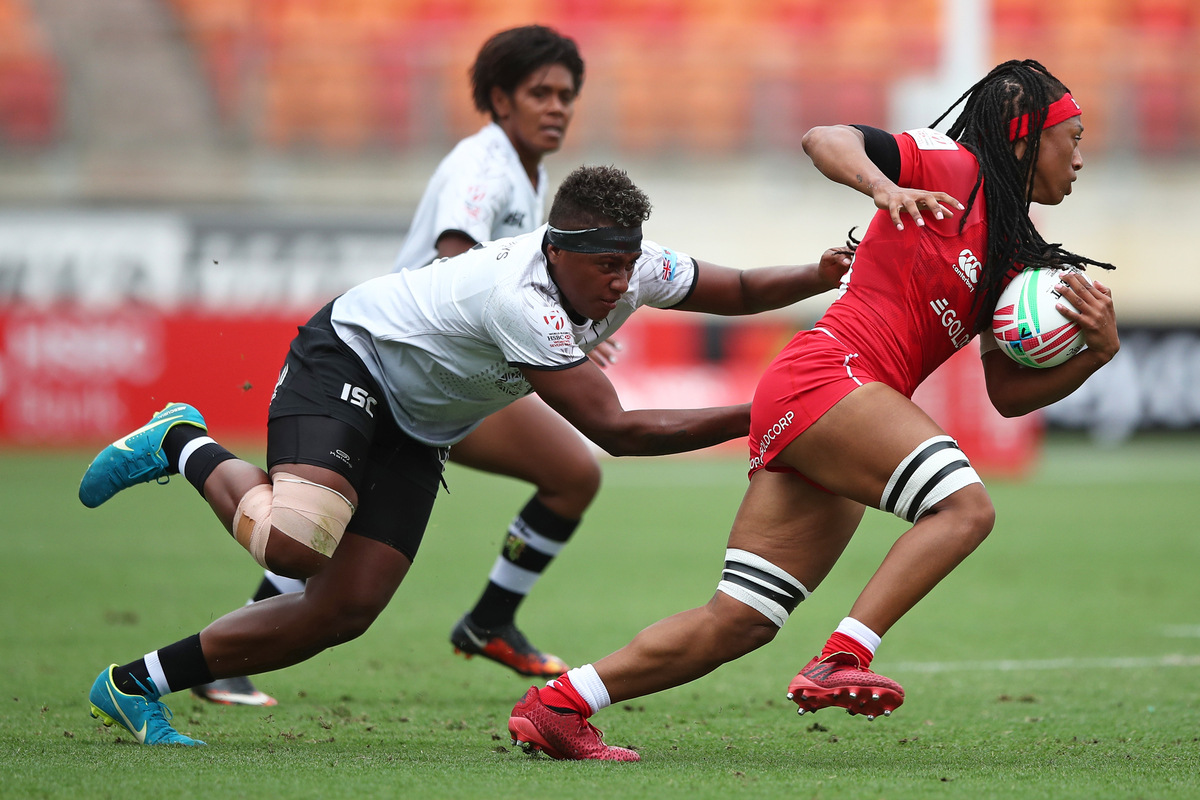 Women's Sevens midway through their Olympic Qualifying season
Bernadette Larose
Rugby 7s Senior Women
Currently tied for third in the HSBC World Rugby Women's Sevens Series, two Maple Leaf development squads are competing in Nice, France (March 11-18th) and San Diego, California (March 13-15th) ahead of the last three stops on the 2019 series.
With three stops down and three more to go in their Olympic qualifying season, head coach John Tait has split his squad into two Maple Leaf teams that are competing in midseason tournaments ahead of the Kitakyushu, Langford, and Biarritz series stops. 
"We are just looking at these tourneys as great opportunities to get our entire squad playing some quality opposition to help us prepare and select for the second half of our season. We also want to try a few new combinations and tactics, which is a real luxury to be able to do that in an environment where there isn't the added pressure of needing to win." said Tait.
The first team in San Diego opened competition today in their four-team tournament against USA 1, USA 2, and China and will play the final rounds tomorrow. A younger roster with talent to spare, they're looking to gain experience and touches for the up-and-coming athletes with guidance from the series-seasoned players that round out the line up.
Sabrina Poulin was replaced by Rugby Canada Development Academy athlete Sierra Gillis due to a late injury. This is the second senior women's tour for Victoria-native Gillis.
The second squad in Nice, France will compete on March 16th and 17th against Japan, Spain, England, Ireland, Russia, France, and Australia. The roster has veterans such as Britt Benn, Ghislaine Landry, Bianca Farella, and Kayla Moleschi playing alongside youngsters Keyara Wardley and Maggie Mackinnon. Mackinnon comes from the Development Academy and replaced Madi Grant—also an Academy athlete—who is out with a lower body injury.
"This academy is quickly becoming our biggest and most productive pathway to our senior program. We are working closely at aligning everything we are doing on and off the field," added Tait.
"The coach of the academy, Adam Kleeberger, has really done a fantastic job at growing these young athletes in every area of the game and it's evident by those athletes being able to come up and play on senior tours already. If a young lady aspires to becoming an Olympian in 2024 and beyond, then this is the program that will make that dream become a reality."
France will also be the first action back for veteran Karen Paquin who has been absent from play since the 2016 Olympics in Rio.
"It's great to have Karen back, she brings an intensity to the group by the way she trains and plays. She has been keen to get back into her best form and she—along with the support staff—have been patiently working towards that."
In the first half of their season saw a bronze finish in Glendale and a silver medal in Dubai before a fifth place ending in Sydney after a quarterfinal loss to New Zealand.
The team stops in Kitakyushu, Japan to compete on April 20-21st before returning home to Langford for the HSBC Canada Women's Sevens on May 11-12th. With the top four teams securing automatic Olympic Qualification, two big performances could allow them punch their ticket to Tokyo in front of the home crowd.
"We are always going into competitions with an expectation that we can medal, so getting an opportunity to do that at home in front of friends and family is really special. It comes with added pressure, mostly from within, but regardless it's the place we always want to win the most." said Tait.
Tickets for the HSBC Canada Women's Sevens go on sale next week, with early bird tickets available March 19th and public on sale March 21st. For more information on tickets, click HERE.
For more information on the Rugby Canada Development Academy, click HERE. 
Maple Leafs Roster- Nice, France
1. Britt Benn, Guelph Redcoats (Napanee, ON)
2. Caroline Crossley, Castaway Wanderers (Victoria, BC)
3. Bianca Farella, Town of Mount Royal RCF (Montreal, QC)
4. Maggie Mackinnon, Rugby Canada Development Academy (Victoria, BC)
5. Julia Greenshields, Sarnia Saints (Sarnia, ON)
6. Ghislaine Landry, Toronto Scottish (Toronto, ON)
7. Kaili Lukan, Unattached (Barrie, ON)
8. Kayla Moleschi, Williams Lake Rustlers (Williams Lake, BC)
9. Breanne Nicholas, London St. Georges RFC (Blenheim, ON)
10. Karen Paquin, Castaway Wanderers / CRQ (Quebec City, QC)
11. Keyara Wardley, Okotoks Lions (Vulcan, AB)
12. Charity Williams, Markham Irish (Toronto, ON)
Nice, France- Competition Schedule
March 16, 2019
Canada vs. Japan- 6:06am ET/ 3:06am PT
Canada vs. Spain- 8:13am ET/ 5:13am PT
Canada vs. England- 10:20am ET/ 7:20am PT
March 17
Canada vs. Ireland- 6:06am ET/ 3:06am PT
Canada vs. France- 8:20am PT/ 5:20am PT
Canada vs. Australia- 10:27am ET/ 7:27am PT
Maple Leafs Roster- San Diego, California
1. Delaney Aikens, UBC (Briercrest, SK)
2. Olivia Apps, Lindsay RFC (Lindsay, ON)
3. Pam Buisa, Ottawa Irish (Gatineau, QC)
4. Emma Chown, Aurora Barbarians (Barrie, ON)
5. Olivia De Couverer, Ottawa Irish (Ottawa, ON)
6. Asia Hogan-Rochester, York Lions (Toronto, ON)
7. Carmen Izyk, Foothills Lions Rugby Club (Blackie, AB)
8. Sara Kaljuvee, Toronto Scottish (Ajax, ON)
9. Aliesha Lewis, Guelph Redcoats (Guelph, ON)
10. Tausani Levale, Abbotsford RFC (Abbotsford, BC)
11. Temitiope Ogunjimi, Calgary Hornets RFC (Calgary, AB)
12. Sierra Gillis, Rugby Canada Development Academy (Victoria, BC)
San Diego, California- Competition Schedule
March 14
Canada vs. China- 12:20pm ET/ 9:20am PT
Canada vs. USA 2- 3:00pm ET/ 12:00pm PT
Canada vs. USA 1- 6:20pm ET/ 3:30pm PT
March 15
TBD