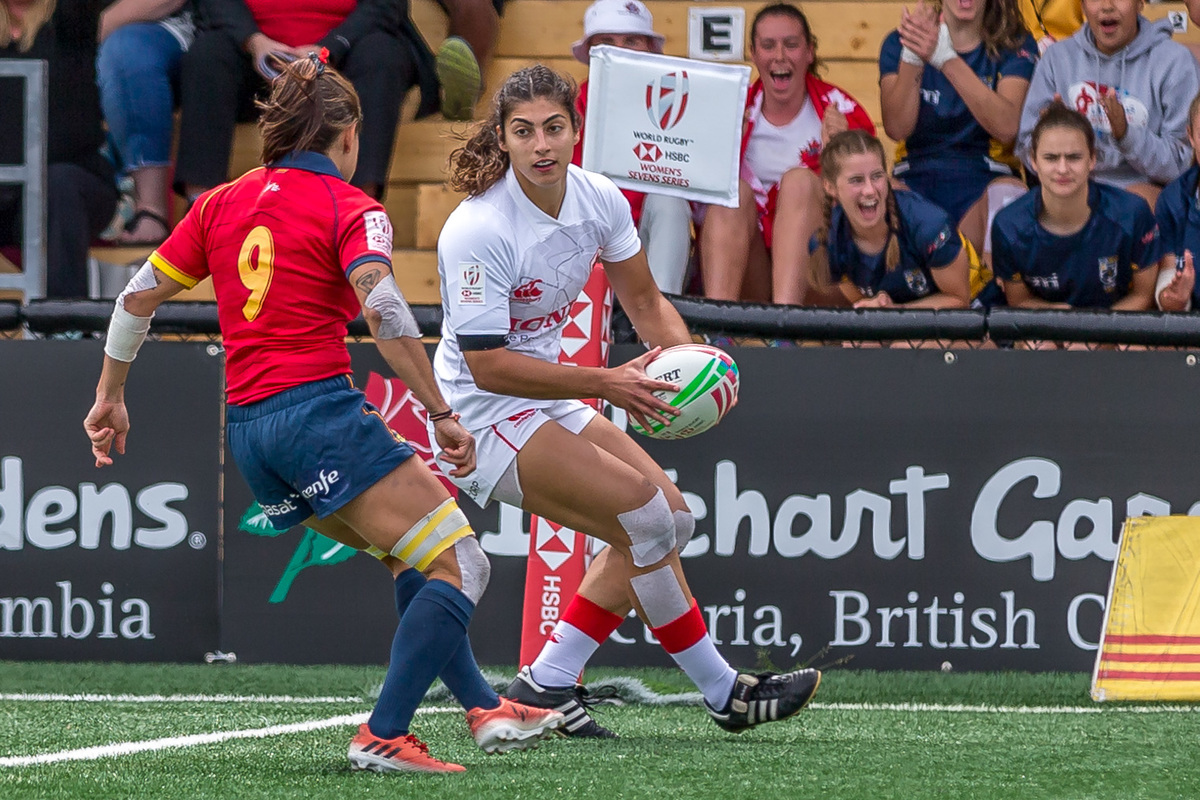 Canada on the cusp of Olympic qualification at the Biarritz Sevens
Bernadette Larose
Rugby 7s Senior Women
Head Coach John Tait has named his team that will look to secure Olympic qualification at the final HSBC World Rugby Women's Sevens Series stop in Biarritz, France on June 15-16th, 2019.
With the top-four teams receiving automatic qualification for the Tokyo 2020 Olympics, Canada currently sits just two points back from USA in third place with only one stop to go on the series.
After a gold medal in Kitakyushu, Canada just narrowly missed out on the chance to book their ticket to Tokyo on home soil at the Canada Women's Sevens in Langford last month. The experienced squad quickly regrouped, shifting their focus to the Biarritz Sevens where Olympic qualification is well within their grasp.
"Olympic qualification was the goal we set at the beginning of the year and we've been hovering around in a top four spot all season," said Tait. "We've had a couple finishes off the podium, but I think we've been pretty consistent with our play. We just want to finish off the season on a high note with some good wins and good performances."
The roster sees only one change with the addition of Sara Kaljuvee back in the lineup, fresh off a CAN-AM training camp with the National Senior Women's XV. Joining her will be two powerful forces on the Women's Sevens squad: Charity Williams and Britt Benn. Both had dominating performances in Langford with Williams notching six tries over the weekend and Benn finishing atop the DHL Performance Tracker.
Leading points scorer Ghislaine Landry will captain her team through the last stop on the series. Canada will take on Australia, Spain, and Ireland in Pool B.
Fans can catch every match live on CBC Sports or watch the delayed broadcast on CBC on Saturday, June 15th and Sunday, June 16th – broadcast times TBC.
Canada's Roster
1. Britt Benn, Guelph Redcoats (Napanee, ON)
2. Emma Chown, Aurora Barbarians (Barrie, ON)
3. Caroline Crossley, Castaway Wanderers (Victoria, BC)
4. Bianca Farella, Town of Mount Royal RCF (Montreal, QC)
5. Julia Greenshields, Sarnia Saints (Sarnia, ON)
6. Sara Kaljuvee, Toronto Scottish (Ajax, ON)
7. Ghislaine Landry, Toronto Scottish (Toronto, ON)
8. Kaili Lukan, Unattached (Barrie, ON)
9. Kayla Moleschi, Williams Lake Rustlers (Williams Lake, BC)
10. Breanne Nicholas, London St. Georges RFC (Blenheim, ON)
11. Karen Paquin, Castaway Wanderers / CRQ (Quebec City, QC)
12. Keyara Wardley, Okotoks Lions (Vulcan, AB)
13. Charity Williams, Markham Irish (Toronto, ON)
Canada's Biarritz Sevens Schedule (June 15):
Canada vs. Spain- 6:30am ET/ 3:30am PT
Canada vs. Ireland- 9:14am ET/ 6:14am PT
Canada vs. Australia- 12:20pm ET / 9:20am PT