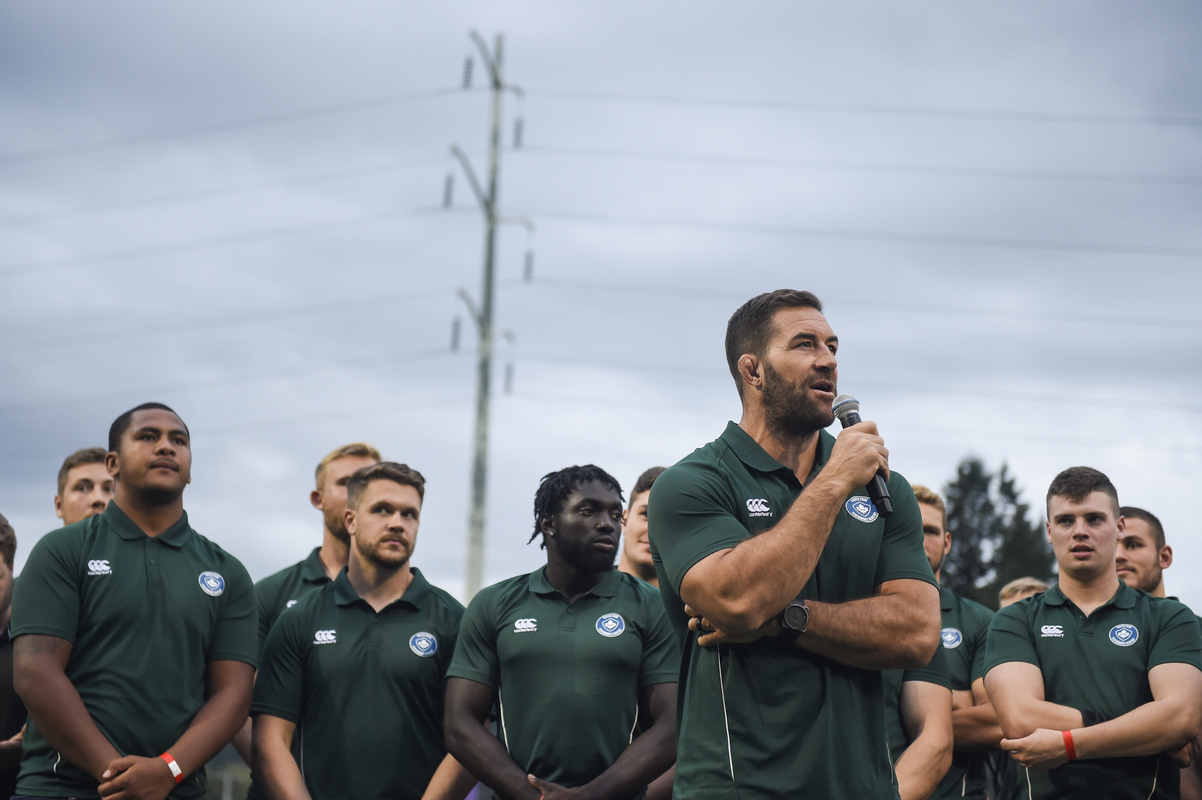 Rugby Canada Academies kick off 2019-2020 year
Rugby 7s Senior Women, Rugby 15s U20 Men
LANGFORD, BC (September 4, 2019) – An exciting start to the school year as Rugby Canada's men's and women's development academies– the Pacific Pride and the Rugby Canada Development Academy (RCDA)— both kickoff off their 2019-2020 seasons.
The athletes making up the newly reformed Pacific Pride came together in Langford, BC last week, heading straight into preparations for their first pre-season match. The men's development academy is made up of mostly uncapped players and looks to build up young talent with the goal of readying players for top-tier international club and national team competition.
The centralized team –lead by esteemed Canadian international Jamie Cudmore—will train out of the Al Charron Training Centre and compete in the BC Premier League, running from September into May. There first match takes place this Saturday, September 7th against the Nanaimo Hornets at 2:30pm PT.
"The team is very excited to kickoff the return of the Pride in our first BC Premiership League match on Saturday," said Cudmore. "We've got a great group of guys here who have hit the ground running. It's amazing to expose these young athletes to a training environment like this and help them build into internationally competitive players. I think as we move forward, programs like the Pride are critical for Canada's progression on the international stage."
Entering into their third year, the young women of the RCDA returned to training at the start of the week with 10 new athletes in tow. Aligned with the national senior women's program, the academy looks to develop players with aspirations to reach Canada's Olympic rugby sevens and Rugby World Cup teams in a competitive daily training enviornment, while also attending high school.
The RCDA has already seen such successes with athletes like Olivia DeCouvreur, Carmen Izyk, Ella O'Regan, Maggie MacKinnon, Beth Cudmore, and more getting opportunities with the senior women's program.
John Tait, Director of the Women's High Performance program and the head coach of Canada's National Senior Sevens team said of the RCDA: "We're heading into our third year with the academy and have started to really pick up steam with the program. We've had some great successes already with a few girls working their way into the senior national program and others going on to play at universities all across the country. We're focused as an organization not only on Tokyo 2020, but also the 2021 Rugby World Cup, and then onto the 2024 Olympics. This program is a major factor for our continued success."
Pacific Pride Roster: 
D'Shawn Bowen (Kingston, ON) Unattached
Thomas Davidson (Chelsea, QC) Toronto Scottish RFC
Reid Davis (White Rock, BC) Bayside RFC
Mason Flesch (Cobourg, ON) Cobourg Saxons
Brock Gallagher (Edmonton, AB) Strathcona Druids RFC
Nik Hildebrand (Nanaimo, BC) Burnaby Lake Rugby Club
Nolan Howell (Richmond, BC) Richmond RFC
Ed Ilnicki (Spruce Grove, AB) Unattached
Thomas Isherwood (Skelmanthorpe, England) Foothills Lions RFC
Austin James (North Vancouver, BC) Burnaby Lake Rugby Club
Will Kelly (Ancaster, ON) Brantford Harlequins
Dewald Kotze (Edmonton, AB) Strathcona Druids RFC
Morgan MacIntyre (Summerside, PEI) UPEI Panthers
Mike McCarthy (St. John's, NL) Swilers RFC
Liam Murray (Langley, BC) James Bay AA
Quinn Ngawati  (Victoria, BC) Westshore RFC
Anton Ngongo (Victoria, BC) Castaway Wanderers
Cody Nhanala (Ottawa, ON) Ottawa Ospreys RFC
Oliver Nott (Victoria, BC) UVIC Vikes
Marc-Antoine Ouellett (Québec City, QC) Club de Rugby de Québec
Brennig Prevost (Victoria, BC) Castaway Wanderers
David Richard (Milton, ON) Mississauga Blues
Tyler Rowland (Mississauga, ON) Toronto Nomads
Alex Russell (Montreal, QC) McGill University
Crosby Stewart  (Prince Rupert, BC) UVIC Vikes
Guiseppe du Toit (Maple Ridge, BC) Toronto Arrows
Josh Thiel (Abbotsford, BC) Abbotsford RFC
Siaki Vikilani (Burnaby, BC) Burnaby Lake Rugby Club
Taitusi Vikilani (Burnaby, BC) Burnaby Lake Rugby Club
Brock Webster (Uxbridge, ON) Oshawa Vikings
RCDA Roster:
Beth Cudmore, Victoria BC
Emily Findlay, Regina SK
Emily Stewart, Grand Forks BC
Fancy Bermudez Chavez, Edmonton AB
Julia Armstrong, Abbotsford, BC
Kira Peary, Abbotsford BC
Kiri Ngawati, Victoria BC
Lyla Risdale, Cambridge Ont
Macy Wiebe, Dunan BC
Makayla Jospeh, Calgary AB
Mirina Skakun, Brentwood Bay BC
Sierra Gillis, Victoria BC
Sophia Tafel, Canmore AB