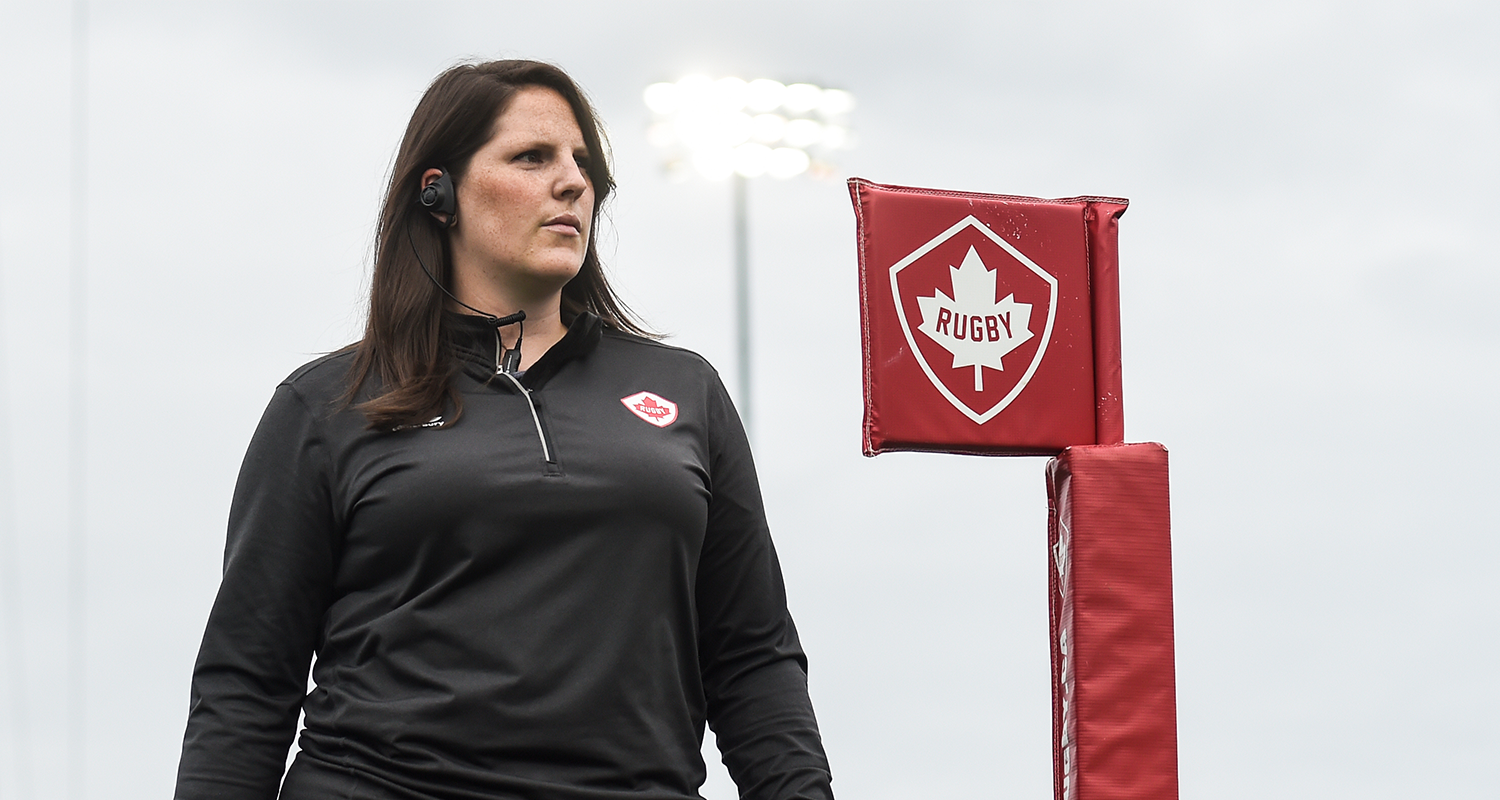 Rugby Canada's Alana Gattinger to be the first female team manager at a Rugby World Cup
Bernadette Larose
Rugby 15s Senior Men
LANGFORD, BC (September 12, 2019) – In a historic first for World Rugby and the Rugby World Cup, Canada's 2019 World Cup team manager—Alana Gattinger—is set to be the first woman to ever serve in the role at the global tournament this fall in Japan.
The 30-year-old from Whitby, Ontario started her career with Rugby Canada as an intern in the summer of 2012. Gattinger worked under Jennifer Smart, Rugby Canada's Director of Events who also has the great honour of working this years World Cup, having been appointed to work as the RWC 2019 Match Manager- Tokyo Stadium.
Since then, Gattinger has served the union in numerous roles, including events, team services, and logistics, eventually working her way up to manage Canada's senior men's rugby team that will now embark on their eighth Rugby World Cup.  She has been living in Langford, BC since 2014, home of the Al Charron Rugby Canada National Training Centre – that serves more than 150 high performance rugby players from across Canada.
Gattinger began traveling with the team in November of 2014 before joining Canada's logistics team at the 2015 Rugby World Cup in England.
"Going to my first World Cup was eye opening," said Gattinger. "It's one of the biggest sporting events in the world and to see rugby embraced at that level was a totally new experience for me. The pressure is so much greater because the stakes are as high as they can get.  These players have worked their whole lives to get here, and every single aspect of the planning and execution matters."
Gattinger, continued: "Being there with the team in 2015 lit a fire in me. I decided then and there that I loved touring with the team and working in this role, and I set a goal for myself that someday I was going to be the team manager at a Rugby World Cup."
The road from 2015 until now has not been without its challenges. Not coming from a traditional rugby background, Gattinger had to go above and beyond to learn the game and earn the trust of players and coaches.  In addition, she set her sights on a history-making goal within the world of rugby.  No woman has ever served as team manager at a Rugby World Cup.
"My goal from the very beginning was to learn as much as possible about the game and the players so I could anticipate what was needed when they're on the pitch training, or in a game," said Gattinger. "A managers' job at the end of the day is to make sure that the players and coaches can focus on the task at hand," said Gattinger.
Four years later, Gattinger is set to realize her goal and will be the first woman to manage a team at a Rugby World Cup. Off the field, Gattinger handles all team and staff logistics, operating as the liaison between the team, tournament officials and World Rugby—on top of being responsible for all aspects of team travel and accommodation, which can become a complex exercise when moving more than 30  players and up to 20 support staff and coaches.
Gattinger officially took on the role as team manager in the fall of 2017 when head coach Kingsley Jones was appointed, and all eyes turned towards qualifying for the 2019 Rugby World Cup.
"Kingsley saw my skillset and my potential and was able to get the best out of me. He sees the potential in people and he's a great motivator. When he joined on it really refocused me—we were both working towards the goal of getting this team to the World Cup."
Canada was the 20th and final team to qualify for the 2019 Rugby World Cup, and is one of only two Tier 2 rugby nations (Japan being the other) to have qualified for every World Cup since the tournament began in 1987. While the 2019 Rugby World Cup will be Jones' first World Cup with Canada, Jones has recently been announced in an expanded role for Rugby Canada where he will serve as Director, Men's High Performance Rugby.
"Alana has been a fantastic support to me since coming into the role," said Jones.  "She is one of the hardest working and most diligent people I have met. She has great rapport and respect from the whole group."
World Rugby has also expressed their support for Gattinger, recognizing the unique position she will be in at the 2019 Rugby World Cup.
"Alana epitomizes what a great team manager should be – professional, approachable and is excellent at her job," said Enda Connolly, RWC 2019 Team Services Director. "We are delighted that she is blazing a leadership trail for women in rugby and look forward to working with her and the Canada team at Rugby World Cup 2019."
"I'm lucky that I work in Canada and live in a country where opportunities like this exist for women in sport," continued Gattinger. "It's a testament to our union and our country.  I am not treated any differently, and that's exactly what I want.  I hope this serves as an inspiration to young girls that anything is possible."
For more information, please contact:
Bernadette Larose 
Rugby Canada Coordinator, Media & Communications
403-993-2326 | media@rugby.ca