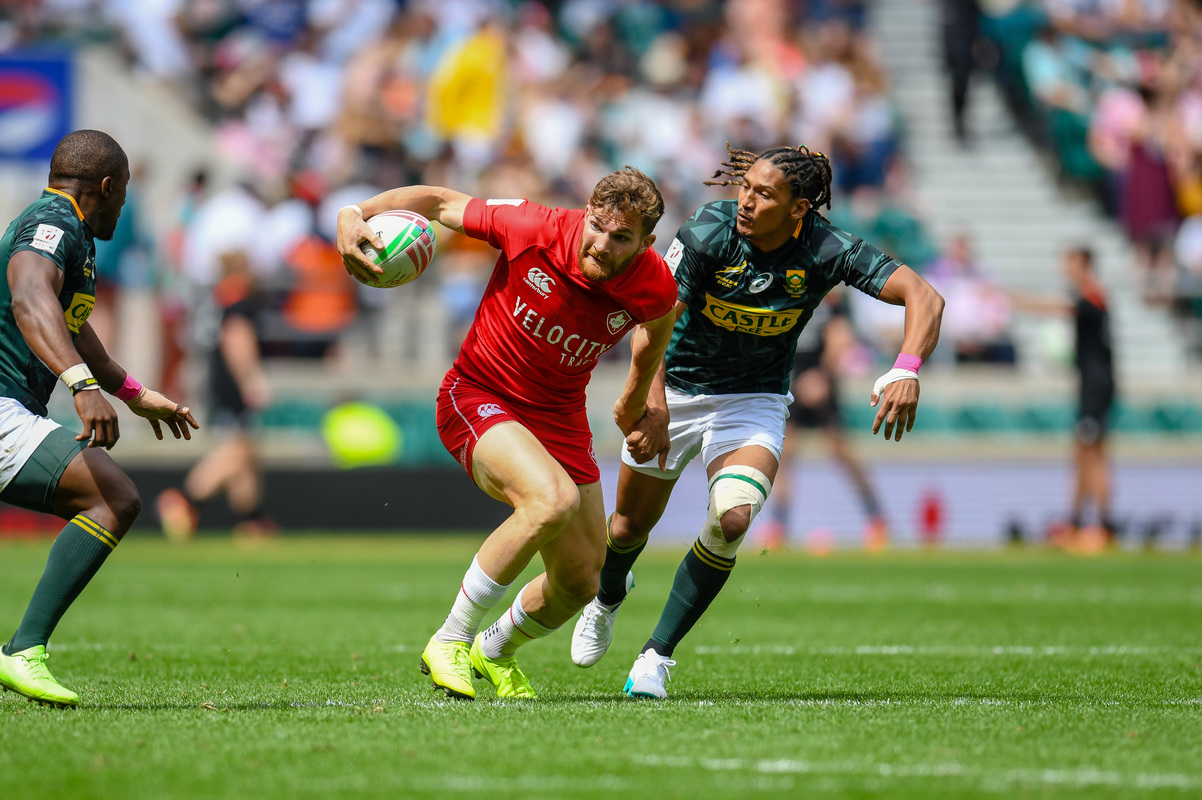 Canada's Men's 7s ready to open 2020 season
LANGFORD, BC (November 26, 2019) – Head coach Henry Paul has named his squad that will travel to Dubai and Cape Town for the first two stops of the HSBC World Rugby Sevens Series, December 5-7th and December 13-15th, 2019.
Dubai marks the first tournament of the season for the team. Canada had a busy off season, securing Olympic qualification at the Rugby America's North 7s tournament in the Cayman Islands before taking home silver at the Pan-American games in Peru. Canada comes into the HSBC World Rugby Sevens Series ranked 11th.
"We're coming in off the back-end of a 12-week pre-season and the guys are looking fit," said head coach Henry Paul. "We had a trial match as part of our pre-season prep and had a chance to take a look at our systems. It's step one in what's going to be a tough year for selections. We've got guys who are really raring to go and ready to put their hand up for spots."
Veterans Nathan Hirayama and Harry Jones will co-captain the squad with Connor Braid returning from an injury that kept him out of the Olympic qualifier. Youngsters Cooper Coats and Josiah Morra find themselves in the line-up after putting on impressive performances at the Paris Sevens and Pan-Am games.
Coming in as the 13th man is David Richards, a member of the Pacific Pride Performance Academy. Richards played in his first international senior national tournament at the Hong Kong 7s last year and helped lead Canada's Under-20 team through the World Rugby Junior Trophy Qualifiers last June.
Canada will compete in pool C against Samoa, New Zealand, and Wales.
"It's tough opposition," added Paul. "You know, nothing tougher than Samoa, New Zealand, and Wales. So we couldn't have asked for a better draw to really test ourselves against the best," added Paul. "We're on a good pathway now but it needs to be tested in that game environment so we can keep building, keep looking for ways to grow through this season."
Fans can watch the Dubai and Cape Town 7s LIVE on CBC Sports and the CBC Gem App with updates available on World Rugby 7s channels.
Canada's Roster:
1.       Phil Berna (Vancouver, B.C.) – UBC Thunderbirds
2.       Connor Braid (Victoria, BC) – James Bay AA
3.       Cooper Coats (Halifax, N.S.) – Halifax Tars 
4.       Mike Fuailefau (Victoria, BC) – Castaway Wanderers
5.       Nathan Hirayama (Richmond, B.C.) – Unattached – Co-Captain
6.       Harry Jones (West Vancouver, B.C.) – Capilano RFC – Co-Captain
7.       Isaac Kaay (Kamloops, BC) – UVIC Vikes
8.       Patrick Kay (Duncan, B.C.)  – Castaway Wanderers 
9.       Josiah Morra (Toronto, Ont.) – Toronto Saracens
10.   Matt Mullins (Belleville, ON)– James Bay AA
11.   Jake Thiel (Abbotsford, BC) – Abbotsford RFC
12.   Adam Zaruba (North Vancouver, B.C.) – Capilano RFC 
13.   David Richard (Milton, ON) – Mississauga Blues
Canada's Dubai Schedule:
Day 1- Dec 5
Canada vs Samoa- 8:06am ET/ 5:06am PT
Day 2- Dec 6
Canada vs New Zealand- 2:36am ET / 11:36pm PT (Dec 5)
Canada vs. Wales- 8:06am ET / 5:06am PT 
Broadcast: cbc.ca/sports & the CBC Gem App