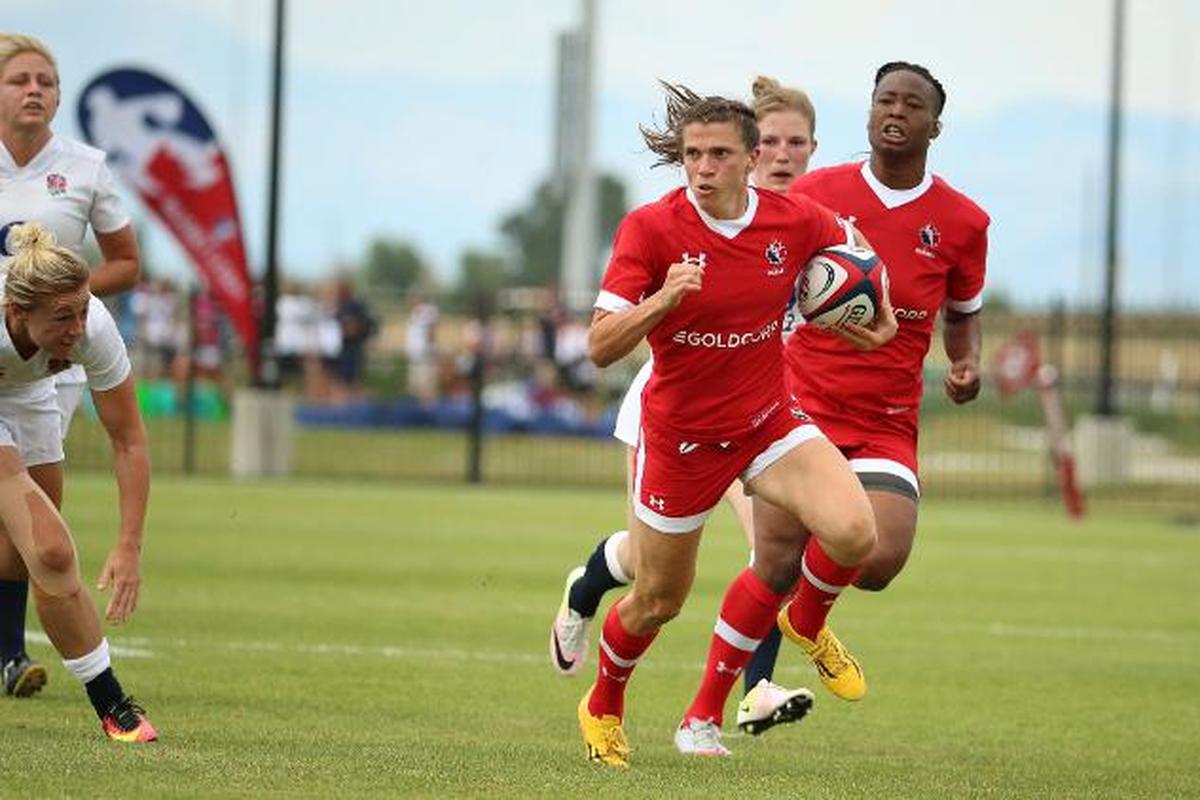 Retired Canadian international, Julianne Zussman earning her 'Stripes' on the HSBC World Rugby Sevens Series
HSBC World Rugby Sevens Series
The three-time Rugby World Cup veteran became the first Canadian test player to referee at the international level this October at the Glendale Sevens and will take the pitch again at the Dubai and Cape Town Sevens this December on the HSBC World Rugby Sevens Series.
"Rugby Canada gave me an opportunity to referee at nationals in the summer that I retired," Zussman told World Rugby early last month. "This opened my eyes to the world of refereeing and how I could use my playing experience to give back."
Zussman boasts an impressive playing career, retiring in 2018 with 18 tries in 44 tests for Canada, travelled to three Rugby World Cups and appeared in two rounds of the inaugural 2012-13 sevens series. For Zussman, officiating was the perfect way to stay in the game.
"As a referee, you are so close to the action – way closer than I ever was at full-back," said the 32-year-old Ottawa native. "I love to coach as well, but there is no better feeling than being on the pitch and in the rhythm of the game."
Refereeing is a natural transition for a lot of athletes and while it offers a much different perspective on the sport, the physical demands are similar—requiring fitness levels to be high to keep up with the pace of the game, especially at the international level.
"The best referees understand what is relevant to the game," said Zussman. "At any given moment there is more to look at than you can process, so if you can be in the right place at the right time, you will see the bit that matters."
While Zussman is paving a path for Canadians on the world stage, the true need for match officials remains at the community level. With rugby growing across the country with a significant increase of registrations for female participants, there is a continued need for referees to join the ranks and keep the game going at all levels.
"I would love to see more players get involved in refereeing, both while they are still playing and when they retire, added Zussman. "Especially at the community level, you can actually grow and develop the game and keep more players in the sport. It is a handy insight to have as a player as well, it would have made me a better player if I had started sooner."
Zussman will be back on the pitch along with Canada's men's and women's teams at the Dubai 7s December 5-7th and at the Cape Town 7s December 13-15th. For more on how to become a referee, please contact your Provincial Union.