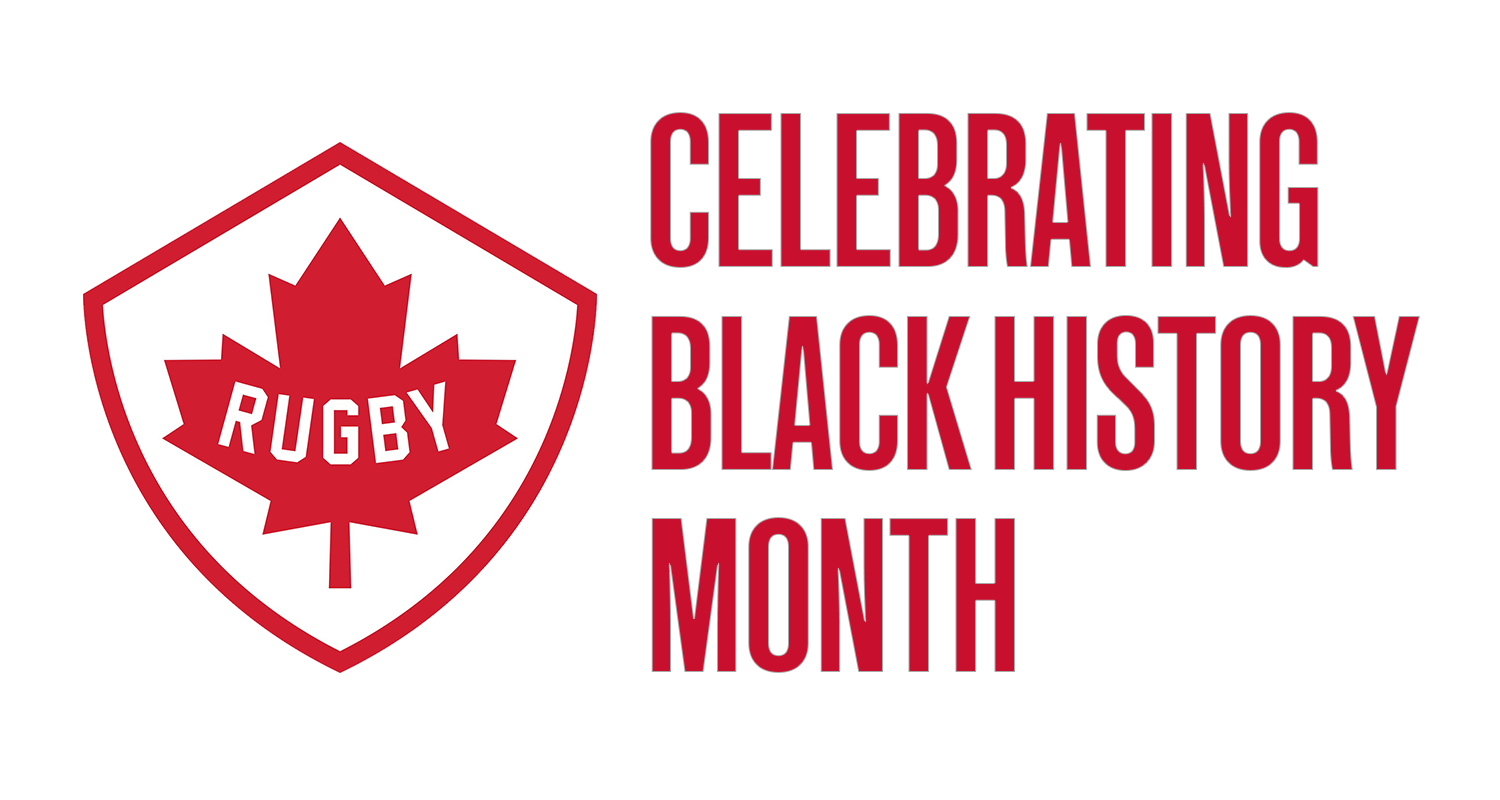 Black History Month 2021: Athlete Spotlight
Rugby 7s Senior Men, Rugby 7s Senior Women, Rugby 15s Senior Men, Rugby 15s Senior Women
Rugby Canada is proud to celebrate Black History Month and the on-and off-field contributions of the great athletes of our past and present who have helped build a legacy of diversity in Canadian sport.
February 1, 2021 (Langford, BC) – Rugby Canada is proud to celebrate Black History Month and the great athletes who contribute their talents to our sport, and help to build a legacy of diversity in the organization. 
 
Sport is at its best when diversity is embraced, and Rugby Canada is proud of all our athletes who wear the red and white jersey. Throughout February, we will be highlighting a few of our athletes during Black History Month to celebrate their achievements and hear their unique stories.  
Izzak Kelly, Canada's Men's Rugby Team 
Hometown?
White Rock, British Columbia
What was your pathway to the National Team like?
The first encounter I ever had with rugby was trying out for the 8th-grade team at my high school Earl Marriott Secondary in South Surrey. From there I was exposed to the amazing and welcoming community of my home club the Bayside Sharks. With Bayside & the regional team I was able to play the sport I enjoyed so much even more. Throughout my high school career, I also played hockey, lacrosse, basketball, and football but eventually, the freedom on the pitch that rugby provided, made me fall in love with the sport.
I was able to learn the game from my great coach Adam Roberts, he helped me to be able to craft an understanding of the values of the game. In addition, what physical effort I needed to put in, in order to play the game for both maximum fun and to give myself the best opportunity to become a national athlete. I took every piece of advice that both my high school and club coaches gave me to heart, and made it my mission to improve myself so that I one day could achieve my goal of making the National
Team, and after my first ever Canada camp in Phoenix, Arizona I was selected to travel to Hong Kong with the U18 Canada.
After graduating from high school, the late Dave Brown, the University of British Columbia's Men's Rugby General Manager offered me the opportunity to train under a couple of great coaches in Curry Hitchborn and Bruce Rainer at UBC.  This is where I believe my journey to the National Team truly began as it was playing under the tutelage of Curry that made me realise both how far I had come since my high school days and also how much more room I still had left to grow and improve.
From the feedback I accumulated over my first 2 years with UBC I was able to make the Canada U20 Men's team which was another amazing experience that allowed me to achieve amazing heights as an athlete, as well as providing me with insight into how I would need to improve myself further if I wanted to crack the Sr Men's roster. I was also honoured to be selected as part of the Canadian University All-Star Team which played in Denver, Colorado in July of 2019.
After my involvement with the U20's, I was invited out to train with the Senior Men's team in Langford in the following months by Kingsley Jones and will continue to improve myself to be the best representation of myself both as a National & black Canadian athlete.
What is your favourite rugby moment so far in your career?
The number of memories and friendships that rugby has provided me with is infinite! However, if I had to choose a single moment it would be playing with the U20 team in Portugal in February 2020. For me, the moment was special as my Grandpa took it upon himself to travel to Portugal as well to watch me play. Being able to play in another country in front of a man that I have looked up to for my entire life was a very important moment that I will never forget. The feeling it gave me being able to look up into the stands and see his huge smile and his signature red rugby Canada hat is one I aim to achieve again by being able to play for and represent the country in front of my entire family one day.
After the year we just had in 2020, how has the significance of Black History Month changed for you?
Personally, the meaning is still the same. Being a mixed-race child raised in a single-parent home my mom made sure she did her job both as the white mother of a biracial child, and a parent overall in educating me about the history of misfortune & horrors that people with my skin colour, unfortunately, have had to face in history.  That the horrible parts of history should not be repeated and sadly, at times still do occur. We need to learn from our history and do what we can to be better. One thing that did affect me specifically this year was the realisation that all the things that she taught me were not known to everyone else as I thought that they were. I'm thankful for the amazing job my mom has done in the foundation of raising me and that she continues to guide me and assist me in being able to achieve my goals.
I thought that everyone knew about slavery and discrimination. However, not everyone knew & knows about the racism and challenges that Black, Indigenous and People of Colour at times can experience in their/our day-to-day lives. I have had my own experiences with racism and discrimination but I was raised to have the tools to react to these situations in a peaceful way and to attempt to be the positive change in those situations.
Black History month in my eyes serves as a time to reflect on the accomplishments that black people have been able to make throughout history, and shed light on individuals and groups that made it able for me and other people of colour to have a fair and fighting chance at opportunity in the world. Celebrate the victories and advancements. Additionally, it also serves as a period to remember the sacrifices and countless lives lost along the journey of inclusion and equality that people of colour have been through.
How has being a person of colour affected you in any way as an athlete?
To my knowledge being a black athlete has luckily not affected me at all, I believe in the sentiment that I'm not black or white, I'm the sum of all of me and hope to be judged as me ...I'm Izzak.
In saying this, I mean that yes my skin colour may be an aspect of how I am perceived and possibly could contribute to assumptions about how I may act and or play. But at the end of the day I know that I'm just me, I know what I bring to the table and the tools that I was given physically and mentally to try and do my best and that is all that I can do, my best.
Especially when I began to play rugby, I quickly realized how race in no way plays a part in the sport at all due to the extreme amount of international comradery the sport offers. When I started to play rugby it made me feel like I did not stick out as much, I am just another player on the pitch as opposed to being that one big black kid on the ice or in the lacrosse box.
What advice would you give to the next generation of young black athletes?
Understand that your race does not define who you are, YOU define who you are. You might feel like you stand out more than others, and you might feel like people jump to conclusions on how you may perform. However, at the end of the day, all you can do is stay true to yourself, know who you are, do everything you can to be the best individual that you can be, and allow the rest to fall into place on its own. Don't forget to have some fun along the way!
Alexandria Ellis, Canada's Women's Rugby Team 
Hometown?
I was born and raised in Ottawa, Canada
What was your pathway to the National Team like?
I started playing rugby in high-school thanks to my grade 10 science teacher, from there I was apart of the U20 program for about 3 years, When I was younger I did winter academies. For my post-secondary education, I played at Algonquin College and the University of Ottawa. During the summer time, I always played club rugby at the Barrhaven Scottish and I played provincial for Quebec. Then in 2017, I was call up for my first tour with the National Senior Women Team
What is your favourite rugby moment so far in your career?
My favourite rugby moment besides playing for my country would be winning the USport Rugby Nationals in 2017. That year it was in Lethbridge, AB it was deep in the minuses and the field was covered in snow but we knew it was our year, our rugby program was building for it for the last 5 years, and we always came close but just never finished over the line. Therefore, we did not care about the weather we were going to play. In the end with a lot of tea at half, pocket warmers and some injuries  we got  through it together and that was a moment I knew that rugby players were built different and I would forever be connected to my teammates that had my back during that time.
After the year we just had in 2020, how has the significance of Black History Month changed for you?
What has happen this past year has allowed the world to collectively re-evaluate their stance on racial issues and start critically thinking about their actions on how it is not enough to be not racist but the need to be anti-racist. Seeing the importance of having honest and open conversations with people in their lives and the need to educate themselves is outstanding. Last year it was brought to the forefront of the important activist work, despite thought leaders and organizations talking about these issues for years now, this social movement has now gained genuine progress for change.
To the question has black history month changed for me, the answer no, because I am privileged enough to have a community that celebrates black achievements, evaluation and issues every day.  This month is for people to remember that black history is history to see what we have faced, what we overcame, what we created and how we thrived and it does not end when the month does.
How has being a person of colour affected you in any way as an athlete? 
There is this hidden pressure to be a great athlete, and to be the perfect black athlete all at the same time because most of the time we are laying the groundwork for the next athletes that looks like us to feel welcome in the sport and feel represented. Having that weight can be tough but also rewarding because your little action of playing the sport that you are passionate about can change a course of someone else's life. That is why we say representation matters because if it was not for the black athletes in my local community and on the international stage I would not be as inspired as I am today to be a black athlete
What advice would you give to the next generation of young black athletes?
My advice would be do not be afraid to be the first, to fail, to succeed, to ask for support, to prioritize your mental health, to grow outside of the box people place you in. There is something unique about you, hold that close and let it flourish.
Doug Fraser, Canada's Men's Rugby Team
Hometown? 
 
Ladysmith, British Columbia  
 
What was your pathway to the National Team like? 
 
I began playing rugby at Ladysmith Secondary School in the seventh grade and continued playing for my high school until I graduated. Around my start at Ladysmith, I was pointed in the direction of the Cowichan Rugby Club and proceeded to play U14-U19 and Senior Men's rugby for them. Though I played a variety of other sports when I was younger, I believe my love for rugby became solidified while at Cowichan RFC.
When I graduated from high school, I went on to play at the University of Victoria for Doug Tate and Rick Farrelly for five years. This is where I found the desire to push for higher honours as you were surrounded by some of the best players in the country week in and week out. Following graduation in 2015 I continued to live in Victoria, playing for the Castaway Wanderers and working, with the hopes of becoming a member of the carded group at the Al Charron Center in Langford. Went on two Canada A trips in 2016. Began training with the carding group in 2017 and won my first cap during the 2018 ARC. It's been a bit of a long road, but the journey has been pretty incredible.  
  
What is your favourite rugby moment so far in your career? 
 
I have been lucky enough to have some pretty memorable moments in my rugby career. However, I would have to say my first cap for Canada would be my favourite moment thus far. I was fortunate enough to be named in the starting XV against Brazil in Langford during the 2018 ARC. Growing up only a hour away from Westhills, a large contingent of family and friends were able to come down and watch as I pulled on the jersey for the first time. Being able to win on debut made it all the much sweeter. It was a pretty special night.  
  
After the year we just had in 2020, how has the significance of Black History Month changed for you? 
 
You know, I really don't think that 2020 played a huge role in changing the significance of Black History Month for me personally. It has been and continues to be an incredibly significant time each year. A time for reflection. A time for us to ask questions and to learn. A time to try to see why we continue to have the same issues year in and year out. A time for us to try and continue to find answers. Most importantly, it is a time for us to grow. One positive from 2020 has been the way issues, ones typically reserved for Black History Month, have now been pushed to the forefront of news year-round. With social media being what it is, major events are thrust in to peoples faces without them having to research them. Hopefully, with everything going on in the last year, people who typically wouldn't think to ask questions or to try to solve problems during Black History Month are now beginning to or at least beginning to see how important it is to start thinking about them.  
 
How has being a person of colour affected you in any way as an athlete?  
 
I'm not sure being black affected me as an athlete. It seems more likely that it would affect how people looked at me if anything. I feel as though people would have expectation of how I am "supposed to play" or how I am "supposed to compete". Many in this world love to judge a book by its cover. However, at the end of the day, I would go out and compete to the best of my ability. Regardless of the colour of my skin. Maybe I didn't fit their mold for a black athlete. Hopefully I played a part in opening them up to seeing black athletes in a different light.  
  
What advice would you give to the next generation of young black athletes? 
 
Be yourself. My biggest advice would be to be who you are. Don't listen to the outside noise. Everyone, no matter the colour of your skin, is their own individual. Just because you may be black, brown, blue, white or orange doesn't mean you must meet a certain level of criteria or that you are supposed to be a certain type of athlete. Pave your own path.  
Keyara Wardley, Canada's Women's Sevens Team:
Hometown? 
 Vulcan, Alberta 
 
What was your pathway to the National Team like? 
I was lucky enough to have been scouted out at our home tournament (Vulcan Star Trek Tournament) in 2016. Afterwards, I was invited out to Victoria for a trial, where I was grateful enough to receive a spot on the next Maple Leafs tour in Trinidad & Tobago. I was able to make a few Maple Leaf & U18 Canada tours after that, and then was offered a spot on the NSW7's team for the 2017/18 season! 
 
What is your favourite rugby moment so far in your career? 
It's hard to narrow down one favourite rugby moment in my career! But I would have to say playing in my first World Series Tournament in Kitakyushu, Japan and scoring my first try in my first game. Finishing the tournament standing on the podium with a gold medal around my neck was also a huge highlight!  
 
After the year we just had in 2020, how has the significance of Black History Month changed for you? 
Within this past year the importance of recognizing and understanding black history and culture has become very important. One of the biggest divides is keeping people engaged past the month of February; Black History shouldn't be contained or defined by a month, as people of colour live it everyday. However, I do believe that this is a step forward in allowing for open conversations, and can lead to a point where Black History is more involved with Canadian history as a whole.  
This is a start to provide a deeper understanding of what our ancestors went through - the highs and lows of their lives - which can help to demolish the many injustices they faced, as well as recognize the history of oppression and the impacts of systemic racism.  
 
How has being a person of colour affected you in any way as an athlete?  
I struggled through my schooling because I was one of only four black students in my town. I felt like I was always an outcast and sports really helped guide me through life. I found something I was good at, which helped keep me busy and take my mind off stresses I couldn't control and really didn't need.  
When I was told I couldn't make it anywhere because of my skin colour, it truly lit a fire inside me to prove not only to others - but to myself - that I am much more than my skin tone. I have been gifted with athleticism, and want to display it. 
 
What advice would you give to the next generation of young black athletes? 
Keep getting involved in sport! Follow your dreams, and have aspirations to become great in life.  
Never let the colour of your skin dictate the person that you aspire to be.  
 
 
-30- 
 
About Rugby Canada: 
Rugby Canada is the national governing body of the sport of Rugby Union in Canada. They administer and operate Men's and Women's Senior and Junior National programs in both rugby XV's and 7s, as well as govern the Club and community game for more than 30,000 registered participants from coast to coast in conjunction with ten Provincial Union members.  
 
Rugby Canada is headquartered at the Al Charron National Training Centre in Langford, BC, with staff also working from Vancouver, Toronto and Ottawa. Rugby Canada business operations, programs and events are delivered nationwide, including the internationally recognized HSBC Canada Sevens annual tournaments.  
 
For more information, please contact: media@rugby.ca.