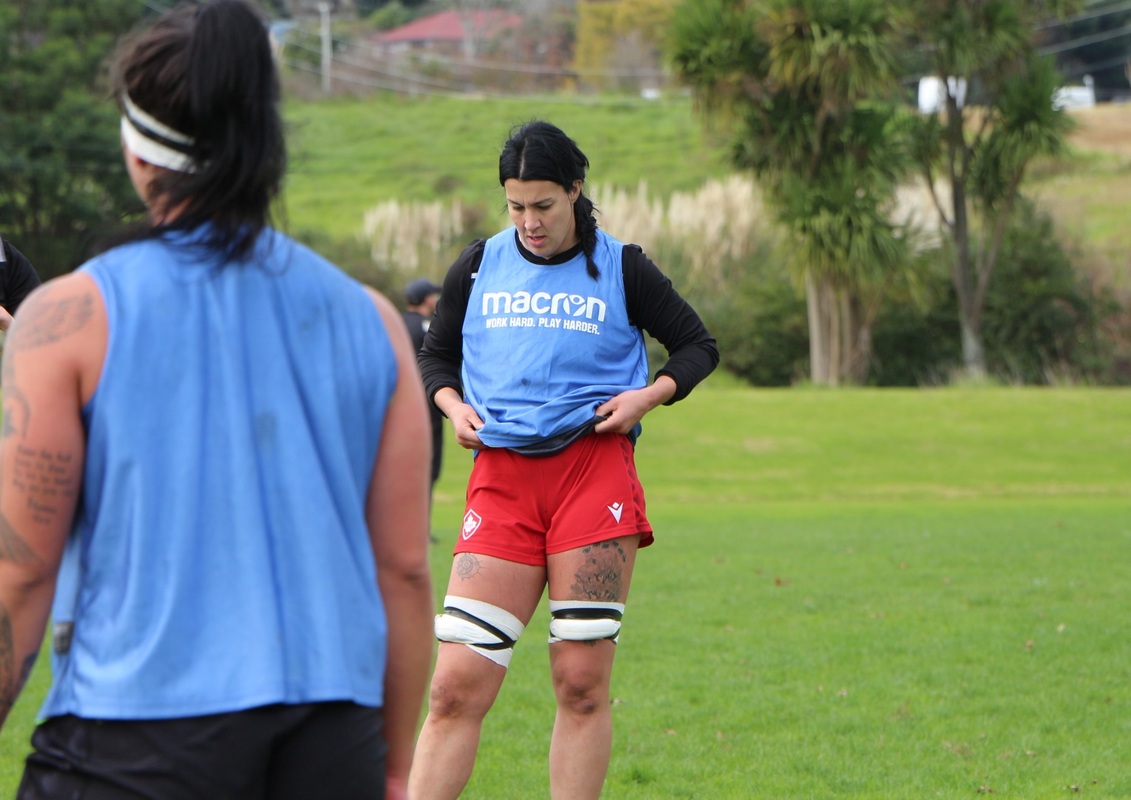 PLAYER SPOTLIGHT: TAYLOR TARGETTING SUCCESS AT RUGBY WORLD CUP
As their Journey to the Rugby World Cup continues, we'll be spotlighting various members of Canada's Senior Women's 15s team in the weeks leading up to the action getting underway in New Zealand.
This spotlight is particularly pertinent during Indigenous History Month as the player has proud Indigenous roots. Join the conversation online using the hashtag #IndigenousHistoryMonth.

Full Name: Emma Taylor
Hometown: Scotsburn, NS
Club: HRFC / London Saracens
Position: Lock
Caps: 10
Debut: 2015 vs New Zealand

Emma Taylor juggles her Rugby World Cup aspirations for Canada's Senior Women's 15s team with a career as an Assistant Project Manager for a ship building company.

If that's not impressive enough, her journey from grassroots rugby up to the national team includes stops with the Nova Scotia Keltics U18s, U20 and Senior Women's teams prior to making her debut in the Canadian jersey in a 2015 defeat to New Zealand.

Her first try for the national team came in 2019 in a 52-27 victory over the United States as Canada's Women's 15s won that year's Can-Am Series with triumphs in both matches.

Taylor came off the bench in Head Coach Kevin Rouet's side's opening Pacific Four Series fixture against the United States two weeks ago and was named as a Finisher for their final match of the tournament against Australia at Semenoff Stadium in Whangarei, New Zealand.

Having played varsity rugby for five years at St. Francis Xavier University (St. FX), she was named a two-time First Team All Canadian and St. FX's Female Athlete of the Year during her time there. Taylor cites her National Championship win with the team as her career highlight so far – alongside her debut appearance for Canada's Senior 15s team.

In 2021, Taylor and fellow Canadian Alysha Corrigan signed for Saracens in the UK having spent the majority of her career up until that point with the Railway Union in Dublin Ireland, who she helped capture the All-Ireland League Championship in 2019.

Taylor also has proud Indigenous roots. She said: "I've spent a lot of my life not knowing my background from my dad's side of the family. My cousin Catherine, from my mom's side works for Acadia University in the archive department of the library. I think it's so cool how she knows our genealogical makeup like the back of her hand.

"I grew up knowing that my paternal grandmother was Mi'kmaq, but she passed away before I could ask her to walk me through our family lineage. Her grandparents, Samuel Higgins and Margaret Dunphy, grew up in West Bay, Cape Breton, part of the We'koqma'q First Nations. The small cottage that they lived in is actually still standing on site at the Dundee Resort and Golf Club in West Bay.

"Although I did not share many connections to Indigenous culture during my upbringing, I'm very proud of my heritage. I will continue to educate myself, not only of my own ancestry, but of the past and present cultures of the Mi'kmaq people."

As preparations for the Rugby World Cup continue, Taylor's aspirations are to be part of a successful Canadian squad in New Zealand.

See Canada's Senior Women's 15s team in action this summer as they take on Italy on July 24 at Starlight Stadium in Langford, BC and Wales in at the Wanderers Grounds in Halifax, NS as they continue their Journey to the Rugby World Cup. Click here for ticket details.