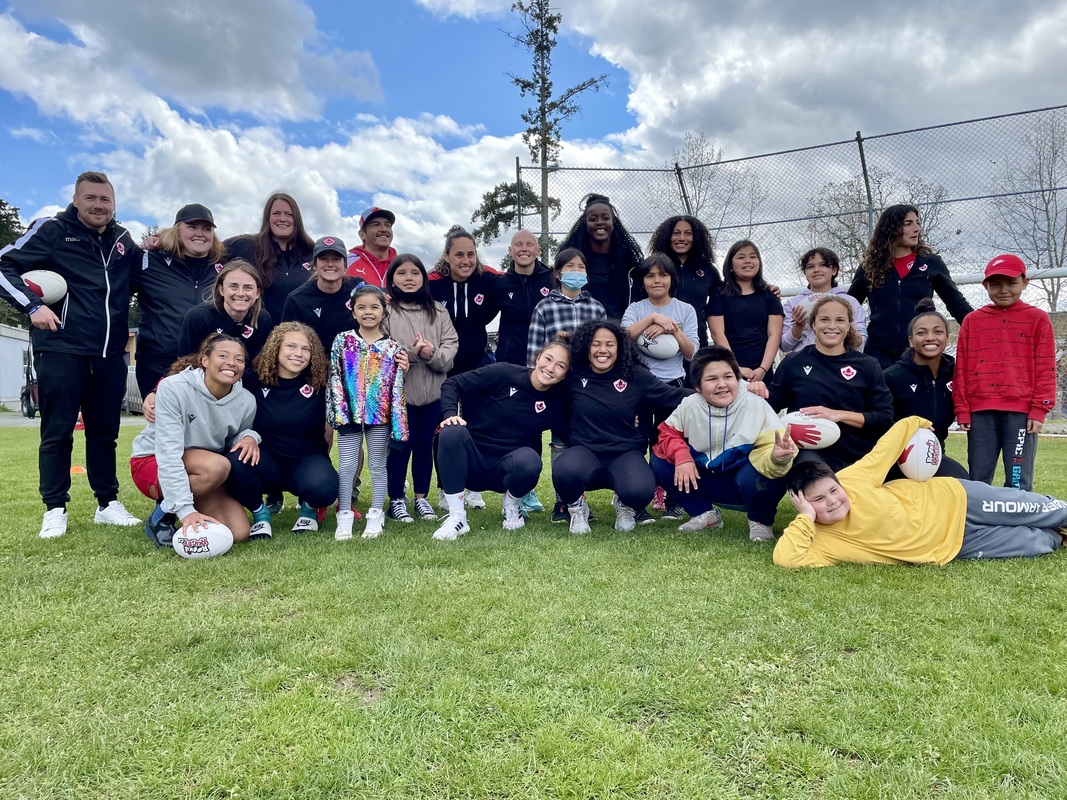 Rugby Canada hopes Indigenous community visits will create long-standing relationships in Communities across the country
Rugby 7s Senior Men, Rugby 7s Senior Women
As Rugby Canada celebrates Indigenous History Month, we kick off our content with a look back at the Indigenous community visits during the HSBC Canada Sevens in Vancouver and Langford. 
June 15, 2022 (Langford, BC) – This past April, in the weeks leading up to the HSBC Canada Sevens events in Vancouver and Langford, Rugby Canada established what it hopes will be long-lasting relationships with Indigenous communities around British Columbia.
Prior to the kickoff of the men's event in Vancouver on April 15-16, the Kenyan national sevens team visited the traditional territories of the Squamish Nation. The team was greeted outside to the Chief Joe Mathias Centre, located in the North Vancouver region, with a ceremonial welcome from local leaders before spending over and hour instructing a group of more than 20 Indigenous youth on the basics of rugby. Senior Women's players from the Capilano Rugby Club were also on hand to help drive the event.
"With rugby in general it is such a big community, our rugby club is close to the Squamish Nation it only makes sense to create a relationship," stated Capilano player, Shelby Slay. "These kids will now have the opportunity to join our little rugby community as well."
"This was another great opportunity because I have taught rugby here before and those kids now want to continue with rugby after seeing me play," added Salina Williams, who is from Squamish Nation and actively plays for Capilano. "I want to help these kids live a healthy and stay active."
Later that week Canada's Senior Men's Sevens team made the trip the traditional lands of the Tsleil-Waututh First Nation. In the gymnasium inside the Tsleil-Waututh Cultural and Recreation Centre, the Canadian players organized a variety of rugby-related games and activities for the almost 30 Indigenous children who attended.
"We were so happy to have the Canadian team  have some fun with our youth," said Michael Wilson, Recreation and Program Manager of Tsleil-Waututh First Nation. "Having the team here in Tsleil-Waututh Nation was a great opportunity to build a relationship with Rugby in Canada. It is important to build those relationships so that we can create an inclusive environment. Our goal is to have a member of our community play for that national team one day."
"I hope this event provides the youth who are interested in playing rugby in our community a chance to participate. We have a focus on health and wellness here, sport is a great way to address that," added Wilson.
A few weeks later in Langford as Canada's Senior Women's Sevens team was preparing to host the Canada Sevens on Vancouver Island, players traveled to the unceded and traditional territories of the Tsartlip First Nation. The Canadian women received a traditional welcome from the local Indigenous leaders and members of the school board upon their arrival to W̱SÁNEĆ Leadership Secondary School and ȽÁU, WELṈEW̱ Tribal School.
"The ȽÁU, WELṈEW̱ Tribal School was an honouring and important experience that allowed us to learn about the lands, the people, and the communities that we are visitors to," said Canada Senior Women's Sevens player Renee Gonzalez, reflecting on her experience from April. "We were welcomed with an opening ceremony and the gift of a hand-made drum that helped our team feel grounded and connected with every beat while we prepared for our match. 
The team was gifted an Indigenous hand drum with the notorious Michael Jordan quote, "Some want it to happen, some wish it would happen, and others make it happen," written on it the side along with the words "Good luck Team Canada."
"These visits are important leading into future generations to intentionally grow relationships, to invest time, and to have an indigenized approach to create pathways of Rugby in Canada. I look forward to more opportunities like this in the future and the ways that Rugby Canada looks to support and invest in Indigenous communities across Turtle Island," Gonzalez added.
The Women's and Men's players, along with Rugby Canada, hope these visits will inspire kids to continue playing rugby while making meaningful connections with the Indigenous communities in British Columbia and across Canada. Rugby Canada's Rugby Development Department has made it a priority to continue to hold these events across the country in the future.