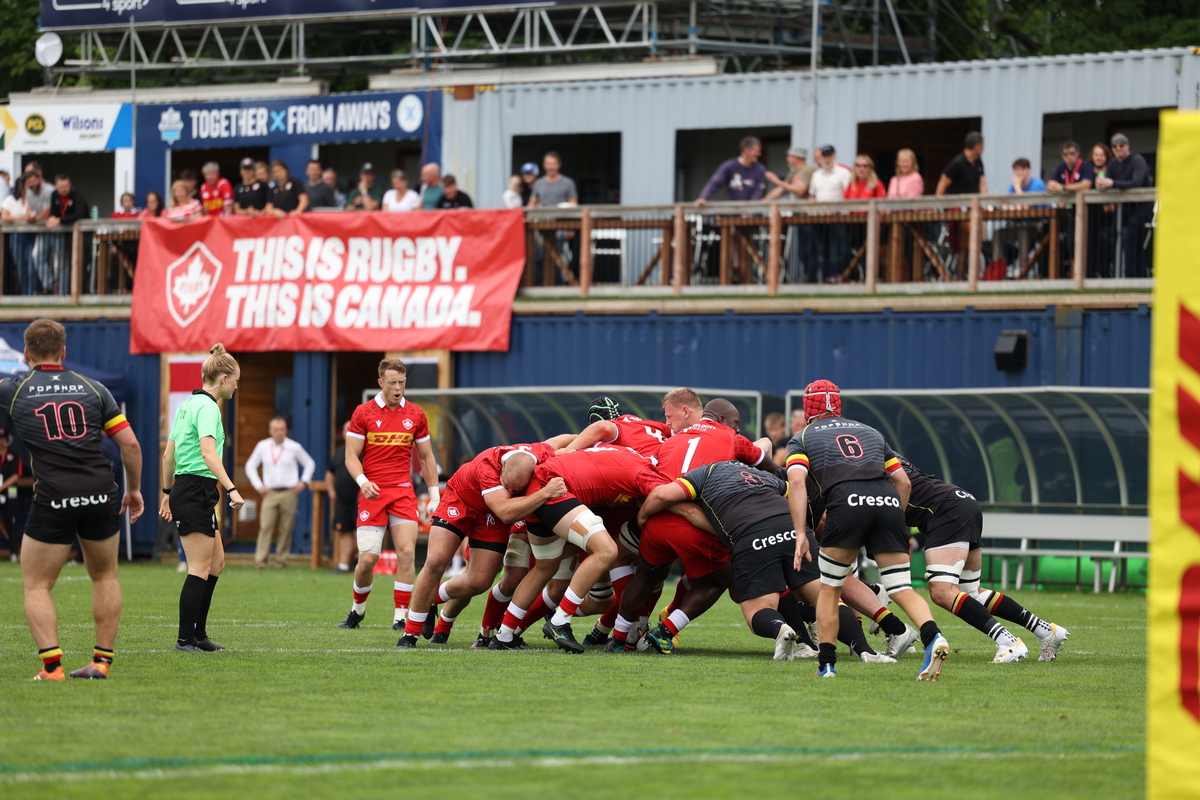 Canada's Senior Men's 15s beat Belgium 45-0 at the Wanderers Grounds in Halifax, NS
Canada's Senior Men's 15s produced a clinical performance to kick off their double header of Summer Fixtures as Kingsley Jones' side defeated Belgium 45-0.
July 2, 2022 (Halifax, NS) – Canada's Senior Men's 15s produced a clinical performance to kick off their double header of Summer Fixtures as Kingsley Jones' side defeated Belgium 45-0 at the Wanderers Grounds in Halifax, NS on Saturday.

Wet conditions following a downpour earlier in the day didn't seem to dampen Canada's spirits as tries from Jason Higgins, Lucas Rumball, Ben LeSage, Cooper Coats, Michael Smith and Kainoa Lloyd, as well as a series of successful conversions from a combination of Peter Nelson and Coats sealed the convincing victory.

Meanwhile, Matthew Oworu, Lindsey Stevens and Dawson Fatoric were all handed their national team debuts as they came off the bench in the second half.

"I felt we were the better team, for sure, but in the first half particularly we just made errors, unforced errors," said Canada Head Coach Jones following the match. "So, the boys will be a little bit disappointed with some of the execution but certainly you've got to respect Belgium. We came out in the second half, it took a little longer than we thought but we cracked them and we've got some good points on the scoreboard and also able to get guys on the field to win their first cap so that's really a good day."

Early pressure from the Canadians paid off in the seventh minute as Higgins received the ball deep inside the Belgium half on the left wing, broke a tackle and ran it in for the match's opening try. Nelson kicked the resulting conversion through the posts from a tight angle to make it the perfect start for the hosts.

Canada were determined to make their early momentum count and some strong running from Coats from inside his own territory saw him break through the Belgian backline and handoff to Higgins. The ball was worked out wide before Brock Webster was sent chasing a kick which he came within inches of touching down before play was called back by the referee.

Nelson then kicked a successful penalty conversion in the 16th minute to ensure the hosts extended their lead. That was followed by a scoreless period of play as both teams battled physically for possession in the middle of the pitch.

LeSage was shown a yellow card with ten minutes to go in the first half as the referee spotted an infringement at a ruck. Hoping to capitalize on their one-man advantage before the break, the visitors were left to rue a missed penalty conversion as Canada went into half time with a 10-0 lead.

After the break, a costly mistake from Belgium No. 10 Henri Dequenne handed Canada a scrum five meters out and an opportunity to get more points on the board. Following multiple pick-and-go attempts to breach the Belgian tryline, Canada put the ball through hands and Webster went over in the corner. However, the play was called back for a forward pass.

Moments later, though, Canada were able to break down the resolute Belgian defence as Rumball powered over the line to touch the ball down. Nelson's successful conversion made the score 17-0.

Having entered the field no more than a minute earlier to replace Higgins, Ross Braude wasted no time in making his presence known as he collected a Corey Thomas pass from a scrum, evaded two Belgian defenders and swung the ball out to LeSage who finished off the move with the game's third try in the 54th minute. Nelson continued his perfect kicking record by splitting the posts with the resulting conversion to make it 24-0 to Canada.

On the hour mark, consistent pressure from the Canadians paid off when Halifax-native Coats dove over the line to make the Wanderers Grounds crowd go wild as they lauded their hometown hero. Nelson's successful conversion made the score 31-0.

Michael Smith got in on the action in the 65th minute as he went over for another try before Coats added two further points via the conversion. Kainoa Lloyd then completed the scoring with eight minutes left as the Canadians wrapped up a resounding win.

"I think Belgium is a good side – it is international rugby – and I think we struggled to find our feet with our patterns and our individual errors," said Canada captain and try-scorer Rumball. "It's been a while since we've come together as a team so I think just getting that rust off and getting collectively better, I think we saw that come together towards the second half and when the subs came on."

"Obviously scoring was a pretty incredible moment, don't get me wrong," Coats said. "But I just think the defensive performance by us was outstanding and some of the guys really put their hands up. So, it's really exciting moving into next week when we play Spain who are a pretty good team right now."

Next up for Canada's Senior Men's 15s is a clash with Spain at TD Place in Ottawa, ON on Sunday, July 10. Purchase tickets at rugby.ca.