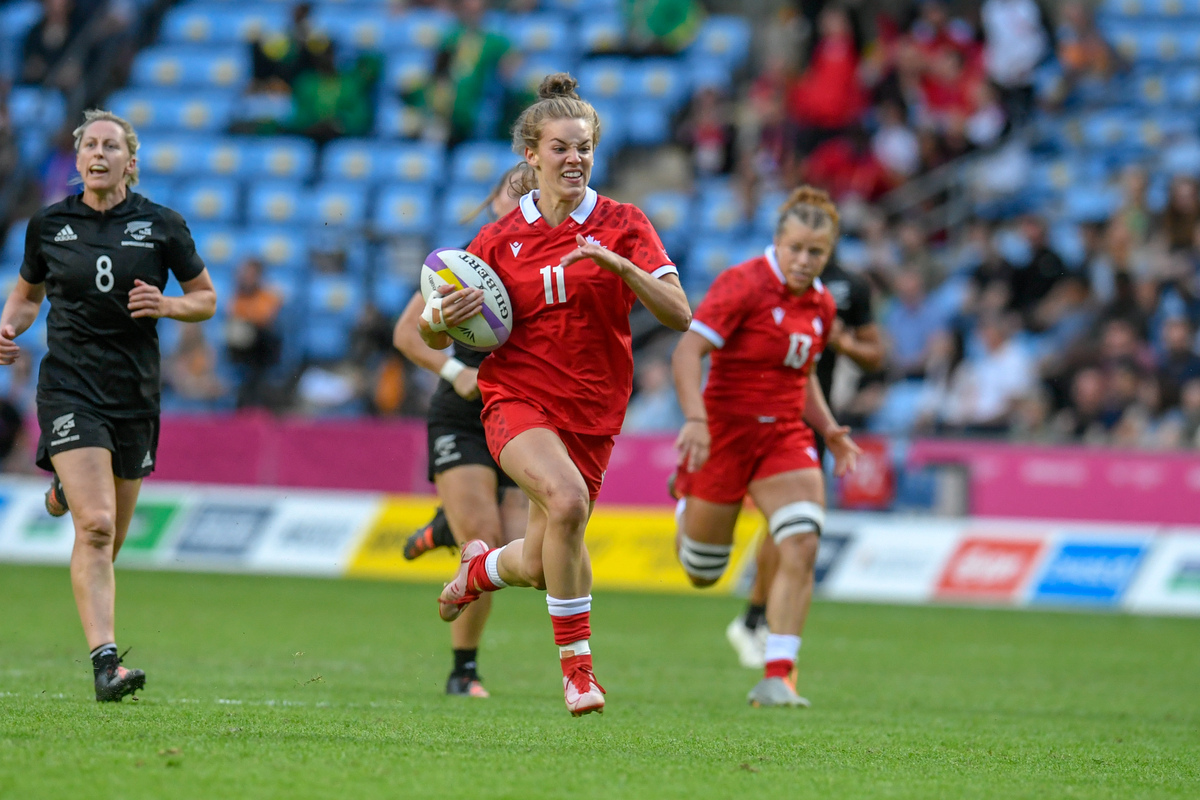 Canada's Women's 7s finish 4th, Men's team in 7th as Commonwealth Games concludes
Rugby 7s Senior Men, Rugby 7s Senior Women
An action-packed three days came to a close at Coventry Stadium on Sunday
Canada's Women's 7s team secured fourth place, while the Men's team finished in seventh as the Rugby 7s event at the Commonwealth Games concluded on Sunday.
There was a match on the schedule for each of Jack Hanratty and Henry Paul's sides as the Women took on New Zealand – but first, the Men's team faced Samoa…
MATCH 38 - 5th PLACE SEMI-FINAL: CANADA 17-19 SAMOA
Taking the field in the fifth-place semi-final, Jake Thiel scored two tries and Uaina Sione responded for Samoa meaning Canada went into the break with a 12-7 lead.
After half time, Samoa came out with renewed energy as two tries from Steve Onosai turned the match on its head in their favour. With seconds remaining, Cooper Coats gave his all to force his way over the line. The resulting conversion, which was taken from a tight angle, would have levelled the match but was missed narrowly as Paul's side's Commonwealth Games journey concluded.
MATCH 19 – BRONZE MEDAL FINAL: CANADA 12-19 NEW ZEALAND
Having lost 45-7 to New Zealand in pool play, Hanratty's Women's 7s team got their opportunity to come up against the Black Ferns again in the Bronze medal match. An early yellow card wasn't the ideal start and New Zealand capitalized via a Michaela Blyde try.
Canada then had a spell of possession but a turnover saw their opponents extend their advantage as Kelly Brazier drove over the line after a quick tap and go penalty from close range, giving New Zealand a 12-0 half-time lead.
Following the break, there was a lull in the scoring as both teams defended fiercely. The second-half deadlock was broken with just under three minutes to go, however, by Alena Saili as she penetrated the Canadian line to touch down.
Piper Logan breathed new life into the match when she showcased her pace to score Canada's first try of the evening. Emma Chown grabbed their second with just seconds remaining to ensure it was a tense finish – but there wasn't enough time remaining on the clock for Canada to complete their comeback and the final score read 19-12 to New Zealand.
Next up in the calendar for the Men's team is the LA Sevens from August 27-28 before both they and the Women's team head to South Africa for the Rugby World Cup 7s from September 9-11 for the chance to be named World champions.