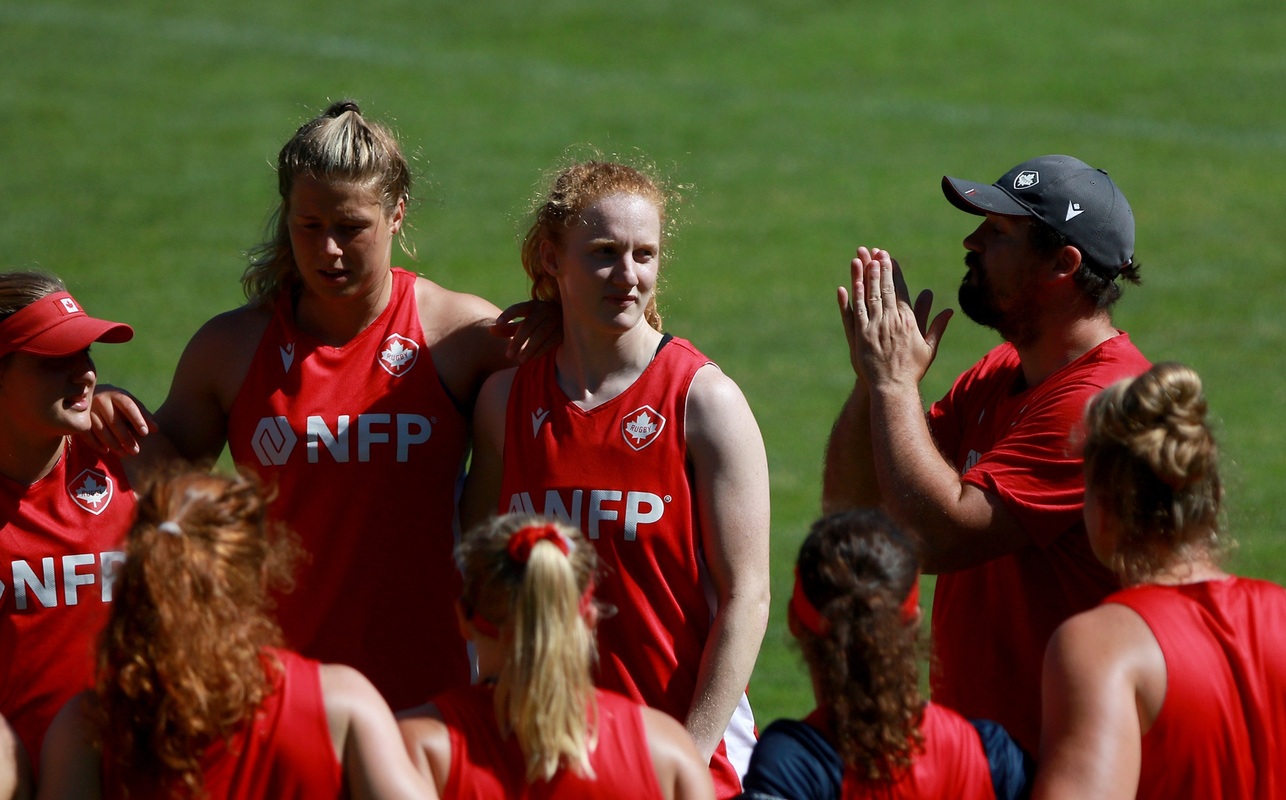 Paige Farries: "We're driven by the love and passion for Canadian rugby"
Canada's Senior Women's 15s winger Paige Farries outlines her route to the national team and discusses how the current squad is preparing for the Rugby World Cup, including their early, soft centralization currently taking place in Halifax, NS.
At 16-years-old, Paige Farries was yet to pick up a rugby ball. Instead, the 11th grader was a keen lacrosse player and enjoyed participating in a handful of other contact sports. That was until one of her high school teachers recommended she give rugby a try.
Mulling the suggestion over, Farries got into the car she and her twin brother would drive home in each day and, in a cliché, almost telepathic coincidence, her brother turned to her and said: "I think I might try out for rugby". Not one to be outdone, and by her twin brother no less, that was the final morsel of encouragement Farries needed to give the sport a go.
More than ten years on, it's a decision she is still so grateful she made. "I went to my first ever rugby meeting and it was boys and girls together in the same room – so my brother was there – and I genuinely remember to this day, Doug Sather – our coach – said, 'you guys have made the best decision of your life to come to this meeting and join the high school rugby team'.
She continued: "I kind of rolled my eyes thinking 'okay, it's just a sport' – and now I'm eating my words. It was a decision that has completely impacted the trajectory of my life and I wouldn't change it for the world. I became obsessed with the sport. It's the community that really drew me in, but I couldn't get over the friendships I was making and how welcoming everyone was."
Watch Farries and her Canada's Women's 15s teammates in action versus Wales at the Wanderers Grounds in Halifax, NS on August 27. Click here to buy tickets now.
Having discovered she had a talent for the game, Farries quickly made her way through the ranks in her hometown of Red Deer, Alberta as she played U19s for the Titans Rugby Club before turning out for the senior women's team at just 18. From there, she joined the Wild Rose Academy, driving to Edmonton each weekend, which led her to try out for the Women's Rugby Alberta team. It was then that she faced the first significant setback of her rugby career.
"I actually got cut and that was a really, really hard blow," Farries explained. "All of my friends had made the Rugby Alberta team, my twin brother made the boys' Rugby Alberta team. I could have gone either direction there – I could have decided it wasn't for me."
Instead, Farries knuckled down, worked hard and played her way onto the University of Alberta's Pandas as a red shirt at centre. That season, she made the shift to wing when two of her teammates were unavailable due to injury and illness – and she didn't turn back.
"I got given an opportunity, grabbed it with both hands and had a good university season which led to me being selected for Canada U20s," Farries said. "I had the time of my life on the U20 tour. Through university and U20, I got selected for the Canadian Sevens team. It all happened very quickly – 18 months after I started playing rugby, I was playing in a Canada shirt. I was very, very fortunate I got given some opportunities and I couldn't be more grateful for that."
It wasn't for a little while longer that Farries would make her debut for Canada's Senior Women's 15s. In fact, by the time the summer of 2017 came around, she hadn't played for the national Sevens team for a couple of years and was studying in London, Ontario during the Rugby World Cup. Then came, in Farries' own words, an "epiphany".
"The Women's 15s team are such an inspirational group of people," she explained. "They're success in the campaign of 2014 was so inspirational for the entire country and then even in 2017, they didn't get the results they wanted, but through and through I wanted to play on the Women's 15s team. It occurred to me in summer of 2017 that was something I wanted to do and I really ought to get myself into gear and start training again and trying to get selected for the national 15s team."
Within just a few months, Farries went from watching the team play at the World Cup from her university dorm to lining up alongside them with the Maple Leaf on her chest. "That was kind of the crazy thing," she said. "I knew I had potential but I just needed to apply myself. Late July in 2017 I made the decision and then I got told in October I'd been selected for the Fall tour. "
That tour saw Canada suffer three consecutive defeats to England – but for Farries, it sparked a fire in her to earn many more caps. "I've never felt such belonging and drive, to want to make the Women's 15s program better and I was hooked. It was a commitment of mine – I wanted to get to the Rugby World Cup 2021 and leave my mark on this program."
Fast forward five years and 17 more caps, Farries was part of Kevin Rouet's squad that played in the program's first home international test match in seven years in Langford, BC last month. Not only that, the 27-year-old scored a couple of tries to help seal the 34-24 victory over No. 6-ranked Italy.
"It was so special to play in front of a home crowd," Farries recalled. "It's actually only become even more special in hindsight. It really occurred to me that these are the people that get behind us constantly. These are our friends, family and club teammates who come and do conditioning with us, do extras with us after training, take us to the gym.
"These are the people that are, through and through, our support systems and they were the reason we were able to get on the national team and sustain being on the team in the first place. For them to be able to see all the work we've put in come to fruition is so amazing."
Following the Italy fixture, much of Canada's Senior Women's 15s squad travelled directly to Halifax, NS to begin a soft centralization ahead of their next Rugby World Cup preparation match against Wales on August 27.
In doing so, many of the players have put full-time jobs on hold, meaning a huge financial sacrifice, and will miss out on precious time with family and friends, such is their commitment to the program and their dreams of representing their country in New Zealand later this year.
"It's a huge testament to this group's love for Canadian rugby how much we've sacrificed," Farries emphasized. "Not just this year, but this year in particular, the amount of sacrifice and choices the players have made to make sure we're in the absolute best form by the World Cup is humongous. I did some rough math and some of us of have spent up to 75 days together this year.
"We're literally driven by the love and passion for Canadian rugby and it's so huge how much time we've gotten to spend together and it's made such a big difference to learn the nuances of everyone, how they communicate, how they run lines. You can't replace spending time with your teammates on or off the pitch. It's been amazing to spend so much time together."