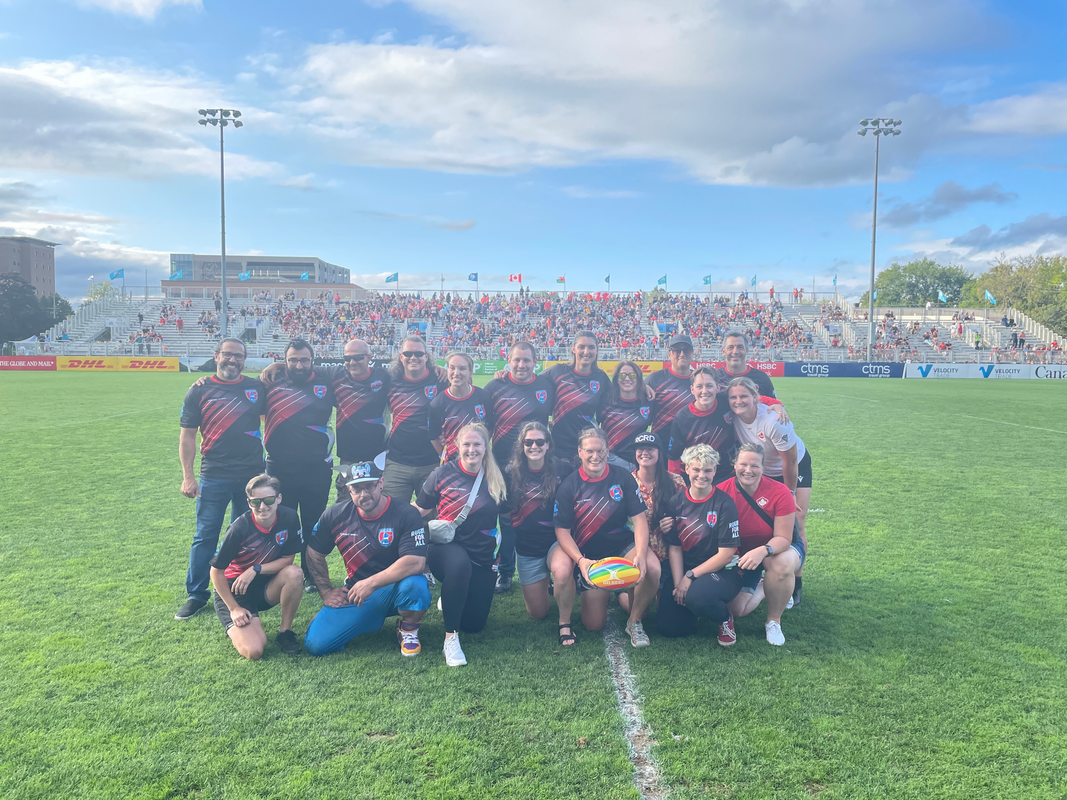 2022 HSBC Bank Community Rugby Fund recipient, the Halifax Pride Rugby Program, a dedicated space for the 2SLGBTQ+ community
Rugby 7s Senior Men, Rugby 7s Senior Women, Rugby 15s Senior Men, Rugby 15s Senior Women
In early July of 2022, the Halifax RFC were successful applicants of the HSBC Bank Community Rugby Fund, receiving funding for their newest program, Halifax RFC Pride Rugby.
September 7, 2022 (Halifax, NS) – Today, the Halifax RFC stands as one of the oldest rugby clubs in Atlantic Canada and one of 14 member clubs in Nova Scotia. Led by women's team player and club executive Maddison Dennison, Halifax RFC submitted an application earlier this year for funding through the HSBC Bank Community Rugby Fund with the goal to become the most inclusive club in Halifax. In early July, the club received word that their application was successful for the funds towards the Halifax RFC new Pride Rugby program.

The Pride Rugby program is a dedicated space for Halifax RFC to offer safe and inclusive rugby to the 2SLGBTQ+ community in Halifax through non-gendered and non-contact training. While the program is kept separate from the club's core teams, ensuring participants feel that there is a space for the queer community, it was important for the program to have explicit ties to the main club.

Halifax RFC is a fully inclusive club that promotes the values of "Rugby for All'' and has a robust Code of Conduct and Diversity, Equality and Inclusion Policy and felt that dedicated programming was the next step to enhance its mission and vision. Through maintaining a connection between the traditional teams and Pride Rugby, Halifax RFC can provide a holistic rugby experience to the pride program participants as they are included in club social events and coming out to watch their senior women's and men's games this past summer. Between Pride Rugby, the junior teams and their senior men's and women's teams, Halifax have made a concerted effort to be "one big club", a term that has been adopted by Halifax RFC as a hashtag and on-field cheer during the 2022 season.

"When I came out as trans in 2020 I was certain that my connection with the rugby community would be lost forever," said Dennison. "Halifax RFC showed their support for me instantly, reinforcing the amazing "found family" nature of rugby clubs. From this experience we, as a whole club, felt that it was important to share how powerful inclusion can be for people who may have felt that their true selves were compatible with the rugby community. From supporting me personally when I came out in 2020, or when I laced up my rugby boots again in 2021, to marching beside me at pride this year and now jumping in to help recruit and run the Pride Rugby program, Halifax RFC has proven itself to truly be an inclusive rugby club in both words and action."

The Pride rugby program launched at the beginning of August with the focus of introducing and re-introducing the sport of rugby to more than 24 people new people with the addition previously active club member rejoining the club. Of the more than 30 participants, the Pride program have regularly had 15-20 participants in attendance during their weekly training sessions on Tuesday evenings.