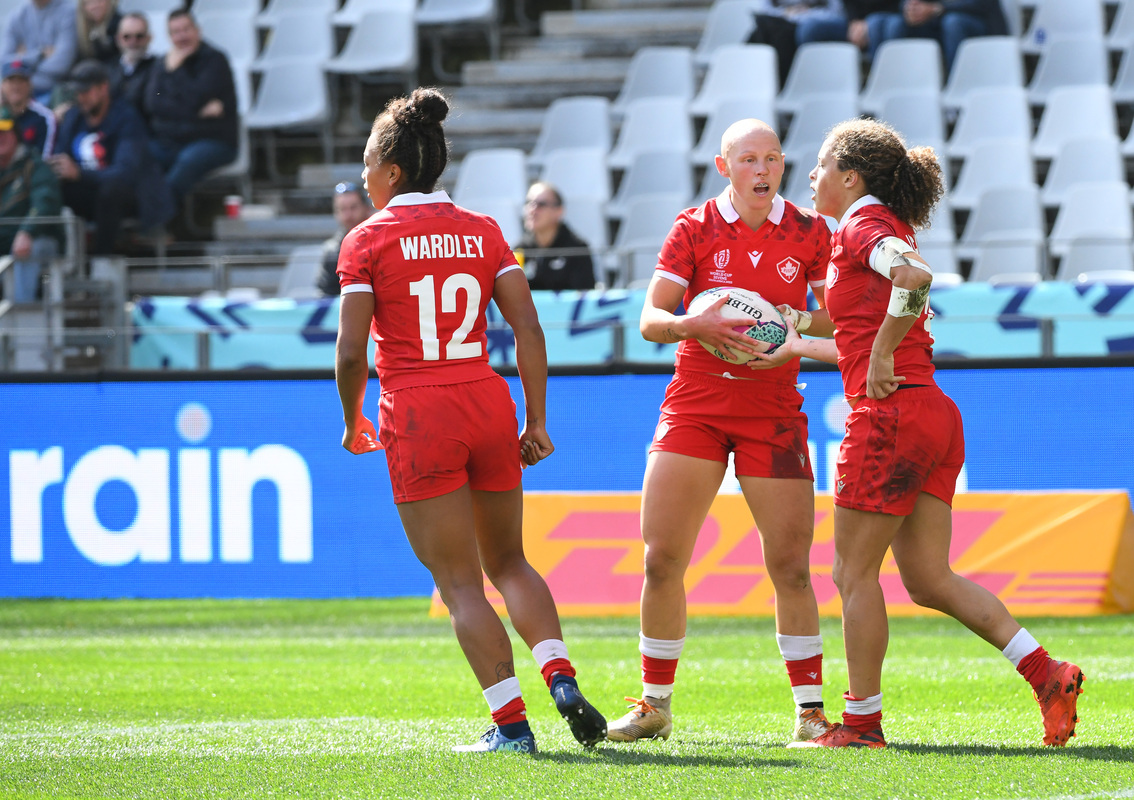 Rugby World Cup 7s concludes in Cape Town for Canada's Women's and Men's 7s
Rugby 7s Senior Men, Rugby 7s Senior Women
Three days of world-class Rugby 7s comes to a close in South Africa
The Rugby World Cup 7s concluded on Sunday as the champions were crowned and Canada's Women's and Men's 7s teams' final positions were determined.
Here, catch up on how the matches played out with our Day 3 recap…
Women's Match 21: Canada 22-7 England – 5th Place Play-Off Semi-Final
Following their narrow 10-7 defeat to the USA yesterday, Canada began the final day with a 5th-place play-off semi-final against England. Abbie Brown scored the game's opening try to give England the lead inside four minutes before Olivia De Couvreur bagged Canada's first points as the score read 7-5 at the half.
After the break, another De Couvreur try, as well as scores from co-captain Breanne Nicholas and Keyara Wardley, went unanswered by England as Canada sealed a 22-7 victory and a place in the 5th-place play-off final, where they'd face Fiji.
Men's Match 46: Canada 12-10 Chile – 13th Place Play-Off Final
A period of sustained pressure from Chile resulted in the match's opening try when Julio Blanc touched down in the corner after the ball was swung out wide. The Chileans extended their lead when Blanc went over again in the eighth minute as they went into half time with a 10-0 lead.
Despite being a man down after Lachlan Kratz was shown a yellow card late in the first period, Canada cut the deficit in half when Josiah Morra scored their first points of the day early in the second half. They went ahead for the first time in the match just a few minutes later when Kratz went over and Brock Webster's resulting conversion was successful.
That was how the match ended as Head Coach Henry Paul's side confirmed a 13th-place finish.
Women's Match 30: Canada 0-53 Fiji – 5th Place Play-Off Final
With 5th place in the standings on the line, Head Coach Jack Hanratty's side took on Fiji in the last match involving either Canadian team. Fiji took an early 5-0 lead when Reapi Ulunisau broke the Canadian line to touch down inside the first minute.
They turned one try into two when Alowesi Nakoci used her speed to tiptoe along the touchline and go over just a minute later. Further tries by Lavenia Cavuru, Sesenieli Donu and two more for Ulunisau to complete her hattrick capped an impressive Fijian first half performance.
After the break, Cavuru bagged her second try of the match before Adi Vani Buleki and Donu added more points to the board as Fiji emerged as 53-0 winners.