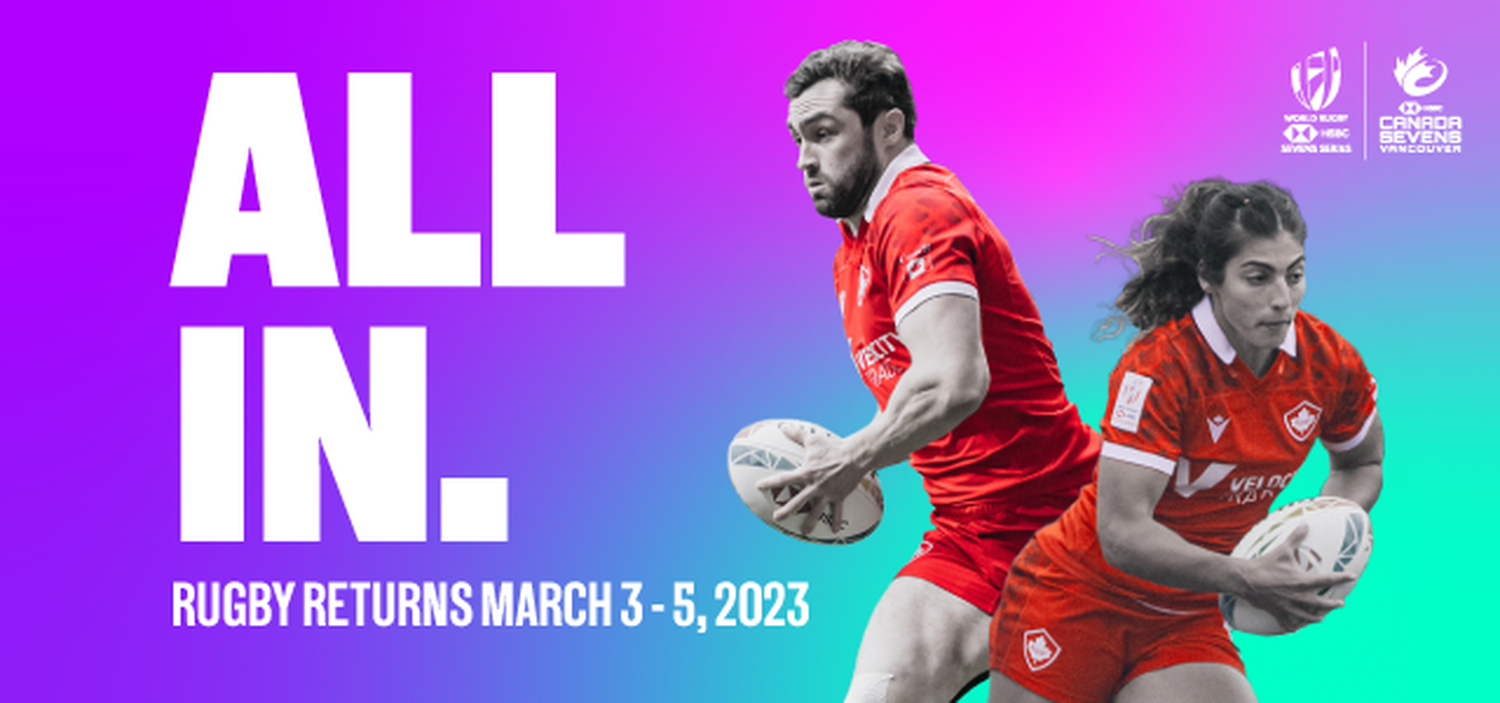 2023 HSBC Canada Sevens announces ticket on-sale dates
Rugby 7s Senior Men, Rugby 7s Senior Women
Annual event goes "all-in" with new 3-day format featuring both Men's and Women's competitions
October 26, 2022, VANCOUVER, B.C. – Rugby Canada announced today that tournament passes for the 2023 HSBC Canada Sevens taking place at BC Place Stadium March 3-5, 2023 will go on sale at 10:00am PT Wednesday, November 2nd for Subscription Ticketholders, followed by the public ticket on-sale for tournament passes on Tuesday, November 8th. Demand for tickets is expected to be high, and fans are encouraged to purchase early to secure the seats they desire.
The 2023 tournament will mark the 8th time that the HSBC World Rugby Sevens Series has visited Vancouver, but it will be the first-time full Men's and Women's Series tournaments will be run concurrently as part of the event. This has lengthened the event to include a Friday schedule, with 28 teams playing 79 total matches and two Cup Champions being crowned! Tournament passes now encompass three days of men's and women's rugby sevens action with two Canadian teams taking to their home pitch. The full 2023 HSBC Canada Sevens schedule can be viewed here, with public gates opening at 3pm on Friday, March 3rd.
Tournament pass prices for the 2023 event start as low as $139 for a three-day General Admission tournament pass (for groups of 10 or more). The per seat fee for Subscription Ticketholders has also been removed this year. Tournament passes are supplied in the form of three tickets, one for each day of competition, and tickets are fully transferable. New for 2023, fans will have the option of a payment plan for their tournament pass, allowing them to pay in installments leading up to the event.
If a purchaser is unable to utilize one of the tickets of their tournament pass, HSBC Canada Sevens is proud to partner with Kids Up Front Vancouver who accept ticket donations to enriching experiences like sporting events and provide them to deserving children and youth in the Greater Vancouver area. Tickets must be donated in minimum pairs and are eligible for a charitable tax receipt.
Single-day tickets, if available, will go on-sale mid-January, 2023. Once announced, the on-sale date will also mark an increase in tournament pass pricing in the Sideline, Reserved and General Admission categories, so fans are encouraged to secure their tickets early. Included in the single-day on-sale will be a new Youth ticket for young fans aged 18 and under. Youth 1-day tickets will be available for Sunday, March 5th at the low price of $35.
"We truly believe the 2023 HSBC Canada Sevens will be the biggest and best yet," stated Rugby Canada's Managing Director of Revenue and Fan Engagement, Jamie Levchuk. "We were the only host to hold events in each of the past three years, and now with a full-field of 28 teams incoming this March, including all the top squads in the world and two Canadian home teams, you can see why we're saying we're 'all-in' for 2023!"
Levchuk continued, "Tournament passes remain the best value, with General Admission options available for less than $50 per day. Despite moving to the three-day format, tournament pass pricing has only seen a small increase over 2022, and we look forward to welcoming back all fans on our regular annual weekend for the full 7s event experience they've known and loved!"
As part of continued efforts to build on its first-in-class experience for fans and achieve a goal of becoming the greenest stop on the HSBC World Rugby Sevens Series, the tournament will continue to feature mobile-only tickets, similar to other sporting events at BC Place. Ticketmaster's Account Manager platform will provide fans with a safe and secure method to purchase and transfer their tickets. Full details of ticket pricing and categories can be found by visiting the HSBC Canada website here.
"The 2023 HSBC World Rugby Sevens Series is a wonderful celebration of our sport and provides an opportunity for our national team players to inspire girls and boys across Canada to play rugby," said Rugby Canada CEO Nathan Bombrys. "The commercial success of HSBC Canada Sevens over the past 7 years has provided Rugby Canada the resources to better support our senior national teams and players, such as our Women's Rugby team - currently competing in the Rugby World Cup in New Zealand. We are excited to bring the Women's and Men's tournaments all-in at BC Place for the 2023 event, and we thank World Rugby for their part in our success story, sharing in our vision and selecting Canada as a host for World Rugby Sevens Series tournaments since 2015."
HSBC Canada Sevens is supported by Series Title partner HSBC, Series Global partners DHL and Capgemini, and a family of local partners including Premier sponsors Grosvenor and Sport Hosting Vancouver, signature sponsor BC Lottery Corporation and event partner BC Place Stadium. Rugby Canada also gratefully acknowledges the Government of Canada's support for this event, and the financial support of the Province of British Columbia.
2023 HSBC Canada Sevens Key Information
Key Dates: November 2, 2022 – Subscription Ticketholder on-sale
November 8, 2022 – Public on-sale
Mid-January (TBA) – Single-day on-sale + select tournament pass price increase
March 3-5, 2023 – Event days
Location: BC Place stadium - Vancouver, BC
Teams: Men (16): Canada, USA, Fiji, New Zealand, Australia, South Africa, Argentina, Ireland, Great Britain, France, Samoa, Spain, Kenya, Japan, Uruguay, Chile
Women (12): Canada, USA, Fiji, New Zealand, Australia, Ireland, Great Britain, France, Spain, Japan, Brazil, Colombia
More info: canadasevens.com
About HSBC Canada Sevens
HSBC Canada Sevens is a three-day indoor rugby sevens tournament, hosted March 3–5, 2023 at the world-class BC Place Stadium, host venue to Canada's most prestigious events, and will feature 28 of the world's top men's and women's sevens teams. The HSBC Canada Sevens is part of the HSBC World Rugby Sevens Series. Sevens rugby, a fast-paced and shorter version of traditional rugby with only seven players per side, has built a huge international audience through the success of the Sevens Series, which attracts large audiences in markets around the world. The 2023 HSBC World Rugby Sevens Series kicks off November 4, 2022 in Hong Kong and serves as a primary Olympic qualifier, with the top-4 teams in both the Women's and Men's overall standings claiming their place at the Paris 2024 Olympic Games.
For media inquiries, please contact: media@canadasevens.com.