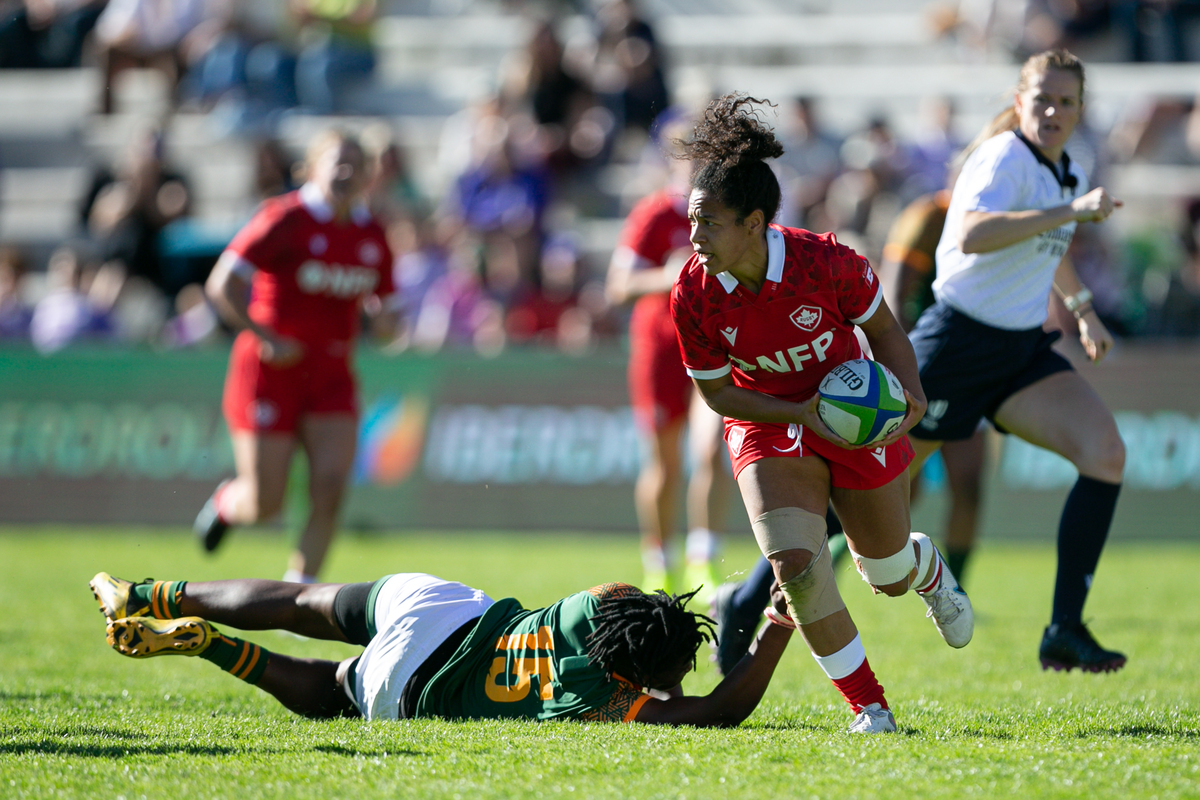 Canada's Women's Rugby Team opens 2023 with convincing win over South Africa
Canada's Women's Rugby Team won their first game of 2023 by a convincing score of 66-7 over South Africa on Saturday, marking the first time Canada has played the Springbok Women in 10 years.
March 25, 2023 (Madrid, Spain) – Canada's Women's Rugby Team won their first game of 2023 by a convincing score of 66-7 over South Africa on Saturday, marking the first time Canada has played the Springbok Women in 10 years.
South Africa was forced to play with 14 for the majority of the match following a red card to Catha Jacobs for a high tackle in the sixth minute of play.
Canada scored five unanswered tries in the first half, with captain Sophie de Goede kicking clean conversions on each of them, to take a 35-0 lead at the break. DaLeaka Menin opened scoring in the ninth minute of play, grabbing a loose ball at the try line.
Sabrina Poulin made a significant impact offensively throughout the match, scoring her first try less than two minutes later, finding space to run through South Africa's defence.
While momentarily putting on pressure in Canada's end, South Africa lost their own lineout at the halfway line, giving back the momentum to the Canadians and resulting in the third try of the game from Sarah-Maude Lachance.
At the 30 minute mark, Poulin found space to run down the sideline and chipped the ball ahead to Paige Farries, who touched it down for another Canadian try. With the first half coming to a close, Fancy Bermudez—playing in her first game for Canada's Women's Rugby Team—pushed past South Africa to score her first international 15s try.
"We only got the chance to do two and a half practices before this game. We came five days before the game, so [the plan was] to try a lot of stuff," said Head Coach Kevin Rouet. "We had a lot of mistakes for sure, but the first half we tried, and we scored a lot of points. We could have scored more, but after just two and a half practices I'm very proud of them. We know we have to refine all those mistakes, all those offloads, all those passes on the ground, so there's a lot to work on for sure, but there's a lot of positives."
The second half opened with another try from Poulin, who received a pass off a maul within the 22 metre line. With two more tries from Julia Schell and Marie-Pier Fauteux, and conversions from de Goede and Emma Taylor, Canada's lead increased further to 54-0.
South Africa's only points of the game came in the 64th minute, a try from Nomawethu Mabenge and a conversion from Libbie Janse van Rensburg.
Bermudez responded five minutes later with her second of the game, catching an offload and weaving her way through South Africa's defence to place the ball between the posts. Taylor followed this up with her second conversion of the game.
Canada notched one last try before the final whistle, with Bermudez passing to Renee Gonzalez (the tenth player to contribute points for Canada) to make the final score 66-7.
"Our plan and focus was certainly aggression," said de Goede. "We knew South Africa had a really strong collision dominance at the World Cup and that was something we were going to have to try to match if not exceed in this game to come out on top and get the quick ruck ball that we were hoping for. I think we did a pretty good job with that, but I think we can be even more dominant with our collisions and our clear outs so that we can create a nice clean ball for our backs."
This match also saw Cassandra Tuffnail and Mahalia Robinson earn their first caps for Canada, entering the game in the second half.
Canada will face the United States in the first game of the 2023 Pacific Four Series on Saturday April 1 at 5:00 p.m. local time (8:00 a.m. PT / 11:00 a.m. ET) in Madrid. Canada currently holds a seven game winning streak against the USA dating back to July 2019, and last played the Americans in October at the Rugby World Cup in pool play and quarter finals.
More information on the Pacific Four Series, including scores and results, can be found on the official website at world.rugby/tournaments/pacific-four-series. Broadcast details for the Pacific Four Series will be announced shortly.