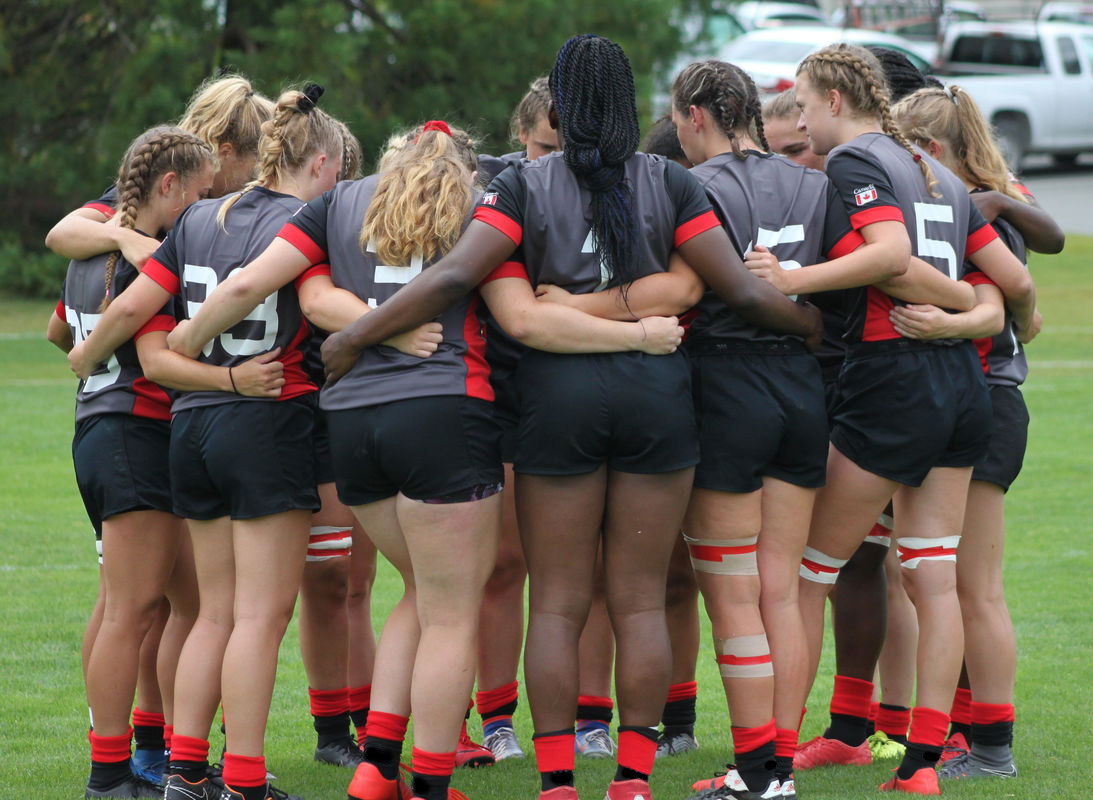 Rugby Canada announces 2023 women's age grade programming
Rugby 15s U20 Women, Rugby 15s U18 Women
Canada's U20 Women's Rugby Team will play two matches alongside the Canadian-hosted Pacific Four Series games this July, as 2023 will see a return in programming for Rugby Canada's U18, U20 and U23 women's teams.
Canada's U20 Women's Rugby Team will play two matches alongside the Canadian-hosted Pacific Four Series games this July, as 2023 will see a return in programming for Rugby Canada's U18, U20 and U23 women's teams.  
This announcement follows the news from last June that Rugby Canada's women's age grade national programming would relaunch in late 2022 through 2023, with the aim of running programs that develop players and coaches through a national pathway in close collaboration with communities, clubs, schools, universities, and provincial unions. 
Players for Canada's U20 Women's Rugby Team will be nominated over the next few months by provincial unions and university coaches, and open talent identification camps will be led by provincial unions. A final Rugby Canada selection camp will be held June 2 to 6 in Vancouver. 
Following selection, the team will play two games in conjunction with the Pacific Four Series. While location and dates are still to be announced, earlier this year World Rugby confirmed that the third and fourth rounds of the 2023 Pacific Four Series would take place in Canada in July. 
Coaching the U20 Women's Rugby Team is Dean Murten, the Head Coach of UBC's women's rugby program. Murten has helped lead UBC to three Canada West Championships (2019, 2021, 2022) and has spent significant time working with Canada's age grade programs, previously coaching the U19 Men's Rugby Team. Prior to joining UBC, Murten worked as Technical Director for Saskatchewan Rugby and Senior Manager for Growth and Development for BC Rugby. Joining Murten on the coaching staff is former national team players Carolyn McEwen (UBC Scrum and Lineout Coach) and Colette McAuley (University of Guelph Head Coach). 
"We are very excited for the opportunity for our U20 women's team to complete alongside the Pacific Four Series this summer," said Kevin Rouet, Canada's Senior Women's Head Coach. "This is a unique opportunity for the next generation of Canadian women's rugby players to experience training and competition at an elite level. We are greatly looking forward to the revitalization of our women's age grade programs this year. Having a connected and cohesive high performance pathway for player development is vital to the growth and prosperity of women's rugby in Canada." 
Provincial unions will support talent identification this spring for Canada's U18 West and U18 East women's programs. Following selection, both teams will have an opportunity to train and scrimmage to further identify talent in the pathway restart. U18 West will be coached by University of Alberta coach Chelsea Ross, with Rugby Ontario's Jenn Russell leading U18 East. University of Calgary coach Ricky Coombe will oversee the U18 program as a whole. 
Similarly to U20, selection for the U23 women's program will consist through nominations led by university coaches and provincial unions. The focus of the U23 program will be on USPORTS players and those who previously competed in U20, but have yet to be selected for the senior program. Dan Valley (Queen's University Head Coach) will lead the U23 program, with training and competition slotted for the end of July in partnership with USA Rugby. Further emphasizing the connection between the age grade and senior women's programs, Head Coach Kevin Rouet will lead the U23 team at the July event, supported by U23 Assistant Coaches Brittany Waters (University of Victoria Head Coach) and Blake Wilson (Queen's University Assistant Coach). 
"As we reboot our age grade women's programs, our focus is on player identification and development," said Rouet. "The 2023 programming will be an important opportunity for Rugby Canada staff to observe up-and-coming players in a high performance environment and identify player development strengths and needs."  
Further details on rosters and camp/match dates for all of Canada's women's age grade teams will be released in the near future. 
Last fall, the Canadian Rugby Foundation established the Women's Rugby Accelerated Pathway (WRAP) Fund to raise and invest funds to support Rugby Canada's women's age grade teams and programs. More information on how to donate can be found here.