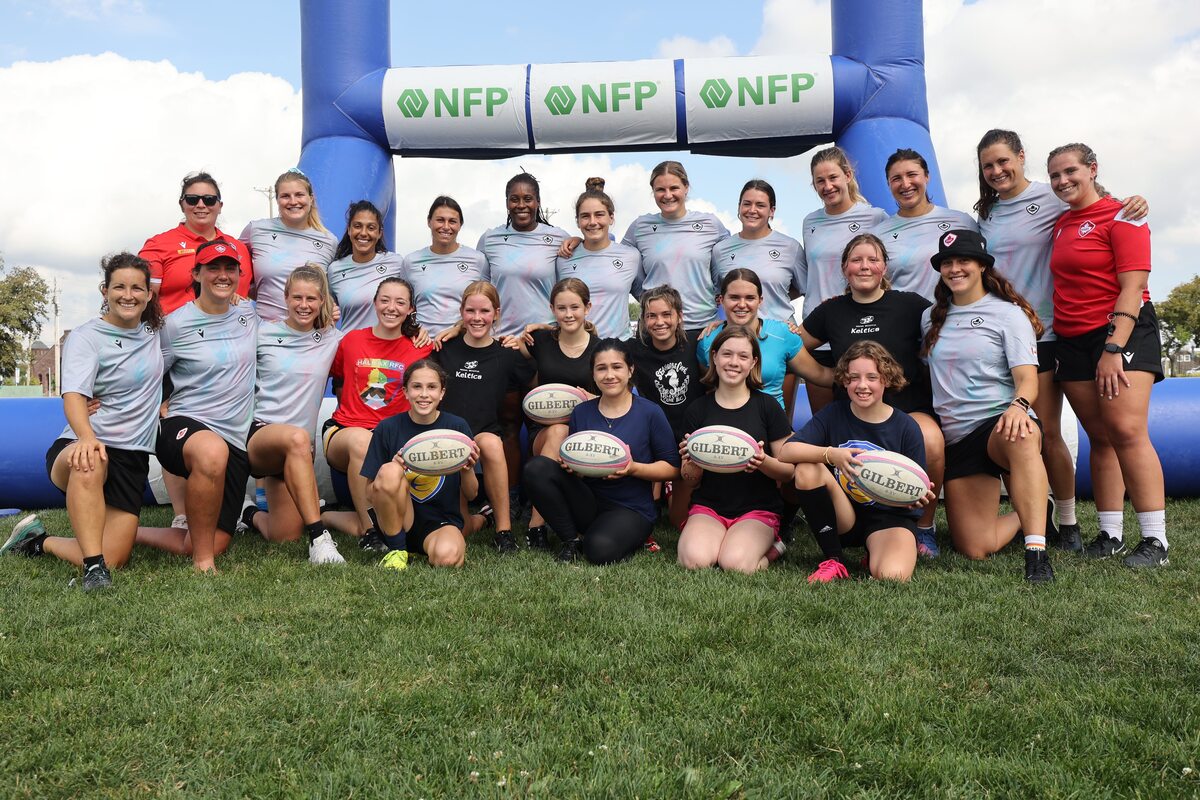 Rugby Canada Completes First Pilot for Let's Play Rugby Presented by NFP
Let's Play Rugby Presented by NFP aims to encourage more youth ages 13-16 to try girls rugby in a non-contact, inclusive environment across the country
May 11, 2023 (Langford, BC) – More than 620 youth ages of 13-16 in the Langley and Chilliwack regions of British Columbia were introduced to rugby in October and November 2022 through the 10-week pilot for Let's Play Rugby presented by NFP.
Rugby Canada announced its partnership with NFP, a leading property and casualty broker, benefits consultant, wealth manager and retirement advisor, in April 2022. Since then, the development department of Rugby Canada began creating this new program aimed at encouraging more youth ages 13-16 to try girls rugby in a non-contact and inclusive environment. This involved hiring a new staff member whose primary focus would be developing and delivering Rugby Canada's newest pilot project, supporting the growth of girls rugby across the country.
"It has been great to see the project come to life," said Steph Veal, Women and Girls Project Coordinator with Rugby Canada. "To see so many girls get the chance to experience our sport for the first time has been amazing and we have seen that impact with the school team sign ups nearly doubling. With learnings from this first pilot we will continue to develop the program and maintain the growth we have seen in girls rugby across Canada."
Rugby Canada staff delivered a total of 74 sessions at RE Mountain Secondary School, Aldergrove Community Secondary School and Brookswood High School in Langley along with GW Graham Secondary School in Chilliwack. In addition to the students, 17 teachers with no previous rugby experience were equipped with the resources to deliver a rugby program within the physical education curriculum at their schools. Three of those teachers also went on to complete the World Rugby Level 1 coaching course.
"I was really excited to bring in a knowledgeable rugby coach to work with our female athletes and to work with our teachers," said Rob Hayes, Athletic Director at RE Mountain Secondary School in Langley. "Steph showed them so many fun, exciting and interesting drills and games introducing flag rugby. The teachers left feeling really comfortable with some skills that they would be able to coach in a rugby unit."
Hayes added: "We were able to reach more than 400 girls [in Langley alone] during the couple months Steph was working with us, and many girls began to show interest in the flag aspect of rugby. Quite a few have shown interest in joining a flag rugby team at the Langley Rugby Club and have been participating in sessions there as well."
Let's Play Rugby presented by NFP will resume in 2023 with programming to take place in Langley while also expanding to Alberta and Quebec. The expansion of the pilot to other regions of the country will allow the program's resources to be further developed, reviewed and improved for the next stages of the project.
"Rugby provides young women with an opportunity to be a part of a community that fosters collaboration, self-esteem, empowerment, accountability, resilience, and mental and physical well-being, and we're proud that Let's Play Rugby broadens access to this community," said John Haas, president of NFP in Canada. "The program is off to a great start and through our strong partnership with Rugby Canada, we'll keep building and refining, expanding the program's reach, and creating more positive experiences through the sport."
About NFP
In April 2022, NFP became Rugby Canada's Official Insurance Partner and official team partner of Canada's Senior Women's Program, who competed at Rugby World Cup in New Zealand last October. Through this partnership, NFP is also supporting grassroots rugby through a collaboration that provides girls across Canada with opportunities to get involved in the sport and engage with Rugby Canada teams.
NFP is a leading property and casualty broker, benefits consultant, wealth manager, and retirement plan advisor. The company provides solutions enabling client success through the expertise of 1,000 employees based in Canada, more than 7,400 global employees, investments in innovative technologies, and enduring relationships with highly rated insurers, vendors, and financial institutions. NFP is the 9th best place to work for large employers in insurance, 7th largest privately-owned broker, 5th largest benefits broker by global revenue and 13th largest broker of US business (all rankings according to Business Insurance).
Visit NFP.ca to discover how NFP empowers clients to meet their goals.