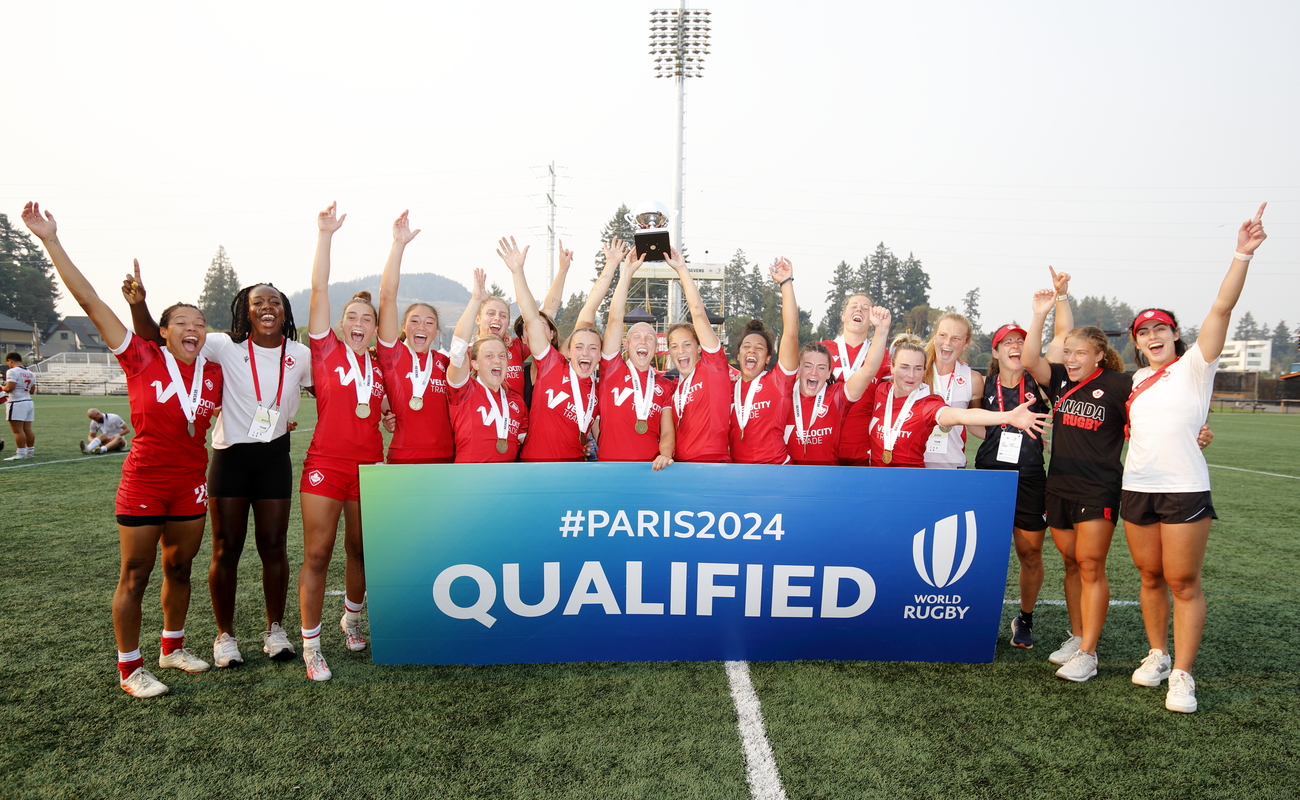 Canada's Women's Sevens Team qualifies for the Paris 2024 Olympics
Rugby 7s Senior Women, Rugby 7s Senior Men
Canada's Women's Sevens Team has qualified for the Paris 2024 Olympics with a 53-0 win over Mexico in the final of the 2023 Rugby Americas North Sevens.
Canada's Women's Sevens Team has qualified for the Paris 2024 Olympics with a 53-0 win over Mexico in the final of the 2023 Rugby Americas North Sevens.
Following three round robin wins on Saturday at Starlight Stadium in Langford, BC, Canada's Women's Sevens Team faced St. Lucia in the semi-finals. Julia Greenshields opened scoring, with Sophie de Goede doubling the score to 10-0 moments later. Two tries from Fancy Bermudez and two conversions from Olivia Apps helped Canada to a 24-0 lead at half-time.
St. Lucia became the only the team in the tournament to score on Canada's Women's Sevens Team in the second half. With Canada up 31-0 after a try from Krissy Scurfield, St. Lucia fended off Canada's defence to score between the uprights. Chloe Daniels also added five points for Canada, with Justine Pelletier scoring her first career international sevens try to put the final score at 41-7.
"A few points on the board, a few missed tackles. I mean, we really wanted to keep that zero points against us and that didn't happen, so I think we're coming into this final really ferocious," said Apps. "It all comes to playing as a collective and staying in the process. We did a really good job yesterday of punishing [Mexico] on their turnovers and scoring a lot on first phases, so we want some aggressive line speed, and when we get the ball in hand we need to be clinical and get the ball out wide."
The women's final featured another standout offensive and defensive performance from Canada, who shut out Mexico 53-0 with tries from Scurfield (2), Bermudez (1), Maddy Grant (2), Asia Hogan-Rochester (3) and Florence Symonds (1).
"I think we played some really good rugby in that final, and we were so connected," said Head Coach Jack Hanratty. "I think we've been creative [with preparation] over the last couple weeks and that final, some of the style that we played was awesome. I'm just really proud and relieved that this group of people that we get to see every day get to enjoy a moment like this with their friends and family in a home stadium."
With this win, Canada's Women's Sevens Team took the gold medal, becoming the first Canadian team (from a team sport) to qualify for Paris 2024.
Canada's Men's Sevens Team will now look to qualify for the Paris 2024 Olympics through the Final Olympic Repechage Tournament (date and location still to be announced), following a 24-14 loss to the United States.
The team started out the day with a 54-5 win over Mexico in the semi-finals, having skipped the quarter-finals after finishing first in Pool B on Saturday. David Richard opened scoring, with tries from Lockie Kratz and Jack Carson helping Canada to a 21-0 score at half-time.
Ethan Hager continued his strong debut performance with Canada's Men's Sevens Team with a hat trick. Elias Ergas, who entered Sunday's line-up in place of Cooper Coats, contributed two tries, while Kratz converted seven of Canada's eight tries. 
"It's all about building for the next one," Elias Hancock said of the learnings from Saturday's games. "I think our connection [felt good today]. We might have gotten a little caught up in the crowd yesterday, but now I think that on day two we're really dialled in, we know what to expect and we're ready to put on a show. To actually have this in our hometown at the facility that we train at where our friends and family are all at, it's just a blessing, and we really are so lucky to be able to do this in front of our friends and family."
The tournament's two undefeated men's teams met in the final to determine who would earn qualification to the Olympics, Canada and the United States. The Americans scored first after a nail-biting opening few minutes, touching the ball down in the corner to go up 5-0. Following several phases of play in Canada's end, Kratz found space to sprint down the field, dishing the ball off to Hancock to tie the game. A conversion from Kratz gave Canada a 7-5 lead.
In the final minute of the first half however, the USA's Perry Baker broke away to regain the lead for his team, with the United States leading 12-7 at half-time. The Americans further doubled their score in the second half, with the final try of the game belonging to Canada's Alex Russell, converted by Kratz. With a final score of 24-14, the United States qualified for Paris 2024, with Canada's Men's Sevens Team taking the silver medal.
"We were a little off the mark and it comes down to the bounce of the ball, a missed tackle here and there, and we didn't get enough today. It comes down to execution," said interim Head Coach Sean White. "We battled all last year to win the [World Rugby Sevens Series] relegation tournament and we'll aim to do that again, and when we get to the repechage we'll take care of that challenge."
All scores and standings from the 2023 Rugby Americas North Sevens can be found on the Rugby Americas North website here.